Better sleep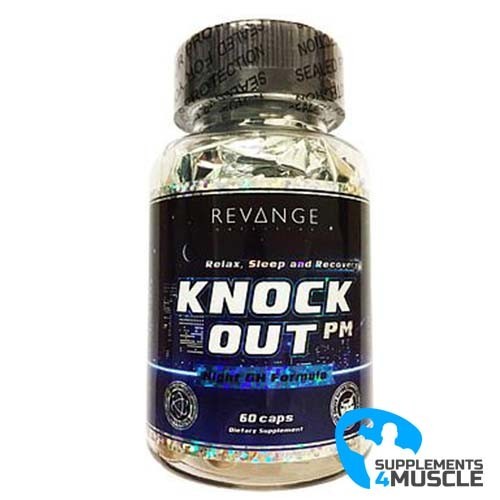 
DESCRIPTION
COMPOSITION
DIRECTIONS OF USE
REVIEWS
DESCRIPTION
Revange Nutrition Knock Out PM
Want to improve your sleep, concentration, and overall sense of well-being? Trust Revange Nutrition Knock Out PM to intensify the effects of melatonin and help you redefine your fitness and wellness goals. Enriched with safe and natural ingredients [such as Phenibut (B-Phenyl-Y-Aminobutyric Acid), GABA (Gamma Aminobutyric Acid), Mucuna Pruriens Extract (Standardized 98% L-Dopa), Valerian Root Extract (min. 0.8% Valerenic Acids), and Picamilon], Revange Nutrition Knock Out PM comes powered with the Relax & Sleep Induction GH Night Formula to support the creation of memory, reducing body stress, calming the body, and promoting a feeling of well-being and happiness.
Boosts the amount of GABA in the body, maximizing the efficacy of melatonin. This slowing of neuron activity leads to a calmer and more secure sensation. It allows the body to relax and drift off to sleep easily. Furthermore, it allows the body to maintain more nitrogen which facilitates more muscle growth and more strength. Oxygenates the muscles more efficiently and prevents fluid retention, excess breast tissue in men, and bloating.
Order best dietary supplements, prohormones, SARMs, and PCT products from the comfort of your home with just a few clicks. Discreet shipping on all orders. Choose from a wide range of top sports, fitness, and bodybuilding supplements now. Order Revange Nutrition Knock Out PM from Supplements4muscle.com now.
COMPOSITION
Serving size: 1 capsule
Servings per container: 60
Amount Per Serving

%DV

Relax & Sleep Induction GH Night Formula:

Phenibut (B-Phenyl-Y-Aminobutyric Acid)

250 mg

*

GABA (Gamma Aminobutyric Acid)

100 mg

*

Mucuna Pruriens Extract (Standarized 98% L-Dopa)

100 mg

*

5-HTP (5-Hydroxytryptophan)

100 mg

*

Picamilon

100 mg

*

Valerian Root Extract (min. 0.8% Valerenic Acids)

50 mg

*

Hops (Flower) Extract 4:1

50 mg

*

L-Theanine (5-N-ethyl-glutamine)

25 mg

*

Sulbutiamine

20 mg

*

Melatonin (N-acetyl-5-methoxytryptamine)

10 mg

*

Piperine 95%

5 mg

*

Galantamine

4 mg

*
Other ingrednients: Magnesium stearate, silicon dioxide
DIRECTIONS OF USE
Recommended use : Take one (1) capsule 30 minutes before bedtime to promote a restful sleep. Do not exceed recommended serving.*