All products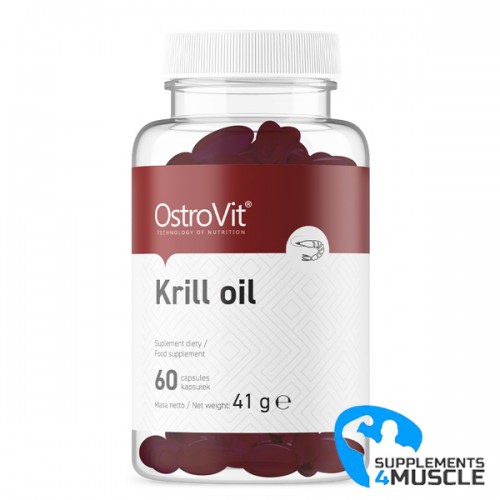 
DESCRIPTION
COMPOSITION
DIRECTIONS OF USE
REVIEWS
DESCRIPTION
OstroVit Krill oil 60 caps
OstroVit Krill Oil is an ideal dietary supplement for those in need of extra essential fatty acids. It comes in softgel capsules made from Antarctic Krill oil. The combination of fatty acids and phospholipids helps the body absorb the contents easily.
Antarctic Krill Oil is a source of Omega-3 fatty acids which are easily absorbed into the body as phospholipids. It is supplied as softgel capsules which makes them easy to swallow. A single serving consists of two capsules.
The product of OstroVit is oil that is extracted from Antarctic krill.
Euphausia superba, commonly known as Antarctic krill, is located across the Southern Ocean. It is being used more and more due to its plethora of omega-3 fatty acids that benefit the cardiovascular system, reducing blood triglycerides. It also is rich in phospholipids, lipids and astaxanthin, all providing anti-inflammatory and anti-depressant properties. OstroVit Krill Oil especially stands out due to its large dose of astaxanthin.
Astaxanthin has been demonstrated to be a strong anti-inflammatory and one of the most potent antioxidants available.
Properties:
Phospholipids, which are the main components of our cell membranes, contain fatty acids like EPA and DHA that are protective for the heart. Krill oil has the ability to reduce inflammation, enhance mood, and encourage overall well-being. In addition, astaxanthin is a highly significant antioxidant with the capability to rid the body of free radicals. It can also decrease triglycerides, assist in body fat reduction, and regulate the immune system.
COMPOSITION
Serving Size: 2 Capsules
Servings Per Container: 30
| | |
| --- | --- |
| Amount Per Serving | |
| Lipid extract from krill, in this: | 1000 mg |
| Omega 3 fatty acids: | 200 mg |
| in this eicosapentaenoic acid EPA | 120 mg |
| in this docosahexaenoic acid DHA | 80 mg |
| Phospholipids | 100 mg |
| Astaxanthin | 200 mcg |
Ingredients: Lipid extract from the crustacean antarctic krill (Euphausia superba), coating composition (gelatin, humectant: glycerol; purified water).
Product may contain milk (including lactose), soy, peanuts, other nuts, sesame seeds, oats, eggs, fish.
DIRECTIONS OF USE
Suggested use: Use 1 serving (2 capsules) daily, preferably with a meal.
Do not exceed the recommended daily dose. Do not use the product as a substitute (replacement) for a varied diet. Recommended are balanced diet and healthy lifestyle. Do not ingest if you are allergic to any of the ingredients. Children, pregnant or nursing woman must not take the product. Keep out of the reach of children.
REVIEWS
There is no review
Atsiliepimas Atsiliepimas