HEALTH AND VITALITY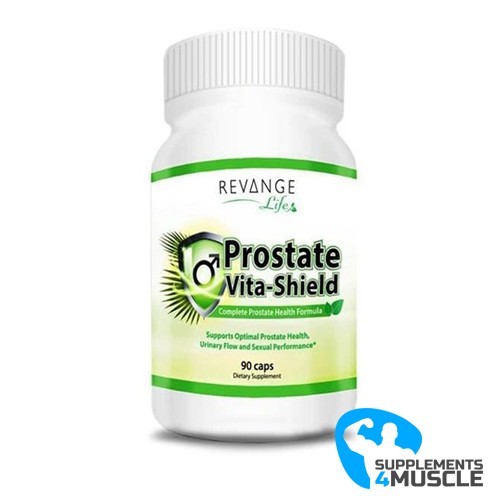 
Revange Nutrition Prostate Vita-Shield 90caps
Supports Optimal Prostate Health
Urinary Flow and Sexual Performance
DESCRIPTION
COMPOSITION
DIRECTIONS OF USE
REVIEWS
DESCRIPTION
Revange Nutrition Prostate Vita-Shield 90caps
The supplement Revange Nutrition Prostate Vita-Shield puts together traditional and modern-day nutrients to ensure prostate health. Saw Palmetto extract and nettle extract back up bladder health and facilitate a good flow of urine. Lycopene aids with prostate cell division. Plus, grapefruit extract bolsters healthy cell reproduction and the pepper extract provides for better absorption of the components. All the useful ingredients work together for overall and balanced prostate wellbeing.
Vitamin E has multiple uses. It is viewed in the same vein as vitamins A and C, being a strong antioxidant that can defend the body against potential oxidative damage and cell harm caused by free radicals. Vitamin E also stops LDL cholesterol from being oxidized and prevents the accumulation of atherosclerotic plaque. It is involved in the creation of anticoagulants, upholds the proper permeability of cell surfaces and reduces platelet aggregation, stopping the development of blood clots in blood vessels. It is advised for individuals with elevated blood cholesterol levels to take Vitamin E supplements. Evidence suggests that it may have preventative properties against myocardial infarction and offer anti-cancer benefits. It is known to aid in the metabolism of insulin, thereby regulating glucose in the blood, and is instrumental in neurological signaling. For women, Vitamin E helps to avoid birth defects and ensure normal pregnancy. Additionally, it is believed to be a necessary component of male fertility and is integral to the maintenance of good vision.
Selenium is recognized as one of the most critical minerals for optimal functioning of the body. It has powerful antioxidative properties that give the immune system a boost in fighting off free radicals that could otherwise cause major damage. Selenium also contributes to the health of your hair and nails, as well as supporting healthy thyroid function. If you need something to supplement your selenium intake, it's definitely worth a try!
Saw Palmetto, derived from the fruits of Serenoa repens, is rich in fatty acids that have the ability to shield against the conversion of testosterone to dihydrotestosterone (DHT). This is significant due to the enhanced potency of DHT and the side effects associated with high androgen levels. Also, Saw Palmetto can boost blood levels of the male sex hormone.
Recent research has revealed that nettle root carries some impressive properties, like being a powerful antioxidant, antiagglomeration, anti-inflammatory, hypocholesterolemic and hypoglycemic. As a result, people are becoming more and more aware of the plant's potential as both a preventative and a treatment for a wide array of diseases and conditions - and its beneficial effect on testosterone levels has only added to its popularity.
Bearberry, a plant commonly used in medicine, is known as Uva Ursi Extract. The substance contains components such as gallic acid, choline, and isoquercetin, which have a slight diuretic effect and clear the body of redundant and damaging metabolic waste. This can help lessen the toxicity of many substances, reduce the effects of free radicals, and improve the rate of urine excretion by expelling excessive water from the body and eliminating toxins. On top of aiding the condition of internal organs, this also contributes to a better definition in muscles by decreasing subcutaneous water.
Diindolylmethane (DIM) is created from indole-3-carbinol (I3C), which is a stronger version of I3C and is made when consuming cruciferous vegetables such as broccoli, cauliflower, and cabbage in an acidic environment in the stomach. Scientists research the multidirectional pro-health, anti-cancer and anti-estrogenic benefits of I3C. Diindolylmethane is commonly used to prevent the enlargement of the prostate, and research has found further evidence that it blocks the effects of estrogen in the body.
Consumption of pomegranate fruit has been linked to an increased antioxidant potential in the body, as well as higher testosterone production. Research indicates pomegranates are full of antiestrogenic compounds. Following a study, data showed the pomegranate extract lowered oxidative stress, improved sperm quality and boosted testosterone levels. Additionally, after two weeks of consuming the extract, human blood pressure decreased noticeably and free testosterone rose by 24%.
Grape Seed Extract contains resveratrol, which works as an antioxidant to clear free radicals that would otherwise damage the body's healthy cells. It can help reduce the risk of heart disease and atherosclerosis by inhibiting LDL cholesterol absorption in blood vessels. It also prevents platelet aggregation and the formation of dangerous clots. Additionally, it is believed to help prevent obesity and may have some positive benefits in the prevention of diabetes. Moreover, it has been found to decrease blood pressure levels, which is an essential aspect in avoiding illnesses associated with one's lifestyle.
COMPOSITION
Serving Size: 3 Capsules
Servings Per Container: 30
Amount Per Serving
% Daily Value
Vitamin B6 (as Pyridoxine HCL)
15 mg
750%
Vitamin D (as Cholecalciferol)
3000 IU
750%
Vitamin E (d-Alpha Tocopheryl Succinate)
300 IU
1000%
Zinc (from Zinc Gluconate)
30 mg
200%
Selenium (as Selenomethionine)
300 mcg
429%
Copper (as Copper Glycinate Chelate)
500 mcg
25%
Saw Palmetto (Serenoa Repens) Extract (85% fatty Acids & sterols)
450 mg
Total Phytosterols Blend:
Beta Sistesterol
Campesterol
Stigmasterol
Brassicasterol
400 mg
200 mg
114 mg
66 mg
6 mg
Stinging Nettle Root Extract (Urtica Dioca) (30 Ppm Scopoletin)
300 mg
Uva Ursi Extract (Arctostaphylos Uva-Ursi) Leaf std: 20% Arbutin
210 mg
Rosemary Extract (Rosmarinus Officinalis) (leaf) (std to 20% Rosmarinic acid, 9% Carnosic acid)
120 mg
Pygeum Africanum Bark Extract (25%)
120 mg
Quercetin (from Quercetin Dihydrate)
120 mg
DIM (Diindolylmethane from natural plant sources)
90 mg
Rye Flower Pollen 20:1 Extract (Secale cereale L.)
60 mg
R-Alpha Lipoic Acid Sodium
60 mg
Pomegrante (Punica Granatum) Fruit Extract (min 20% ellagic Acid)
60 mg
Lycopene 1% (Natural Tomato Extract)
30 mg
Grape Seed Extract
30 mg
Naringenin
15 mg
Piperine 95%
15 mg
Other Ingredients: Gelatin capsule.
DIRECTIONS OF USE
As a dietary suppllement take 1 serving (3 capsules) once a day.