FAT BURNERS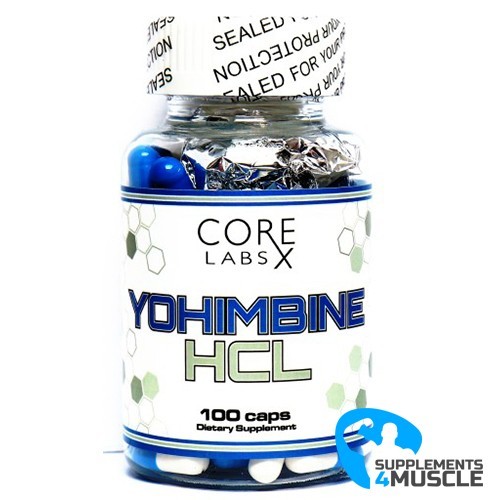 
Core Labs X Yohimbine HCL 100 caps
Supports Fat Loss
Promotes Appetite Control
Maximizes Sex Drive
Increases Endurance
DESCRIPTION
COMPOSITION
DIRECTIONS OF USE
REVIEWS
DESCRIPTION
Core Labs X Yohimbine HCL is a pharmaceutical type of the alkaloid yohimbine derived from a plant species found in Africa known as Johimba lekarska (Pausinystalia yohimbe). It is the purest, most potent, and lasting form of yohimbine on the planet, free from unwanted alkaloids.
Yohimbine HCL causes a boost in the production of norepinephrine, a transmitter that begins important activities in the body. It ignites the body and mind, resulting in increased physical and psychological energy, adds more vigor, and sharpens the mind.
Yohimbine HCL ramps up thermogenesis and gets the lipolysis process going, leading to a much faster break-down and burning of fat from adipose tissue and releasing glucose from muscles. This translates to a much quicker reduction of body fat in the hardest places, like buttocks, thighs and abdomen. Additionally, yohimbine HCL boosts testosterone levels, resulting in increased pure muscle mass and strength.
Yohimbine HCL has the ability to increase libido and improve sexual performance. Additionally, it numbs the genital nerve endings allowing for longer and more satisfying intimate encounters. This results in an increased number of passionate moments.
Yohimbine HCL also works well in people with rheumatoid arthritis - reduces inflammation and pain, which improves the overall comfort of life and physical fitness.
COMPOSITION
Serving Size: 1 Capsule
Servings per Container: 100
| | |
| --- | --- |
| Amount Per Serving | |
| Yohimbine HCL | 5mg |
Other Ingredients: Magnesium Stearate, Silicon Dioxide, Magnesium Carbonate, Calcium Gluconate.
DIRECTIONS OF USE
As a dietary supplement, take 1 capsule per day. Depending on your body composition and weight you may increase serving size to 2 capsules. DO NOT EXCEED 2 capsules in a 24 hour period.