Better sleep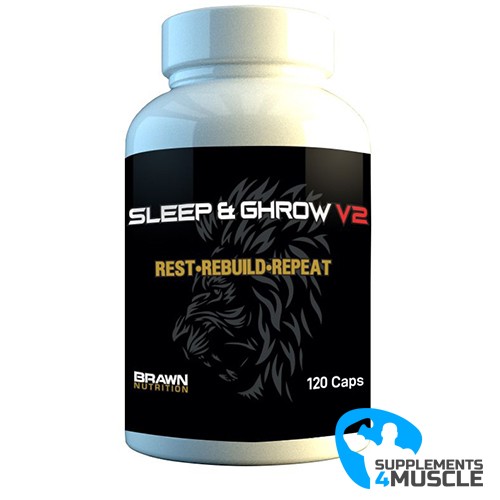 
DESCRIPTION
COMPOSITION
DIRECTIONS OF USE
REVIEWS
DESCRIPTION
Brawn Sleep & Ghrow V2 120 caps
The Brawn Sleep & Ghrow V2 120 caps is a highly effective supplement tailored to athletes. Taking it prior to sleeping will reward users with a more refreshed sleep, regenerate the Central Nervous System, and offer quicker recovery times after exercise. Ultimately, this will result in boosted energy, improved strength levels, and productive and intense workout sessions.
Sleep & GHrow from Brawn Nutrition has been designed with no expense spared to improve sleep quality and latency, sleep cycle, mood, cognition, energy and recovery, relaxation, mood elevation and wellbeing, reduce stress and anxiety, increase growth hormone and testosterone synthesis, enhance libido, and boost motivation.
Alpha-GPC (50% Alpha-Glyceryl Phosphoryl Choline).
Alpha-GPC is a form of Choline that crosses the blood-brain barrier, allowing it to generate the release of acetylcholine. Numerous medical studies support its neuroprotective and cognitive-boosting capabilities. It is also known to raise GABA levels, creating a more potent restorative-sleep cycle, and boasts a 600mg dose that leads to greater growth hormone peaks. Acetylcholine also is linked with increased REM sleep states and Alpha-GPC's production, when taken daily, can bolster not only mental focus, attention and memory but also quality of sleep and sleep learning.
Those who appreciate the potentials of lucid dreaming should take a look at Zylaria™ (Xylaria nigripes). This is a special species of Xylaria created by NuLiv Science, who are renowned as top developers of nutraceuticals. Zylaria contains a large quantity of gamma-aminobutyric acid (GABA). GABA is created by our bodies, and it works as a neurotransmitter that lessens the power of nerves' endings, thus leading to a decreased perception of distress, panic, sleeplessness, and better sleep. It can also make way for relaxation, calming effect, and augment the growth hormone (GH). Zylaria helps refill the brain with this vital amino acid.
Research has indicated that Zylaria aids in the management of stress levels, encourages a positive outlook, and aids in the enhancement of one's sleep quality and duration.
For centuries, Mcuna Pruriens has been used in Ayurvedic medicine for various purposes. Especially of note is the presence of a high concentration of L-Dopa in the plant, which serves as a precursor to a key brain chemical: dopamine. This dopamine is linked to motivation, pleasure and emotions. Furthermore, the L-Dopa in Mcuna has been linked to reduced stress levels and improved sleep. Supplementation of L-Dopa can also provide benefits to cognition, mood, libido and even better quality of sleep.
It is worth considering the effect of L-Dopa on Growth Hormone, Testosterone, and Cortisol. KSM-66, a Full Spectrum Ashwagandha extract, produced by Ixoreal, is known for its significant contributions towards hormone optimization and improved performance, cognition, and well-being. In addition, KSM-66 has strong anti-inflammatory, immune boosting, and antioxidant properties. Furthermore, studies have demonstrated that Ashwagandha can reduce stress and aid in sleep and anxiety induction. Triethylene glycol, which is present in Ashwagandha, may also promote better sleep quality and quantity, even in individuals with anxiety and sleep disorders such as insomnia.
We utilize the trademarked form of Ashwagandha, KSM-66, to guarantee excellence.
5-HTP (5-Hydroxytryptophan) is an organic compound produced in our body and also derived from the Griffonia Simplicfolia plant native to West Africa. It serves as a precursor for serotonin, a neurotransmitter that is associated with positive mood and well being, as well as helping to establish regular and restful sleep-wake cycles. Serotonin is also converted into the hormone melotonin, whose presence at optimal levels can help ward off stress and anxiety. Research findings suggest that 5-HTP can help induce relaxation and help the body reach a restful state.
5-HTP amplifies the outcome of the other elements of the recipe, resulting in an intensified cooperative action.
L-Theanine, an amino acid derived from the tea plant Camellia sinensis, is renowned for its calming effects and anti-anxiety properties. It helps regulate stress and enhances sleep quality by managing levels of key neurotransmitters such as dopamine, serotonin and gamma-aminobutyric acid (GABA). By elevating these chemicals, L-Theanine boosts mood, energy levels, concentration and appetite—ultimately leading to better sleep.
L-Theanine works cooperatively to create an ideal setting for calming and improved sleep quality.
Bioperine®
Sabinsa Corporation has created a patented substance to increase absorption. Research has demonstrated that Bioperine significantly boosts absorption. Sleep & GHrow can be used in combination with any Brawn Elite product, and is beneficial to any person with an intensive active lifestyle seeking to optimize rest and renewal.
Summary:
Do you find yourself feeling fatigued and exhausted during the day, particularly after strenuous physical activities? You might just need to examine the amount and quality of rest and relaxation that you are getting. Brawn Sleep & Ghrow V2 120 caps can help you promote a better night's sleep, regulate your sleep cycles, boost your energy, libido and motivation and keep your cognitive skills sharp. Say goodbye to muscle pain and fatigue, as taking this supplement will help to recharge your central nervous system. Buy Brawn Sleep & Ghrow V2 120 caps now to enjoy the benefits of reinvigorated energy levels all day long.
COMPOSITION
Serving Size: 4 Capsules
Servings Per Container: 30
| | |
| --- | --- |
| | Amount Per Serving |
| Alpha-GPC (Alpha-Glycerol Phosphoryl Choline 50%) | 600 mg |
| Zylaria™ (Xylaria nigripes) | 500 mg |
| Mucuna Pruriens (Std. to 98% L-Dopa) | 500 mg |
| KSM-66® Full Spectrum Ashwagandha root extract (5% Withanolides) | 500 mg |
| 5-HTP (5-Hydroxytryptophan) | 250 mg |
| L-Theanine | 250 mg |
| Bioperine® | 10 mg |
DIRECTIONS OF USE
Take 4 caps 30-60 minutes before bedtime. Do not exceed 6 caps in any 24 hour period.
REVIEWS
There is no review
Atsiliepimas Atsiliepimas