Better sleep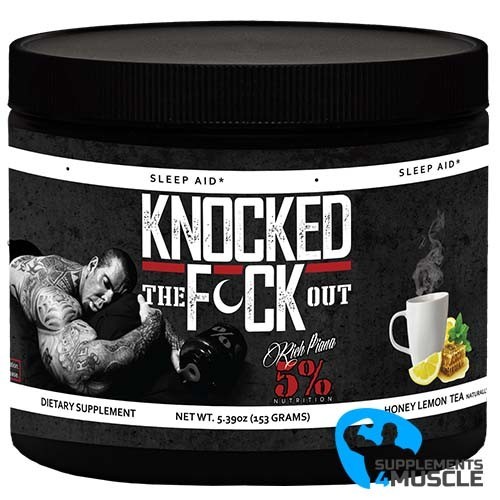 
Rich Piana 5% Knocked The F*ck Out
One of the most complex regenerating stacks
Has prophylactic effect on the circulatory system
Supports the nervous system to a large extent
Demonstrates antidepressant effect
Has anti-stress effect
Improves sleep quality
Improves immunity
Facilitates falling asleep
DESCRIPTION
COMPOSITION
DIRECTIONS OF USE
REVIEWS
DESCRIPTION
Rich Piana 5% Knocked The F*ck Out
Rich Piana 5% Knocked The F*ck Out is one of the most comprehensive regenerative stacks, mainly focused on improving sleep quality and overall mood improvement. Its greatest asset is a carefully selected mix of active substances proven for years to let you fall asleep quickly, wake up full of strength, no matter how hard you work on your figure, Knocked The Fck out will allow you to gather strength and recharge the battery for more and more difficult challenges of your body.
GABA - is the main neurotransmitter of the body that reduces the excitability of neurons throughout the entire nervous system. Supplement GABA helps increase the amount of alpha waves in the brain that supports the state of "deep relaxation", helping to keep calm in the face of stress. GABA has not only succeeded in promoting relaxation, but also reduces anxiety, which is especially beneficial for those who are trying to "open up" in social situations, which translates into the ease of making new acquaintances.
L-Tyrosine - is widely used against stress and diseases associated with it (it works against both mental and physical stress.) Physical stress is understood as the sensation of pain against which tyrosine can be suppressive). It also has a positive effect on the behavior of cognitive functions, as well as improves the condition of the circulatory system (reduces blood pressure).
Chamomile flower extract - Research indicates clear anxiolytic and relaxing effects. He can reduce the effect of snoring, which improves the comfort of sleep, and protects against dangerous sleep apnea. What's more, by the high content of bioactive ingredients, chamomile also has anti-inflammatory effects. It also influences the improvement of immunity (works very well in the most common colds) and for prophylaxis of the circulatory system.
Inositol is essential when we do not cope with stress, we get tired quickly or are constantly sleepy. The presence of vitamin B8 in our diet positively affects our mood, stabilizes mood and increases energy and willingness to work.
L-Tryptophan is a natural antidepressant. With the help of tryptophan, the body produces key neurohormones (serotonin, melatonin). The main task of tryptophan is to increase the level of serotonin, whose lowered level is the basic cause of anxiety and depression, changes in mood and behavior, sleep disorders and tendency to overeat.
Common mantis (Mucuna pruriens) - medicinal plant; its seeds contain levodopa, which is a direct precursor to dopamine and an effective drug in the treatment of Parkinson's disease. It affects the improvement of well-being and increased activity, resulting in increased exercise capacity and sexual function.
L-Phenylalanine is an essential amino acid (essential), which means that it is not synthesized by the body and must be supplied with food. It belongs to a group of 20 amino acids encoded by DNA, which are the basic building blocks of most naturally occurring proteins. In the body, it plays its role primarily as a precursor of another amino acid - tyrosine and a psychoactive compound - phenylethylamine (PEA).
L-Theanine - this is an amino acid that has a wide influence on the improvement of the nervous system, and on the perception of relaxation. It is unique in that it can cross the blood-brain barrier, which results in a much greater effectiveness of action. The most interesting is the mechanism of its operation. Theanine, stimulates the production of alpha-1 waves in the neural area and this mechanism is responsible for the increased sense of relaxation and attention. It affects the improvement of the length and quality of sleep. It also significantly reduces the amount of stress-related biomarkers. It also works neuroprotective. It also influences the improvement of blood pressure by modulating the production of nitric oxide.
5-Hydroxytryptophan - a compound that is a direct precursor to Serotonin, a hormone that plays a very important role in the processes of appetite regulation, improve mood and optimize the secretion of other hormones. Since Serotonin itself does not have the ability to cross the blood-brain barrier, an effective way to raise its level is supplementing its precursors, among which the most effective is 5-hydroxytryptophan. Numerous studies show a direct relationship between 5-HTP administration and sleep improvement, suppression of hunger attacks, insulin level regulation, cortisol and prolactin, or abrogation of anxiety.
Melatonin is a powerful antioxidant - it reduces oxidative stress and thus prevents cellular extractions. This is extremely important for the Central Nervous System, where it occurs in the largest amounts - it prevents damage to neurons and stops neurodegenerative diseases.
COMPOSITION
Serving size: 1 scoop (5.1g)
Servings per container: 30
Amount Per Serving

%DV

Vitamin B6 (as pyrodixine hydrochloride)

2 mg

118%

Gamma Aminobutyric Acid (GABA)

750 mg

*

L-Tyrosine

750 mg

*

Chamomile Flower Extract (Matricaria chamomilla)

650 mg

*

Inostiol

500 mg

*

Lemon Balm Leaf and Stem Extract (Melissa officinalis)

500 mg

*

L-Tryptophan

500 mg

*

Mucuna Pruriens Extract (L-DOPA)(seed)

200 mg

*

Passion Flower Extract (Passiflora incarnata)(herb)

200 mg

*

Hibiscus Flower Extract (Hibiscus sabdariffa)

200 mg

*

L-Phenylalanine

75 mg

*

L-Theanine

75 mg

*

5-Hydroxytryptophan (5-HTP) (from Griffonia simplicifolia Extract)(seed)

30 mg

*

Melatonin

8 mg

*
Other ingrednients: Natural flavors, silicon dioxide, sucralose, citric acid
DIRECTIONS OF USE
Directions: Mix one scoop in (5.1) 8 oz. of warm water and drink 30 minutes before bedtime.
REVIEWS
There is no review
Atsiliepimas Atsiliepimas