FÖRARBETSUTTALANDEN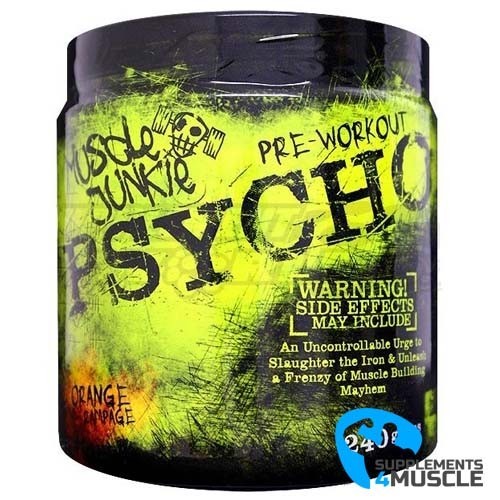 
Muscle Junkie Psycho
240g i box Muscle Junkie Psycho med DMAA / Psycho Booster US EDITION!
Bringar energiöverskott med superstarka formel, ökar vaksamhet och uthållighet.
Från en unik matris för en massiv träning & en obeskrivlig pump under träning.
BESKRIVNING
SAMMANSÄTTNING
BRUKSANVISNING
RECENSIONER
BESKRIVNING
Muscle Junkie Psycho
Vi sökte över hela världen, gick igenom de tuffaste underjordiska gymmen, letade efter de starkaste, elakaste muskelfreaks som finns för att ta reda på vad de äter för att bli sådana enorma, järnförstörande kolosser.
Efter prövningen att utsättas för de mest destruktiva muskelbyggande föreningar som vi känner till valde vi endast de mest extrema elementen för införlivande. Vi tog dessa komponenter till vårt källarlaboratorium, där våra forskare kombinerade dem för att få fram ett utomordentligt kraftfullt preworkoutkoncept - idag känt som Psycho.
Psycho är en skandalöst utstuderad pre-workout-dryck som kommer att chockera dina sinnen och skicka din träningsrutin till en extrem nivå som endast seriösa tyngdlyftare kan nå.
SAMMANSÄTTNING
Serving Size 1 Scoop (6g)
Servings Per Container 40
| | |
| --- | --- |
| Amount Per Serving | %Daily Value |
| Hardcore Strenght Amplifying, Energy Boosting, Muscle Engorging Matrix: | 3193mg |
| L-Arginine Alpha-Ketoglutarate | * |
| Beta-Alanine | * |
| Tri-Creatine Malate | * |
| Caffeine Anhydrous | * |
| L-Tyrosine | * |
| Beta-phenethylamine | * |
| 1,3 dimethylamylamine (Geranium oil extract)1 | * |
| Nicotinic acid (Niacin) | * |
| Bioperine2 | * |
* Daily Value not established
Other Ingredients: Waxy Maize Starch, Dextrose, Malic Acid, Silica, Citric Acid, Flavours, Sucralose, Colour (E124).
1 1,3 dimethylamylamine (aka Methylhexanamine) is banned by various sporting bodies and federations and may thus lead to a positive doping result if consumed by sportsmen or women participating in such federations. Competitive athletes should thus first consult with their relevant federation before using this product.
2 Bioperine® is a registered trademark of Sabinsa Corporation
BRUKSANVISNING
Användningsrekommendationer: Som kosttillskott på träningsdagar rekommenderas att ta 1 skopa (6 gram). blandad med 300 ml av kallt vatten och förbruka 30 minuter före träning. Överskrid inte dosen av 1 skopa i en portion och 2 portioner (12 gram) i en 24-timmarsperiod. Om är känslig för stimulantia, inte inta inom 5 timmar före natttid. Att ta i cykler 8 veckor "på", följt av en paus av 2-3 veckor. För bästa resultat kombinerar Psycho med ett intensivt program med viktträning och ett högt proteininnehåll. Drick en minst 2-3 liter vätska per dag. Läs hela etiketten för användning och följ instruktionerna.
RECENSIONER
There is no review
Atsiliepimas Atsiliepimas