AMINOSYROR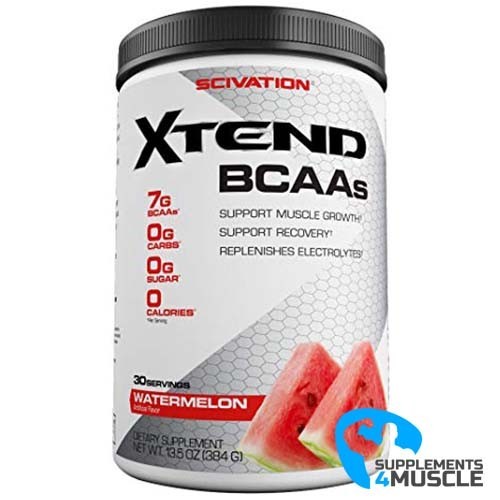 
Scivation Xtend BCAAs (30 servings)
BCAA
7 g BCAA - 2:1:1
Inget socker
3,5 g leucin
2,5 g L-glutamin och 1 g citrullinmalat
Noll kalorier
BESKRIVNING
SAMMANSÄTTNING
BRUKSANVISNING
RECENSIONER
BESKRIVNING
Scivation Xtend BCAAs (30 portioner)
Xtend BCAAs är en mycket populär och banbrytande BCAA-drycksmix i pulverform med en 2:1:1-fördelning av essentiella aminosyror, plus tillsatt glutamin och citrullinmalat, plus elektrolyter för att öka vätskebalansen. Den innehåller inga sockerarter eller kolhydrater och kan hjälpa idrottare av alla slag att träna mer intensivt och längre. Det används av idrottare på högsta nivå, fighters, kroppsbyggare och tyngdlyftare.
Sju gram

Sju gram grenade aminosyror (BCAA) i förhållandet 2:1:1, inget socker, tre och ett halvt gram leucin, två och ett halvt gram L-glutamin och ett gram citrullinmalat utan kalorier.

XTEND

XTEND BCAA-pulver är utformat för konsumtion under träning och har visat sig vara framgångsrikt i två universitetsstudier*. Genom att undersöka optimal proteinsyntes och reglera intracellulär energibalans förkortar XTEND snabbt återhämtningstiden. Du kommer inte bara att uppleva en känsla av att vara utvilad - du kommer faktiskt att återhämta dig!

Det finns inget annat BCAA-tillskott som XTEND med dess läckra smaker, vetenskapligt verifierade ingredienser och exakta blandningar. Öka din styrka, minska kroppsfett och upplev mindre trötthet och snabbare återhämtningstider efter träningspass genom att använda XTEND!
SAMMANSÄTTNING
Size: 1152g (90 servings)
Calories

0

      

Total Fat

0 g

0%

Cholesterol

0 mg

0%

Sodium

220 mg

9%

Potassium

170 mg

5%

Total Carbohydrates

0 g

0%

Sugars

0 g

**

VItamin B6 (as Pyridoxine Hydrochloride)

640 mcg

32%

L-Leucine

3,500mg

**

L-Glutamine

2,500mg

**

L-Isoleucine

1,750mg

**

L-Valine

1,750mg

**

Electrolyte Blend:

1,170mg

**

Trisodium Citrate Dihydrate, Potassium Chloride, Sodium Chloride

Citrulline Malate (1:1)

1,000mg

**

* Percent Daily Values are based on a 2,000 calorie diet. Your values may be higher or lower depending on your calorie needs. **Daily Value not established.
Allergens: Produced on equipment that also processes dairy, wheat, peanuts, eggs, fish, shellfish, almonds or other tree nuts, sulfites or corn. Contains Soy
BRUKSANVISNING
Anvisningar för användning:Som kosttillskott, blanda en skopa per 8-16 oz vatten (justera för smakpreferenser). Skaka väl och konsumera upp till två skopor under träning på träningsdagar eller mellan måltiderna på icke-träningsdagar. För bästa resultat, använd två skopor per dag.