AMINOSYROR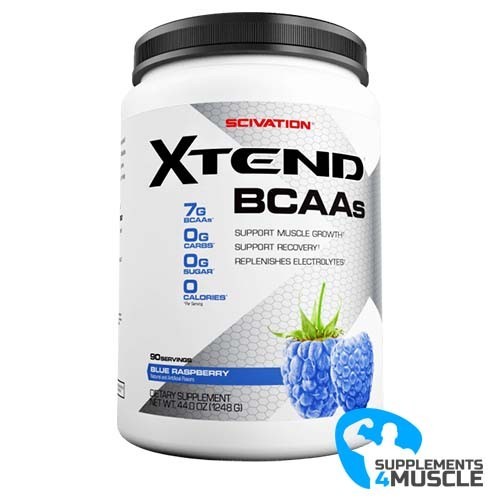 
Scivation Xtend BCAAs (90 servings)
7g BCAAs - 2:1:1
Ingen socker
3,5 g leucin
2,5 g L-glutamin och 1 g citrullinmalat
Noll kalorier
BESKRIVNING
SAMMANSÄTTNING
BRUKSANVISNING
RECENSIONER
BESKRIVNING
Scivation Xtend BCAAs (90 portioner)
Scivation Xtend BCAAs (90 portioner) är den marknadsledande BCAA dryckesblandningen, som innehåller 7 g BCAAs i det allmänt accepterade förhållandet 2:1:1, plus glutamin och citrullinmalat. Denna socker- och kolhydratfria blandning förbättras ytterligare med elektrolyter som hjälper till att hålla kroppen hydrerad under tunga träningspass. Professionella idrottare, kampsportskonkurrenter, kroppsbyggare och alla typer av tyngdlyftningsälskare svär på XTEND för att förlänga varaktigheten och intensiteten i sina träningspass.
XTEND BCAA-pulver har utformats speciellt för att användas under träningspass och har visat sig vara effektivt i två vetenskapliga studier*. Det är det mest avancerade i sitt slag och hjälper till med både fettförbränning och muskeluppbyggnad. Det hjälper till genom att göra det lättare för din kropp att skapa rätt mängd protein, samt att kontrollera energibalansen i dina celler vilket minimerar den tid det tar att återhämta sig. Genom att ta XTEND är det inte bara en känsla av att vara återhämtad; du är faktiskt återhämtad.
XTEND BCAA-pulver är valet för dig som vill bygga muskler, bränna fett och få en längre varaktig och återhämtande träning, med oslagbar smak och optimalt antal ingredienser. Sätt det på prov och bevisa varför XTEND är mästaren bland konkurrenterna.
SAMMANSÄTTNING
Size: 1152g (90 servings)
Calories

0

      

Total Fat

0 g

0%

Cholesterol

0 mg

0%

Sodium

220 mg

9%

Potassium

170 mg

5%

Total Carbohydrates

0 g

0%

Sugars

0 g

**

VItamin B6 (as Pyridoxine Hydrochloride)

640 mcg

32%

L-Leucine

3,500mg

**

L-Glutamine

2,500mg

**

L-Isoleucine

1,750mg

**

L-Valine

1,750mg

**

Electrolyte Blend:

1,170mg

**

Trisodium Citrate Dihydrate, Potassium Chloride, Sodium Chloride

Citrulline Malate (1:1)

1,000mg

**

* Percent Daily Values are based on a 2,000 calorie diet. Your values may be higher or lower depending on your calorie needs. **Daily Value not established.
Allergens: Produced on equipment that also processes dairy, wheat, peanuts, eggs, fish, shellfish, almonds or other tree nuts, sulfites or corn. Contains Soy
BRUKSANVISNING
Anvisningar för användning:Som kosttillskott, blanda en skopa per 8-16 oz vatten (justera för smakpreferenser). Skaka väl och konsumera upp till två skopor under träning på träningsdagar eller mellan måltiderna på icke-träningsdagar. För bästa resultat, använd två skopor per dag.