SARMS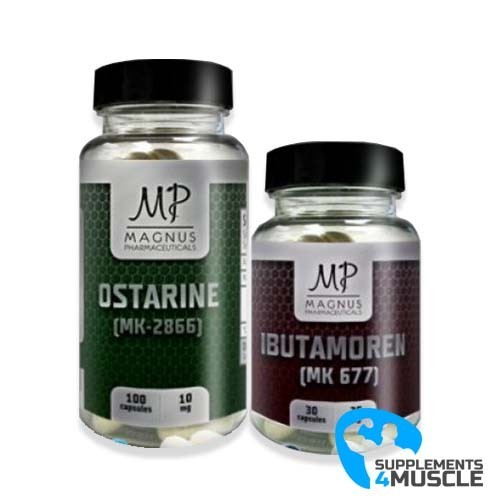 
DESCRIPTION
COMPOSITION
DIRECTIONS OF USE
REVIEWS
DESCRIPTION
Stack for healing: MK-2866+MK-677
Stack for healing: MK-2866+MK-677
There is nothing worse than having nagging joint pain whilst lifting or performing other hobbies. You have tried various things but nothing is helping, luckily there are two SARMs that are very populair when it comes to fixing joint issues.
The compounds you are looking for are MK-2866 (Ostarine) and MK-677 (Ibutamoren). MK-2866 is great at repairing joint issues and other nagging injuries. There are countless reports of users reporting that ostarine has helped them recover of their injuries very rapidly. MK-677 needs to be run for atleast multiple months in order to get the best results. This stack is definitely worth a shot to try and help you recover of your injuries.
Magnus Ostarine (MK-2866)
Ostarine MK-2866 SARM Magnus Pharmaceuticals has proven to be quite beneficial in healing and perhaps preventing injuries in tendons, bone, and ligaments. Studies have shown, it is better than testosterone at injury prevention. As a result, it has become a favorite of many crossfitters and bodybuilders who sustain injuries during training. Also, it shows potential for use in the treatment of muscle wasting diseases, osteoporosis and other ailments.
Magnus Ibutamoren (MK 677)
Magnus Ibutamoren (MK 677). Ibutamoren, more commonly known as "MK-677" is the most powerful and potent orally Administered growth hormone secretagogue, when it comes to selective androgen receptor modulators, also known as "SARMs." Simply put, a secretagogue is a substance that chemically signals the pituitary gland to increase secretion of growth hormone ibutamoren MK 677 could be Compared to peptides like GHRP-6 or ipamorelin, only it does not require any injections, nor does it have Similar side effects. Originally developed by Reverse Pharmacology, ibutamoren MK 677 Aimed to combat conditions like muscle wasting, obesity, osteoporosis, and, oddly enough, the treatment of elderly hip fracture patients.
Benefits of Magnus Pharmaceuticals:
In a study on it's effects on catabolic states, and once daily oral dose of 25mgs Magnus Pharmaceuticals was given to healthy young men subjected to short-term diet-induced nitrogen wasting. After 7 days of this Magnus Pharmaceuticals dose, the subjects showed a sustained increase in serum concentration of IGF-1 and growth hormone; In addition, the nitrogen wasting was reversed, showing great potential for treatment of conditions involving muscle wasting.
Magnus Pharmaceuticals offers online product originality check. You can confirm that you have a genuine Magnus Pharmaceuticals product here.
COMPOSITION
Magnus Ostarine (MK-2866)
Serving size: 1 capsule
Serving per comtainer: 100
Amount per serving
%DV
MK-2866


((2 S) -3- (4-cyanophenoxy) -N- [4-cyano-3- (trifluoromethyl) phenyl] -2-hydroxy-2-methylpropanamide

)
10mg*
Other ingredients: Gelatin (capsules), Magnesium stearate.
Magnus Ibutamoren (MK 677)
Serving Size: 1 capsule
Serving Per Container: 30
Amount per serving

%DV

MK 677
(R) -1'-(2-methylalanyl-0-benzyl-0-seryl)-1-(methylsulfonyl)-1,2-dihydrospiro(indole-3,4'-piperidine)

25 mg*
Other ingredients: Gelatin (capsules), Magnesium stearate.
DIRECTIONS OF USE
Magnus Ostarine (MK-2866)
SUGGESTED USE: 20mg day dosed once a day in a.m.
Magnus Ibutamoren (MK 677)
SUGGESTED USE: 25mg day dosed once a day in p.m.