PCT AND LIVER SUPPORT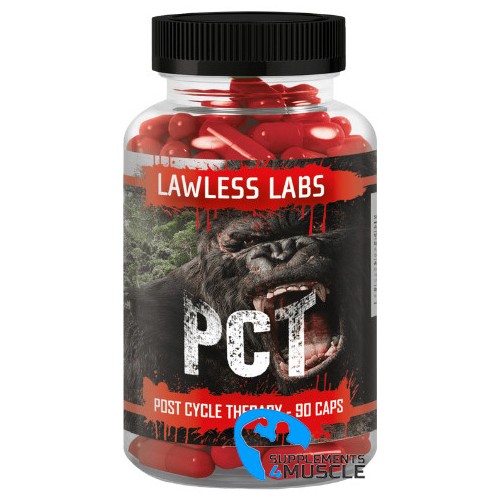 
DESCRIPTION
COMPOSITION
DIRECTIONS OF USE
REVIEWS
DESCRIPTION
Lawless Labs PCT
All athletes on a prohormone or steroid regimen should use a PCT supplement afterwards to help regulate their hormone levels. The Post Cycle Therapy product of Lawless Labs is a new to the market. Lawless Labs PCT is a booster that increases testosterone levels . The product has a matrix of three pillars and thereby regulates the natural testosterone level, blocks estrogen production, reduces cortisol and contributes to a faster overall recovery. Best of all, Lawless Labs PCT allows you to protect your body while preserving your hard-earned gains.
Promotes natural testosterone production
Blocks estrogen production
Reduces cortisol
Supports the regeneration of the liver
Increases the level of glutathione - a powerful antioxidant - in the body
Improves general well-being
Helps you maintain your hard-earned muscle mass
Increases libido
Has a positive effect on mood
Lawless Labs PCT contains selected and carefully combined ingredients that result in a strong testosterone booster while protecting your organs and increasing your general well-being.
Mulra Puama - a herb used by Indians as a support for men. Its effectiveness is related to the ability to stimulate the action of androgens in the body. It has a positive effect on libido, increases sexual performance, and supports the achievement and maintenance of an erection. It also has a tonic effect on the functions of the nervous system. It can also increase cognitive abilities thanks to the ability to stimulate serotonergic mechanisms.
NAC - protects against toxins, facilitates expectoration of secretions (great for smokers!) Cleanses the liver and bronchi, protects against toxic effects of paracetamol, accelerates the decomposition of alcohol breakdown - reduces hangover !!!
Dodder Seed Extract - cannabis seed extract. The ingredients contained in the plant naturally increase the level of testosterone in the body. The plant has a diuretic effect by removing excess water from the body. The ingredients contained in dodder seeds regenerate the cells of the liver and spleen. Studies have shown that the plant can improve bone density and promote the regeneration of cartilage tissue.
Forskolin - it is a type of parent enzyme that stimulates other enzymes to regulate the growth of muscle mass and initiate fat loss processes. It converts adenosine triphosphate (ATP) into cAMP - Cyclic Adenosine Monophosphate, which is the most important body regulator responsible for intensifying the breakdown of fats in fat cells. This compound ensures accelerated transport of fat to muscle cells in order to burn it.
COMPOSITION
Serving Size: 1 Capsule
Servings per container: 90
Ingredients (per serving)
Vitamin D
5000IU

Up-Regulation

Punture Vine (45% Saponins), Muira Puama (Ptychopetalum olaciodes) Extract,

Dodder (Cuscuta japonica) Seed Extract

350mg

Anti-E

Forskolin (17beta-acetoxy-8,13-epoxy-1aplha,6beta,9alpha-trihydroxy-labd-

14-en-11one), Tongkat All Root extract (Eurycoma), Androst 3,5-dien-7,

17-dione 3-deoxy-7-oxo-DHEA

200mg

Repair

N-Acetyl Cysteine (NAC), Grape Seed Extract

200mg
DIRECTIONS OF USE
Directions: As a dietary supplement, take 1 capsule 3 times a day with food.