PCT AND LIVER SUPPORT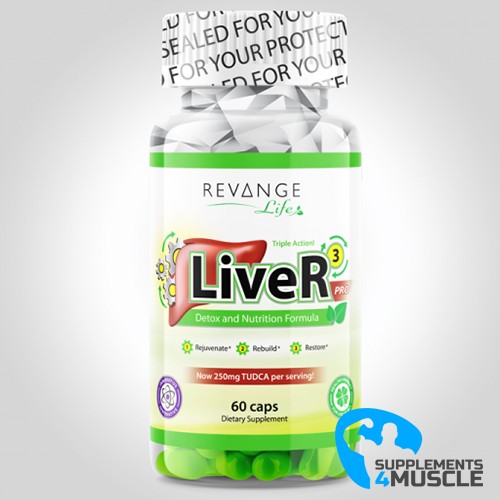 
DESCRIPTION
COMPOSITION
DIRECTIONS OF USE
REVIEWS
DESCRIPTION
Revange Nutrition Liver3 is the number one number among supplements supporting liver reconstruction. Thanks to advanced ingredients, it works in three ways - it supports the proper functioning of the liver, helps in its regeneration, and also neutralizes toxic compounds contained in the body. This unique formula contains the strongest antioxidants and essential phospholipids, which remove excess free radicals from the body, affecting damage to the membrane and liver cells. Liver3 supports the maintenance of an adequate level of enzymes and also supports the natural ability of the liver to metabolize fat.

Liver (3) effectively supports the reconstruction of liver cells, improves their function, and prevents excessive damage and consequences caused by improper liver function. This supplement also affects the normal metabolic processes, contributing to the removal of toxic substances from the body. Thanks to an innovative formula based on natural ingredients, Liver3 is an ideal liver regenerating product, reducing its damage caused by poor diet, consuming drugs, alcohol, exposing the body to toxins and using oral anabolic steroids.

What are the benefits of LiveR 3?

    It supports the proper functioning of the liver
    It supports the digestion and absorption of nutrients
    Supports liver regeneration
    It has detoxifying and exfoliating properties of the liver
    It cleanses the body of toxic substances and free radicals
    It improves the appearance of the skin and has a positive effect on general health
    It helps in the reconstruction of the membrane and liver cells
    It supports the maintenance of the correct level of enzymes and metabolic processes
    It reduces liver damage caused by poor diet, consumption of drugs, alcohol and anabolic steroids

Liver3 is a natural and safe preparation that will help you regenerate your liver, release it from impurities, and help its proper functioning! Thanks to him, your liver will return to impeccable condition, and you will feel healthy and full of life!

Liver3 includes:

NAC protects against toxins, facilitates expectoration of secretions (great for smokers!) Cleanses the liver and bronchi, protects against toxic effects of paracetamol, accelerates the decomposition of alcohol breakdown - reduces hangover !!!

TUDCA prevents choleostasis (problems with the outflow of bile). The component necessary to safely carry out the PH and SAA cycles, and at the same time 100% safe.

GLUTATION is an antioxidant that protects the liver from damage by toxins. It detoxifies the body of the metabolites of drugs, steroids and alcohol.

ROSEMARY has a bactericidal, disinfecting and anti-inflammatory effect. Rosemary extract is recommended for oily, acne and irritated skin.
Rosemary has intense antioxidant properties and protects against sunburn. It counteracts skin and cancer changes.

PHOSPHATE - neutralization of various toxins, including alcohol and ammonia (transformation into urea), hormones, medicines, etc.

Phosphatidylinositol - regulates cholesterol. It lowers the level of bad cholesterol.

POLICOSANOL -Lows the level of bad cholesterol

BIOPERINE: blocks the deposition of fat in your liver and body - avoid fatty liver and cirrhosis, strengthens the natural strength of ingredients, protects the liver - increases gastric acid secretion - accelerates the digestion of nutrients and absorption of essential nutrients for the body.
COMPOSITION
Serving Size: 1 Capsule
Servings Per Container: 60
Amount Per Serving
TUDCA (Tauroursodeoxycholic acid)
250mg
NAC (N-acetyl L-cysteine)
225mg
Tumeric Extract
(Curcuma longa)(95% total curcuminoids)(rhizome)
100mg
L-glutathione reduced
100mg
Rosemary Leaf Extract
(Standarized to 40% Carnosic acid, 25% Ursolic acid, 20% Rosmarinic acid)
100mg
Phospholipids
Phosphatidylcholine
Phosphatidylethanolamine
Phosphatidylinositol
100mg
50mg
15mg
3mg
Na-r-ALA
(Biosolv Enchanced Sodium R-Lipoic Acid)
50mg
Policosanol
10mg
Bioperine
5mg
DIRECTIONS OF USE
As a dietary supplement, take 1 to 4 capsules a day.