HEALTH AND VITALITY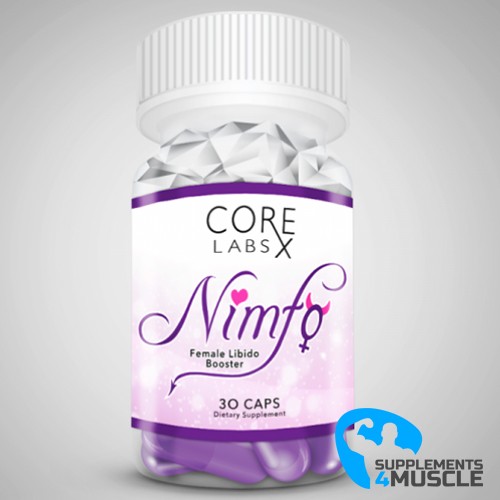 
Core Labs X Nimfo 30 caps
Supports Overall Sexual Health
Promotes Sex Drive & Libido
Intensifies Sexual Sensation
Arouses Sexual Desire
Improves Mood & Energy
DESCRIPTION
COMPOSITION
DIRECTIONS OF USE
REVIEWS
DESCRIPTION
Core Labs X Nimfo 30 caps
Core Labs X Nimfo 30 caps is a new supplement for women who will guarantee you a revolution in the sexual sphere. The product contains only tested and tested ingredients that allow you to enjoy sex and enjoy maximum pleasure.
The supplement contains a proven NIMFO system based on innovative effective aphrodisiacs at specific doses that ensure synergy of action and safety of use.
The supplement is rich in plant ingredients such as L-DOPA (increase in motivation and increase in libido), theobromine (increase energy and improve mood). In addition, the formula contains added vitamins: B3, B6, B12, and zinc, which increases hormonal levels and increases sexual performance.
If you dream about an unforgettable and intoxicating moment and from an indifferent woman you want to change into a perfect mistress, try the new Nimfo product today and enjoy long, unforgettable moments with your partner.
Nimfo inflames senses to the limit!
BENEFITS OF NIMFO APPLICATION:
increasing libido and wanting to have sex
increase sexual experience
longer sexual relations
stronger and more frequent orgasms
a feeling of fulfillment after sex
Flibanserin - the compound eliminates the lack of sexual desire (HSDD) and the blockade of sexual desire (ISD). It is a panacea for the most common sexual dysfunctions associated with frigidity, lack of desire in women of all ages. The ingredient effectively increases sexual fantasies and improves the achievement of orgasm.
Maca - a nutrient-rich plant from Peru. It is characterized by an almost full amino acid profile, the content of essential fatty acids (EFA), the presence of vitamins (B1, B2, B3, C) and minerals (copper, zinc, manganese, iron, selenium, boron). In addition, the maca root has in its composition plant sterols, the use of which may have a beneficial effect on reducing the level of cholesterol in the blood. Supports the regulation of the female hormonal economy. Organic maca has been shown to stimulate estrogen production, suppress follicle stimulating hormone and reduce the severity of menopausal symptoms (hot flushes and night sweats) in postmenopausal women. Another double-blind and placebo-controlled study revealed that maca levels psychological symptoms, including anxiety and depression, and alleviates sexual dysfunction in postmenopausal women, both estrogen and androgen. These observations led researchers to conclude that the maca should be used as an alternative or to support hormone replacement therapy (HRT).
Theobromine - a compound known from the popular yerba mate, showing diuretic action, which helps in getting rid of excess water from the body, masking the effects of reducing body fat. In addition, the compound adds energy and increases motivation, and also causes increased blood flow, which promotes orgasms.
Damiana Leaf extract - enjoys great popularity due to the aphrodisiac and mood-enhancing effects and regulating hormones. This plant is a shrub found in the hot regions of North, Central and South America. She was already known to Azteks and Mayans who used her to increase sexual desire and strengthen the feeling of pleasure, improve the mood and restore the homeostasis of the body. Another advantage of using Damian is calming, relaxing, relaxing and relaxing. This is especially important for people who are notoriously struggling with stress. They may hope that it will counteract anxiety, help cope with insomnia and minimize nervous tension. Such an effect may be particularly important for women undergoing menopause or dysmenorrhea.
L-Dopa contains a key precursor for the most important neurotransmitter necessary for the proper functioning of our mind, as well as having the broadest action confirmed by scientific research. L-dopa is formed by the action of tyrosine hydroxylase, so it is a completely natural amino acid. In addition to the significant increase in dopamine, L-dopa is also used in medicine where its properties that enhance memory and concentration are particularly appreciated, as well as improving sexual functions by increasing libido and affecting stronger sexual experiences.
Panax Ginseng - glycoside saponins are made up of two parts. The first one (glicone) is a saccharide or sugar. The second one (aglikon) has a structure resembling the construction of hormones. In connection with the above, ginsenosides are classified as steroid saponins, i.e. they result in the synthesis of steroid hormones. They are responsible for the increase in the level of libido in both women and men.
Passiflora - the plant has an effective anti-anxiety and calming effect. The active compounds contained in it contribute to the improvement of sleep, lowering the stress level, and relieve strong emotions. Benzoflavone contained in Passiflora is used in addiction therapy for alcohol, nicotine, THC. The plant is the subject of many scientific studies. In addition to the calming properties of the martyr, her influence on possible effects on increasing libido and improving sexual function was examined.
Rhodiola Rosea extract - belongs to strong adaptogens. Adaptogens are characterized by increased resistance to low oxygen levels, support vascular system, eliminate fatigue, regenerate, detoxify, increase metabolism. In addition, the plant effectively increases libido and affects the potency and improvement of sexual life.
Vitamin E - inhibits the oxidation of LDL cholesterol, thus preventing the formation of atherosclerotic plaque. It actively participates in the synthesis of anticoagulants, preserves the proper permeability of cell membranes and minimizes the phenomenon of platelet aggregation, therefore it effectively prevents the formation of blood clots in the blood vessels. It is recommended for people who have high blood cholesterol. It can be used in prophylaxis against myocardial infarction. Research carried out so far has shown that vitamin E has an anti-cancer effect. Its high doses support the action of insulin and normalize the level of glucose in the blood. As if that was not enough, it participates in transmitting nerve signals throughout the body. Women who care about the proper level of vitamin E can be sure that it will effectively prevent the defects of the fetus and ensure the proper course of pregnancy. In the case of men, vitamin E is responsible for the production of sperm, so its lack may contribute to fertility disorders.
Niacin - supplementation with niacin also brings benefits for the immune system. Studies show that the systematic use of vitamin B3 leads to an increase in the number of neutrophils. These are white blood cells that allow the destruction of pathogenic microorganisms in the form of bacteria. Vitamin PP also leads to improved functionality of the central nervous system. The increase in activity in the mitochondrial nuclei, which are found in the nucleus accumbens, contributes to the improvement of the mental condition of a human being, which is manifested in: increased self-confidence, reduced effects of perceived stress and reduced anxiety.
Zinc - plays an important role in maintaining acid-base balance. It ensures the correct function of the prostate and reproductive organs and the proper action of hormones. Studies have shown that zinc has a significant effect on brain function. It is necessary to maintain the optimal concentration of vitamin A in the blood and its consumption by tissues. The beneficial effect of zinc on organisms is, in addition to the general improvement of metabolism, to accelerate the healing of wounds, especially skin lesions, improve mental performance and to protect the macula of the eye against degenerative changes. Facilitates the removal of white spots on the nails, restores the taste sensation. It maintains skin resistance to infections as well as participates in the detoxification of alcohol in the liver. It has a positive effect on the growth process. Zinc also improves intellectual performance.
COMPOSITION
Serving Size: 1 Capsule
Servings Per Container: 30
| | |
| --- | --- |
| | Amount Per Serving |
| Vitamin E (as D-Alpha Tocopheryl) | 30 IU 100% |
| Vitamin B3 (as Niacin) | 4 mg 20% |
| Vitamin B6 (as Pyridoxine HCL) | 8 mg 400% |
| Vitamin B12 (as Cyanocabalamin) | 48 mcg 8% |
| Zinc (as Zinc Amino Acid Chelate) | 1.5 mg 10% |
| Flibanserin | 100 mg |
| NIMFO System: | 500 mg |
| Cocoa Extract (6-8% Theobromine), Maca Root Extract (0.6% Macamides), Arginine-Alphaketoglutarate 2:1 (A-AKG), Damiana Leaf Extract 5:1 (Turnera Diffusa), Mucuna Pruriens Extract (99% L-Dopa), Panax Ginseng Root Extract (4% Ginsenosides), Passion Flower (Passifiora), Rhodiola Rosea Extract (3% Salidrosides). | |
DIRECTIONS OF USE
As a dietary supplement, take 1 capsule daily with water.