Potenciador de preentrenamiento EXTREME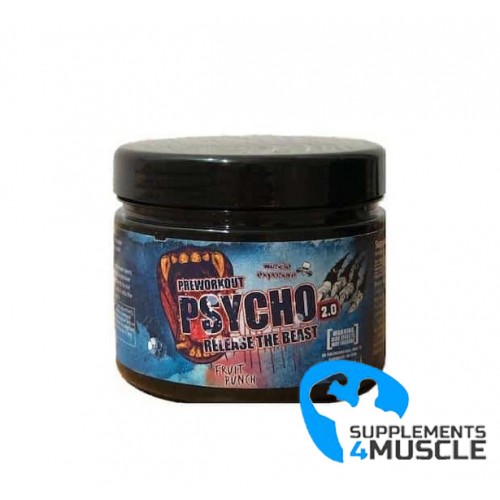 
DESCRIPTION
COMPOSITION
DIRECTIONS OF USE
REVIEWS
DESCRIPTION
Exposición muscular Psycho 2.0
Muscle Exposure Psycho 2.0
Recorrimos el planeta, escudriñando en todos los gimnasios clandestinos más duros, a la caza de los mutantes musculares más grandes y malos que existen para averiguar qué devoran para convertirse en esos monstruos masivos y masacradores de hierro.
240g en caja Muscle Junkie Psycho con DMAA / Psycho Booster ¡EDICIÓN US!
Aporta un excedente de energía con una fórmula superfuerte, aumenta la vigilancia y la resistencia.
.
De una matriz única para un entrenamiento masivo y una bomba indescriptible durante el entrenamiento.
.
Después de haber sido expuestos a los cócteles más brutales y desgarradores que jamás hayamos visto, rescatamos sólo los ingredientes que infligieron el caos más balístico de construcción muscular. Arrastramos estos ingredientes hasta el sótano, donde nuestros locos del laboratorio prepararon este brebaje de pre-entrenamiento increíblemente potente que ahora llamamos Psycho.
Psico es literalmente el pre-entrenamiento más loco y demente que jamás hayas tomado. La intensidad te dejará boquiabierto y llevará tu entrenamiento al nivel psicótico del que sólo son capaces los verdaderos adictos a los músculos.
COMPOSITION
Serving Size 1 Scoop (6g)
Servings Per Container 40
| | |
| --- | --- |
| Amount Per Serving | %Daily Value |
| Hardcore Strenght Amplifying, Energy Boosting, Muscle Engorging Matrix: | 3193mg |
| L-Arginine Alpha-Ketoglutarate | * |
| Beta-Alanine | * |
| Tri-Creatine Malate | * |
| Caffeine Anhydrous | * |
| L-Tyrosine | * |
| Beta-phenethylamine | * |
| 1,3 dimethylamylamine (Geranium oil extract)1 | * |
| Nicotinic acid (Niacin) | * |
| Bioperine2 | * |
* Daily Value not established
Other Ingredients: Waxy Maize Starch, Dextrose, Malic Acid, Silica, Citric Acid, Flavours, Sucralose, Colour (E124).
1 1,3 dimethylamylamine (aka Methylhexanamine) is banned by various sporting bodies and federations and may thus lead to a positive doping result if consumed by sportsmen or women participating in such federations. Competitive athletes should thus first consult with their relevant federation before using this product.
2 Bioperine® is a registered trademark of Sabinsa Corporation
DIRECTIONS OF USE
Recommendations for use: As a dietary supplement on training days is recommended to take 1 scoop (6 grams) mixed with 300 ml of cold water and consume 30 minutes before training. Do not exceed the dose of 1 scoop in one portion and 2 servings (12 grams) in a 24 hour period. If sensitive to stimulants, do not take within 5 hours before bedtime. Assume in cycles 8 weeks "on", followed by a pause of 2-3 weeks. For best results combine Psycho With an intense program of weight training and a high protein content. Drink a minimum of 2-3 liters of fluid a day. Read the entire label before use and follow the instructions.
REVIEWS
There is no review
Atsiliepimas Atsiliepimas