Potenciador de preentrenamiento EXTREME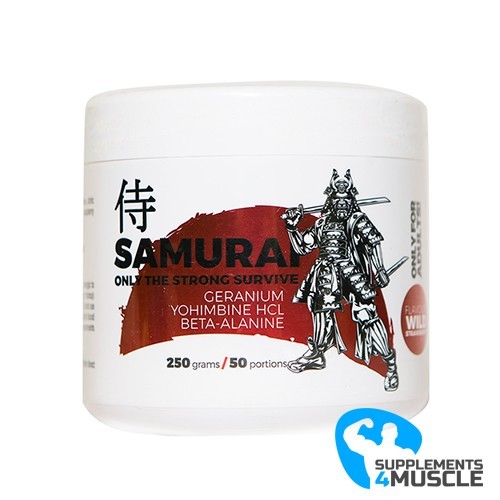 
DESCRIPTION
COMPOSITION
DIRECTIONS OF USE
REVIEWS
DESCRIPTION
Chikara Samurai Geranium
Chikara Samurai es uno de los pre-entrenamientos más fuertes vendidos actualmente en Europa.
Este producto es una fórmula de pre-entrenamiento con mucho cuerpo perfecta para aquellos que tienen experiencia previa con pre-entrenamientos basados en altos estimulantes y cafeína en el pasado.
.
45mg de extracto de geranio por cacito
.
.
¡Chikara Samurai es el favorito de los adictos a los estímulos!
Los pre-entrenamientos están diseñados para darte una ventaja extra cuando entrenas, para que puedas superar esos límites y alcanzar tu máximo potencial. Contienen - en esencia - un cóctel de ingredientes diseñados para mejorar el rendimiento.
COMPOSITION
Serving Size: 1 scoop / 5 grams
Nutrition value
5 grams
% DRI*
Stimulant Matrix "Samurai"
(Geranium Extract, Yohimbine HCL, Beta-Alanine, Caffeine)
2605mg
-
*DRI = Daily Reference Intake
Ingredients: Geranium Extract, Yohimbine HCL, Beta-Alanine, Caffeine, maltodextrine, citric acid, sucralose (sweetener), flavour, colouring agent: cochineal red (for raspberry and wild strawberry flavours).
DIRECTIONS OF USE
Recommended use: Take 1 scoop 30 minutes before workout with minimum 200ml of water.
Do not exceed recommended daily dose.
REVIEWS
There is no review
Atsiliepimas Atsiliepimas