PCT AND LIVER SUPPORT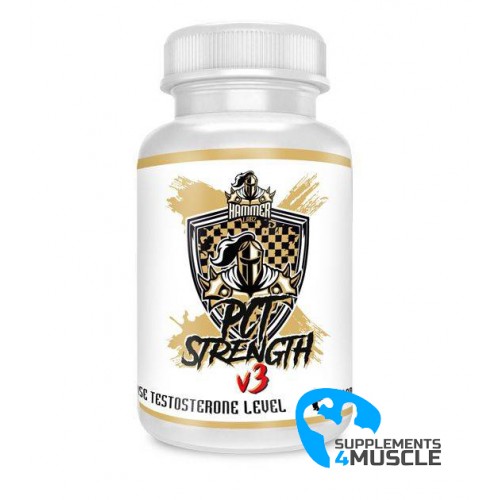 
Hammer Labz PCT V3 60caps
Testosterone booster,
Aromatase Inhibitor,
Reduces the harmful effects of cortisol,
Contains 6-bromo!
Allows you to restore hormonal balance.
DESCRIPTION
COMPOSITION
DIRECTIONS OF USE
REVIEWS
DESCRIPTION
Hammer Labz PCT V3 60caps
Hammer Labz PCT V3 is an all-encompassing post-cycle hormone therapy aid. It contains components that increase testosterone, suppress aromatization activity, and decrease cortisol levels. With PCT supplements like this, it facilitates a much more efficient unblocking of hormones!
Hammer Labz PCT V3 is a potent solution for boosting testosterone production as well as an aromatase inhibitor that helps to minimize the damaging effects of cortisol. This unique combination also includes 6-bromo, a powerful yet safe ingredient that brings about natural hormone balance in the body.
Hammer Labz PCT V3 is one of the top PCT supplements relying on 6-bromo, arimistane, and laxogenin as its main ingredients.
A particular blend of ingredients with a powerful anabolic influence, Hammer Labz PCT V3 maintains your muscular strength and physique. Additionally, this could lead to increased libido, enhanced sexual performance, and improved general outlook and mood. These are just a few of the advantages of taking this supplement.
Ingredients:
Fenugreek, with a dosage of 300 mg, is a plant with properties that can boost testosterone levels. The active compounds of this herb are diosgenin, gitogenin, yamogein, and thigogenin (steroidal saponins). The supplement is beneficial in bringing the hormones back to their natural equilibrium. It is also known to help with other problems such as muscle gain, stress, libido, and even fertility. Fenugreek has been used as an aphrodisiac, to increase physical strength and endurance, and to promote healthy digestion. It is also believed to have anti-inflammatory and antioxidant properties. 
Eurycoma longifolia, or Tongkat Ali, is a plant whose root and leaves have been used for centuries in numerous areas of Asia to address numerous ailments and health concerns. The plant has a strong reputation for boosting physical stamina and libido. The constituents found in Tongkat Ali are eurycomannone and eurycomannamate. Tongat Ali is believed to support the body's natural testosterone levels, which in turn may provide a range of benefits including increased energy, enhanced libido, improved muscle mass, and improved performance
Horny Goat Weed is a herb used to better sexual behavior and bolster male sexual hormones. Supplements based on this botanical is a great way to lift libido and heighten sexual performance. Taking this herb regularly would be beneficial for maintaining health and bolstering assurance during intercourse. Icariin is the primary component of this plant, which acts like drugs that stimulate libido.
Beta-ecdysone, a naturally occurring steroid molecule, has an impact on glucose and lipid concentrations in the body, improving liver function. It can also assist the nervous system to operate effectively, leading to lowered stress and mental exhaustion, and increasing the immune system. Additionally, it aids in the anabolic production of protein, as it has an anti-catabolic impact. All this by just having 100 mg of Beta-ecdysone. Beta-ecdysone is also known to be an anti-aging agent that helps increase the production of collagen and elastin. This helps to reduce wrinkles, fine lines, and other signs of aging.
The Sabal palm plant, native to North America, is known to produce a fruit that is a great source of phytosterols. Phytosterols like beta-sitosterol, campesterol, and stigmasterol, when taken in doses of 100 mg, have been shown to block the enzymes 5-alpha-reductase and aromatase, reducing the risk of male pattern baldness and prostate enlargement. Additionally, these phytosterols have anti-inflammatory capabilities, boost testosterone levels and reduce the amount of estrogen in the body.  
N-Methyl-D-aspartic acid is a form of amino acid that functions to promote anabolic activity in NMDA receptors all over the body. When the NMDA receptor binds to it, the hormone balance responsible for the creation of testosterone, growth hormone and IGF-1 and IGF-2 is stimulated. This amino acid is beneficial in sustaining higher testosterone levels in the body by holding onto the sites of male hormone receptors which in turn gives rise to testosterone-like activity. A recommended dosage of 50 mg is advised in order to achieve these effects. N-Methyl-D-aspartic acid can also be found as a supplement where it has been seen to improve cognitive functioning, reduce stress, and increase muscle mass.
The powdered bark of the Erythroxylum catuaba tree offers an array of positive benefits for people of both sexes. With an astounding 50 mg of the extract included, it is touted as an all-natural enhancer for sexual performance, overall wellbeing, and even known as the "love plant." It is an aphrodisiac and adaptogen, making it an indispensable addition to anyone's supplement regimen. Erythroxylum catuaba bark is purported to provide improved libido and stamina, better circulation and improved mood. Additionally, it is thought to help with cognitive enhancement and reduce inflammation. 
Laxosterone is able to bolster the body's ability to synthesise protein in the muscles, aiding in the promotion of anabolism. Furthermore, this action concurrently decreases catabolism, stopping us from losing our muscle mass. Laxogenin is also a factor which will boost our recoverability, heighten our exercise performance and help to decrease fat amounts. Laxosterone is also known to help regulate hormones, reducing cortisol levels and augmenting testosterone's effects.
Androsta-3,5-Diene-7,17-Dione, also known as Arimistane, is a supremely powerful aromatase inhibitor (AI). The drug suppresses cortisol as well as estrogen levels and increases the level of free testosterone in the body. Since less testosterone is converted to estradiol, more of its active form is available, giving improved results in terms of athletic ability. Arimistane will regulate and control the amount of estrogen in the body, especially the amount that can come about after a cycle has been completed. Additionally, this AI is also used during assistance of prohormones.
6-Bromo, containing 50 mg of substance, is considered to be a popular choice among those taking SAA and PH, as it works to prevent the enzyme that converts testosterone to oestradiol from functioning, resulting in a noticeable increase in testosterone in the body. 6-Bromo is ideal for those looking to cut down on fat or water retention and gives a more defined appearance.
COMPOSITION
Serving size: 1 cap
Serving per container: 60
| | |
| --- | --- |
| INGREDIENTS |  per serving |
| Fenugreek | 300mg |
| Tongkat Ali | 200mg |
| Horny Goat Weed | 150mg |
| Beta Ecdysterone | 100mg |
| Sawl Palmetto Extract | 100mg |
| N-Methyl-D-Aspartic Acid | 50mg |
| Catuaba Bark Extract | 50mg |
| Laxosterone | 100mg |
| Androsta-3,5-Diena-7,17-Dione | 100mg |
| 6-Bromo | 50mg |
DIRECTIONS OF USE
Dosage: 1 serving, 2 capsules per day. Do not exceed 30 days of supplementation.
REVIEWS
There is no review
Atsiliepimas Atsiliepimas