PCT AND LIVER SUPPORT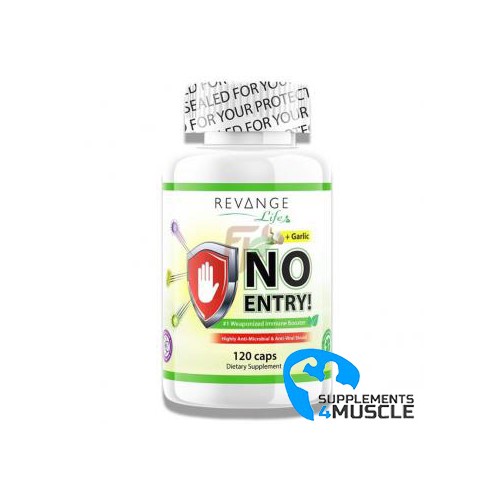 
DESCRIPTION
COMPOSITION
DIRECTIONS OF USE
REVIEWS
DESCRIPTION
Revange Nutrition No Entry 60caps
Revenge Life's newest formulation is a health supplement that bolsters one's immune system and effectively wards off bacterial and viral infections. It helps to lessen the effects of the common cold, flu, and other infections, reducing the chance of contracting an illness, particularly during periods when infectious diseases are more likely to spread. The product can be used either preventively or while one is feeling unwell.
No Entry effectively fortifies a defensive wall against viruses and germs. Merging the top performing natural components in combating inflammation and reducing healing time, it possesses a tremendous antioxidative capacity which expedites healing while bettering physical and mental wellness.
Propolis from bees has powerful anti-bacterial, anti-viral, and anti-fungal properties that don't allow organisms to become resistant to it. Additionally, it has anti-inflammatory qualities and is beneficial for metabolism.
NAC has the potential to expedite the restoration of liver cells due to its strong antioxidant abilities. Moreover, it increases the amount of Glutathione, an anti-inflammatory substance, produced in the body.
Glutathione has a strong shielding effect against oxidants and allows for the recirculation of other antioxidants. It also has the ability to quicken the removal of hazardous materials.
Vitamin C has a powerful ability to control your immune system, reinforce the walls of your blood vessels, and enhance metabolism. Thanks to liposomal technology it is undestroyed by enzymes and stomach acid, and is fully absorbed by the bloodstream.
Rutin is known for its ability to fortify the walls of blood vessels, thus benefiting blood flow. In addition, it reduces the creation of histamine and thereby decreases allergic reactions.
Quercetin can aid in the prevention of cancer and also work to counteract free radicals that can damage cell walls.
Bee Pollen is known to amplify productivity and bolster the body's defense mechanisms. It also guards against early aging and hastens recuperation following strenuous physical activity.
Rosemary Acid works to decrease the buildup of cholesterol on the walls of arteries in the brain. It boosts blood flow in the brain and keeps it from becoming deprived of oxygen.
Na-R-ALA works as a highly effective antioxidant, promoting food digestion and lessening blood glucose levels. Additionally, it guards against the development of insulin resistance.
Resveratrol is beneficial in that it has antiviral, anti-inflammatory, and antibacterial properties, which can protect the heart, blood vessels, and nervous system.
Grape Seed Extract has a protective effect from oxidation.
RNA helps the liver to regenerate faster, and boosts the immunity through a heightened number of lymphocytes.
Vitamin E has the ability to act as an antioxidant as well as to increase the rate of protein production, aid in the process of cellular respiration and metabolism.
Hyaluronic Acid possesses the capability of binding to water molecules, which enhances the state of connective tissue. In addition, it fortifies the production of collagen and elastin and hastens the generation of new blood vessels.
Polyglutamic Acid has a similar effect to that of Hyaluronic.
Lutein exists in copious amounts in the liver and brain, and it is indispensable for the regeneration and metabolism of these body parts.
Lycopene has the ability to lessen oxidative stress and guard DNA from harm.
Carotenoids such as astaxanthin and zeaxanthin serve to guard the retina from harm.
COMPOSITION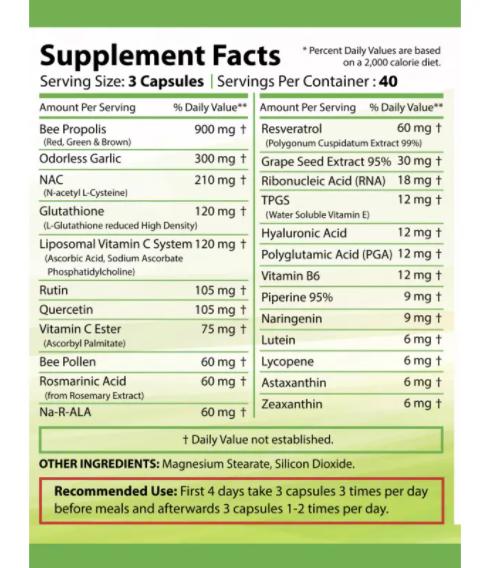 DIRECTIONS OF USE
Dosage: The first 4 days 3 capsules 3 times a day, then 3 capsules 1-2 times a day.
REVIEWS
There is no review
Atsiliepimas Atsiliepimas