PCT AND LIVER SUPPORT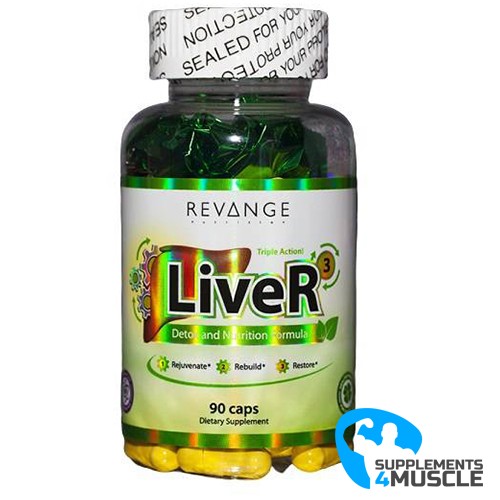 
DESCRIPTION
COMPOSITION
DIRECTIONS OF USE
REVIEWS
DESCRIPTION
Revange Nutrition Liver3 90caps
Supplement cycles can be effective in building muscle and gaining muscle mass, but you have to take care to guard yourself from potential liver toxicity and estrogenic side effects. What could you do to avoid such problems and focus on hitting the gym? Revange Nutrition Liver3 has the answers -- use it to prevent estrogen and liver toxicity, turning you into a dedicated athlete who's in the gym early and out late, with ripped muscles and tattered shirts everywhere.
Revange Nutrition Liver3 utilize the potency of reliable, strong, and natural components such as NAC (N-acetyl L-cysteine), L-glutathione reduced, Rosemary Leaf Extract, Na-r-ALA (Biosolv Enhanced Sodium R-Lipoic Acid), Tauroursodeoxycholic acid (TUDCA), Policosanol, and Bioperine.
Why Buy Revange Nutrition Liver3 90caps?
Revange Nutrition Liver3 90caps can help your liver get the benefits it needs to regenerate and restore your health. This product optimizes your body's potential to increase muscle mass and burn fat, provides muscle fullness during your workouts to prevent muscle breakdown, increases bone density, and enhances your post-workout recovery. Additionally, this supplement helps improve the look, feel, and elasticity of your skin, as well as aiding in the repair of liver cells and their membranes. It also promotes proper digestion and absorption of nutrients and removes toxins and dangerous radicals from your body. Purchase Revange Nutrition Liver3 90caps today for a fully functioning and healthy liver.
COMPOSITION
Serving Size: 1 Capsule
Servings Per Container: 90
Amount Per Serving
NAC (N-acetyl L-cysteine)
350 mg
Tauroursodeoxycholic acid (TUDCA)
125 mg
Tumeric Extract (Curcuma longa)(95% total curcuminoids)(rhizome)
100 mg
L-glutathione reduced
100 mg
Rosemary Leaf Extract (Standarized to 40% Carnosic acid, 25% Ursolic acid, 20% Rosmarinic acid)
100 mg
Phospholipids
-Phosphatidylcholine
-Phosphatidylethanolamine
-Phosphatidylinositol
100mg
50 mg
15 mg
3 mg
Na-r-ALA (Biosolv Enhanced Sodium R-Lipoic Acid)
50 mg
Policosanol
10 mg
Bioperine
5 mg
DIRECTIONS OF USE
As a dietary supplement, take 1 to 4 capsules a day.
REVIEWS
There is no review
Atsiliepimas Atsiliepimas