PCT AND LIVER SUPPORT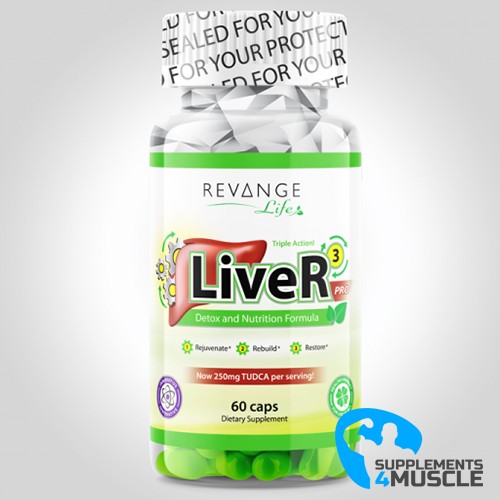 
DESCRIPTION
COMPOSITION
DIRECTIONS OF USE
REVIEWS
DESCRIPTION
Revange Nutrition Liver3 Pro 60caps
Revange Nutrition Liver3 is the top supplement to aid in liver recovery. Along with its effective ingredients, it assists in the healthy functioning of the liver and helps it rebuild, as well as countering any toxic substances inside the body. The distinction of this product lies in its powerful antioxidants and critical phospholipids, which remove any harmful free radicals present, thereby mending any damages that have occurred to the liver's membrane and its cells. On top of that, Liver3 maintains the amount of enzymes necessary, and also enables the liver to burn fat naturally.
Liver3 has the ability to restore liver cells and boost their performance, while also blocking any harm that can arise from a malfunctioning liver. This supplement further supports the natural metabolic processes and excretion of pollutants from the body. Consisting of solely natural elements, Liver3 is an excellent choice for regeneration of the liver, especially in cases of damage due to an imbalanced diet, drug or alcohol consumption, environmental toxins, or anabolic steroid usage.
The advantages of LiveR 3 are that it helps the liver to operate correctly, aids in the digestive process and nutrient absorption, encourages liver regeneration, has detoxifying and exfoliating qualities, gets rid of harmful substances and radicals, improves the look of skin, fosters the rebuilding of liver cells and membrane, and maintains healthy levels of enzymes and metabolism. It also helps to mitigate damages to the liver caused by bad dietary habits, drugs, alcohol abuse, and anabolic steroids.
Liver3 is an organic and secure supplement that can help to restore and cleanse your liver, enhancing its operation. This preparation can return your liver to its optimal condition and give you an improved sense of wellbeing and energy!
NAC works to guard against harmful toxins, encourages sputum production which aids those who smoke, cleans the liver and windpipe, shields against the destructive impact of paracetamol, and expedites breakdown of alcohol - helping to fight off hangovers!
TUDCA helps to stop choleostasis from occurring, which allows the PH and SAA cycles to be performed without any risk. It is completely safe.
Glutathione is an antioxidant that serves to safeguard the liver from harm brought on by toxins. It helps to purify the body of compounds released by using drugs, anabolic steroids, and alcohol.
Rosemary possesses qualities that make it suitable for treating various skin issues including bacteria, inflammation, and acne. Additionally, it is a powerful antioxidant which helps ward off sunburn and potentially even dangerous cancerous changes.
Phosphate can help reduce the effects of toxins such as alcohol and ammonia by converting them into urea, as well as neutralize hormones, drugs, and other substances.
Phosphatidylinositol is a regulator of cholesterol, decreasing the amount of harmful cholesterol.
POLICOSANOL reduces the amount of bad cholesterol in the bloodstream.
BIOPERINE helps to prevent fat from building up in the liver and throughout the body, shields the liver from damage, enhances the potency of other components, and boosts hydrochloric acid production, which can help speed up nutrient digestion and enhance nutrient uptake by the body.
COMPOSITION
Serving Size: 1 Capsule
Servings Per Container: 60
Amount Per Serving
TUDCA (Tauroursodeoxycholic acid)
250mg
NAC (N-acetyl L-cysteine)
225mg
Tumeric Extract
(Curcuma longa)(95% total curcuminoids)(rhizome)
100mg
L-glutathione reduced
100mg
Rosemary Leaf Extract
(Standarized to 40% Carnosic acid, 25% Ursolic acid, 20% Rosmarinic acid)
100mg
Phospholipids
Phosphatidylcholine
Phosphatidylethanolamine
Phosphatidylinositol
100mg
50mg
15mg
3mg
Na-r-ALA
(Biosolv Enchanced Sodium R-Lipoic Acid)
50mg
Policosanol
10mg
Bioperine
5mg
DIRECTIONS OF USE
As a dietary supplement, take 1 to 4 capsules a day.
REVIEWS
There is no review
Atsiliepimas Atsiliepimas