PCT AND LIVER SUPPORT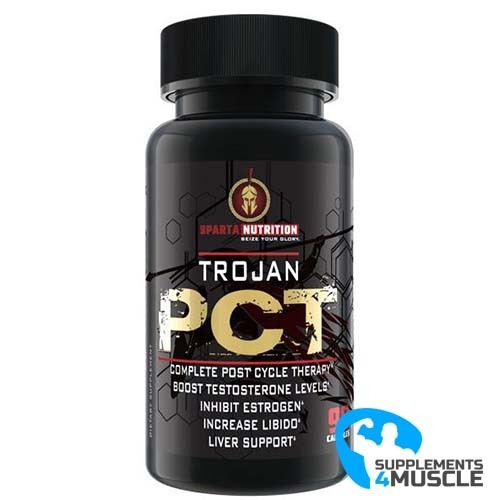 
Sparta Nutrition Trojan PCT
Complete Post Cycle Therapy
Boost Testosterone Levels
Inhibit Estrogen
Increase Libido
Liver Support
DESCRIPTION
COMPOSITION
DIRECTIONS OF USE
REVIEWS
DESCRIPTION
Sparta Nutrition Trojan PCT
When you finish a cycle, the struggle to retain your results begins and Sparta Nutrition Trojan PCT is here to be your ally.
It is believed that Tongkat Ali Extract aids physical performance and supports the body's ability to adjust to exercise. Studies have revealed that when this supplement is coupled with a weight lifting routine, more body mass is gained and body fat is lost. It is believed that Tongkat Ali triggers an increase in testosterone levels, which could consequently contribute to a higher libido and greater sexual health.
Tribulus Extract has been the prevailing testosterone booster in use today. A current research revealed that this extract escalated customers' testosterone levels by 12% and IGF-1 levels by 20%.
Mucuna Pruriens, which functions as an antecedent to Dopamine, could potentially have an effect on different psychological tasks such as enthusiasm, state of mind, focus, memory, intentional muscle movement, and learning. What's more, research has pointed to the fact that L-Dopa might promote lean muscle mass growth and also maintain proper hormone levels in males and females.
Boron is a critical mineral needed for the bones to develop, but it has also been revealed to reduce the amount of SHBG, consequently boosting the amount of testosterone.
N-Acetyl-L-Cysteine (NAC) is an antioxidant obtained from the amino acid known as L-Cysteine, which has a variety of positive qualities. Specifically, it aids in the elimination of free radicals, detoxifying elements like mercury, and safeguarding the liver from injury. Additionally, NAC has been linked to aiding pulmonary respiratory health, improving immunity, and strengthening the bronchial system.
Laxogenin, a natural, non-hormonal anabolic substance, has an incredibly high anabolic rating which would be prohibited if it weren't naturally sourced. It can significantly raise protein synthsis by 200%, contributing to augmented muscle gain and quicker recovery times. Moreover, Laxogenin also curbs the creation of cortisol, which is an anti-catabolic stress hormone.
COMPOSITION
Serving Size: 3 Capsules
Servings per container: 30
Amounts per serving
High Grade Tongkat Ali Extract
600mg
**
Tribulus Terrestis 45% Saponins Extract
300mg
**
Mucuna Pruriens Extract (STD L-Dopa)
250mg
**
Boron Citrate
200mg
**
Saw Palmetto Extract
175mg
**
N-Acetyl-L-Cysteine
150mg
**
Androsta-3, 5-diene-7, 17-dione
50mg
**
5a-hydroxy Laxogenin
25mg
**
**(DV)Daily Value Not Established
 
 
Other Ingredients: Rice Flour, Gelatin, Magnesium Stearate, FD&C Yellow #6, Blue #1, Red #40. 
DIRECTIONS OF USE
Suggested Use: As a Dietary Supplement, take 3 capsules a day, Dosed evenly throughout the day with a meal. Do no exceed the recommended dosage in a 24 hour period.
REVIEWS
There is no review
Atsiliepimas Atsiliepimas