PCT AND LIVER SUPPORT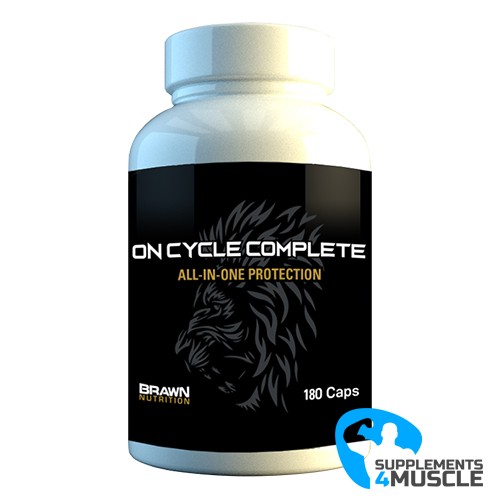 
DESCRIPTION
COMPOSITION
DIRECTIONS OF USE
REVIEWS
DESCRIPTION
Brawn Nutrition On Cycle Complete
Brawn Nutrition On Cycle Complete is an enhanced comprehensive cycle protection formula, made to keep up healthy blood pressure, lipid numbers, reinforce the body's natural immunity, and provide added assistance to your liver to promise a cycle with minimal side effects.
Brawn On Cycle Complete works harder than any other product to safeguard all organs by including large amounts of the most potent components.
TUDCA, which is combined with taurine, is used as a medicinal treatment to combat liver disease. Reports from various people who take 17aa compounds show that it helps to maintain their liver enzymes at a healthy level.
Nac (n-acetyl-cysteine) is a wonderful antioxidant which helps maximize glutathione levels. Our daily dose is 2400mg which is a minimum of two times higher than what competitors often offer.
R-ALA is an antioxidant that has numerous benefits, such as balancing out blood sugar levels, helping to properly allocate nutrients, and safeguarding the liver.
We have added 600mg of niacin to our product daily as a way of decreasing cholesterol levels. Be aware that this dosage might result in a short-term redness of the skin for some people.
Terminalia arjuna has been called one of Ayurveda's best "miracle herbs", and is especially good at decreasing blood pressure, which is a common cause of heart and kidney diseases. In this product, you will find 1000mg of this extract.
Ubuquinol is the preferred and absorbed type of Coenzyme Q10. This compound is helpful in the metabolism of energy, as well as contributing to the health of the heart. Unfortunately, utilizing medications to lessen cholesterol levels can reduce amounts of Q10, which raises the risk of heart issues.
Garlic has many health benefits. Including it in our diet is a good way to safeguard our immune system, but it can also help with various other issues that stem from taking aas.
COMPOSITION
Serving Size: 3 Caps
Servings Per Container: 60
| | |
| --- | --- |
| Ingredients | Per Serving |
| Tudca | 100mg |
| Nac | 600mg |
| R-ala | 100mg |
| Niacin | 150mg |
| Ubiquinol | 50mg |
| Terminalia arjuna extract | 250mg |
| Garlic (Allium sativum) (Bulb) | 300mg |
DIRECTIONS OF USE
Directions: Take 3 caps twice a day during the duration of your cycle.
REVIEWS
There is no review
Atsiliepimas Atsiliepimas