All products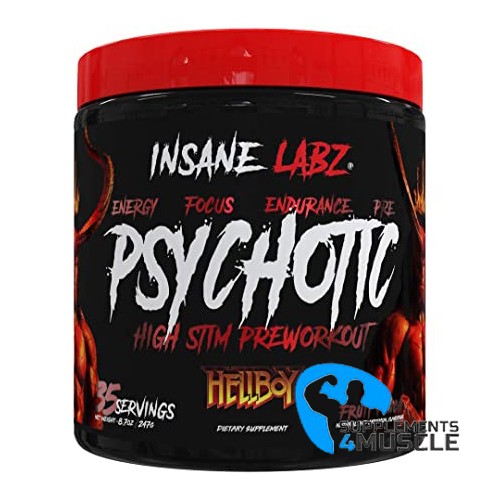 
DESCRIPTION
COMPOSITION
DIRECTIONS OF USE
REVIEWS
DESCRIPTION
Insane Labz Psychotic Hellboy 250g
Work out furiously in the gym with Insane Labz® Psychotic HELLBOY Edition.
Hellboy's powerful pre-workout from Insane Labz is designed to give you energy, focus, and endurance with the amazing "pump" factor. With this pre-workout, you will experience a long-lasting energy and be able to remain focused throughout your workouts.
When Hellboy visits the gym, he's sure to take some Psychotic Hellboy. He has the strength to beat Baba Yaga through Beta-Alanine, which allows his muscles to last longer, Citrulline Malate to make his veins look bigger and improve his energy levels, Infinergy to increase power and add to the weight-loss effect, and Insane Labz' propriety AMPiberry to help absorb it all.
Psychotic Hellboy is a unique pre-workout concocted from elements of a popular comic book superhero. We are an impressive and much-talked about brand.
A revolutionary product is now available at The Asylum - Psychotic HELLBOY edition! It gives you the same sensational flavor and powerful energy, but with a longer-lasting, quicker impact - just right for channelling your inner superhero! Why not try out Psychotic HELLBOY edition and see what it can do for you during your next workout? Prepare for an earth-shattering experience!
The amount of caffeine present from all sources is 300mg
COMPOSITION
Serving size: 1 scoop (7.2g)
Servings per container: 35
Amount Per Serving

%DV

PSYCHOTIC™ BLEND:
Beta Alanine, L-Taurine, L-Citrulline Malate 2:1, L-Tyrosine, Caffeine Anydrous, Infinergy™ DiCaffeine Malate, Caffeine Citrate, AMPiberry (Juniperus Communis)(berry), Rauwolfia Vomitoria Extract (std. min 90% alpha yohimbine)(rootbark)
5.3g

*
Other Ingredients: Citric Acid, Natural and Artificial Flavoring, Silica, Sucralose, Calcium Silicate, Acesulfame Potassium, FD&C Blue #1
DIRECTIONS OF USE
Dosage: 1 scoop 30 minutes before workout
REVIEWS
There is no review
Atsiliepimas Atsiliepimas