HEALTH & WELL-BEING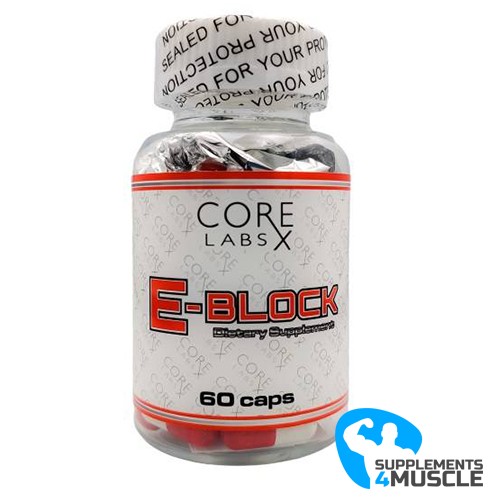 
DESCRIPTION
COMPOSITION
DIRECTIONS OF USE
REVIEWS
DESCRIPTION
Core Labs X E-Block 60 caps
Core Labs X E-Block 60 caps is a strong formula equipped with one of the most effective non-steroidal aromatase inhibitors, decreasing the consequences of estrogen in the body. The product guards against the disagreeable effect of excessive estrogen that arise during cycle application of PH and SAA. This supplement has powerful components that impede the transformation of testosterone to estrogen during anabolic cycles.
This ingredient selectively hinders the manufacture of oestrone and oestradiol (> 80%) stemming from androstenedione and testosterone. The medicine cuts back estrogen production by declining its rate in the body, while increasing testosterone by a whopping 50%. It is taken as an enhancement to Post Cycle Therapy (PCT). When attempting to gain muscle, the compound helps to avoid water preservation in the body and enhances muscle clarity. Additionally, it stops the formation of gynecomastia, acne and too much hair loss.
A high concentration of the useful component with confirmed impact will bring the hormone consistency in men back to normal. E-block is amazing for reducing the degree of estrogen and pushing the body to produce its own testosterone. It is an ideal supplement after discontinuing cycles. Utilizing E-block will ensure successful sculpting of the figure, enhanced self-esteem and a masculine look without color, gynecomastia, or balding issues.
NAC is advantageous for a number of reasons. It deters damage to cells by deactivating reactive oxygen species and lessening oxidative stress, thus boosting the body's immune system. It also increases stamina for athletes by enhancing their efficiency and reducing fatigue. Furthermore, it helps with mucus secretion, breathing, gas exchange, and oxygenation. Additionally, NAC helps with quick recovery after a workout and reduces inflammation associated with excess. Acetyl groups are also provided by NAC, increasing testosterone production. Finally, it effectively works to regenerate damaged liver cells (hepatocytes), making it a popular choice for athletes taking prohormones and steroids.
Rosemary's Rosmarinic Acid has calming effects on gentle muscles in the urinary tract, digestive tract, and blood vessels in the legs of the elderly. Internally, it's used to soothe spasms in the digestive system, bile, and urinary tract, assist in peripheral circulatory problems frequently observed in elderly individuals, and is even helpful when it comes to gallstone disease. Besides, it can encourage appetite and aids in digestion.
Vitamin E TPGS is a new advancement in substance uptake. An anionic surfactant, it is employed for both increasing absorption and for antioxidant properties. Additionally, it functions as a beneficial supply of organic vitamin E for health as well as nutritive applications.
COMPOSITION
Serving Size: 1 Capsule
Servings Per Container: 60
| | |
| --- | --- |
| | Amount Per Serving |
| NAC (N-Acetyl L-Cysteine) | 500 mg |
| Rosmarinic Acid 96% | 100 mg |
| Vitamin E (TPGS) | 10 mg |
| Anastrazole | 0.5 mg |
DIRECTIONS OF USE
Take 1 to 2 capsules per day. Do not take more than 2 capsules during 24 hour period.
REVIEWS
There is no review
Atsiliepimas Atsiliepimas