Casein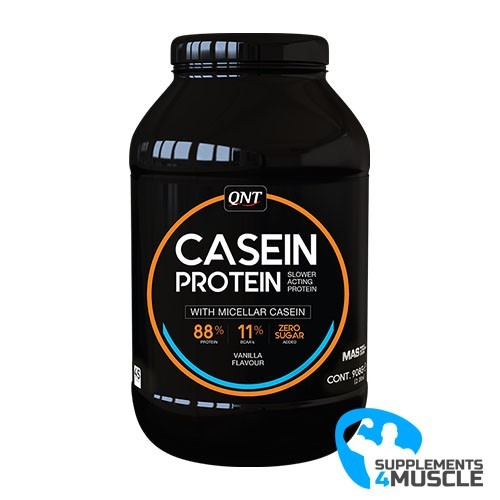 
DESCRIPTION
COMPOSITION
DIRECTIONS OF USE
REVIEWS
DESCRIPTION
QNT Casein Protein 908g. Develop your muscle mass, even while you sleep! Thanks to CASEIN PROTEIN, you can enjoy a slow-release protein that has very valuable biological properties and an excellent amino acid profile (including a high concentration of BCAA), with no added sugar. The addition of CASEIN PROTEIN to your diet, in combination with intense training, will help you increase your lean muscle mass.
A mix of two different casein sources for an optimal effect
PROTEIN CASEIN contains a mix of two different sources of casein: calcium caseinate and micellar casein. This mix allows a slower digestion and release of proteins, which helps to improve muscle metabolism.
Casein is protein derived from milk, like whey. It differs from the latter in its speed of action. Whey is a protein that will be quickly assimilated by the body, unlike casein, which will be released slowly and for a long time. The advantage of a slow protein is that it can provide protein to the muscles continuously, for example during a long period when it is complicated to have access to a protein source (during sleep or between two distant meals). In this way, athletes who need a regular supply of protein can be sure to be feeding their muscles properly at all times of the day and night.
Micellar casein is a very high value casein that offers an excellent aminoacid profile, allowing your muscles to receive all the nutrients they need and thus promote their optimal development.
BCAA concentration
CASEIN PROTEIN also has a good concentration of BCAA, the essential amino acids that cannot be synthesized by the body but must be provided by the daily diet. They represent 30% of the proteins present in muscle cells and are therefore particularly important for their proper development.
COMPOSITION
Serving Size: 1 scoop of 20g
Servings per container: 45
| | | |
| --- | --- | --- |
|   | 20 g | 100 g |
| Energy | 74 kcal (314 kJ) | 370 kcal (1569 kJ) |
| Fat | 0,39 g | 1,94 g |
| - Saturates | 0,29 g | 1,45 g |
| Carbohydrates | 0,54 g | 2,71 g |
| - Sugars | 0,21 g | 1,05 g |
| Protein | 17,53 g | 87,64 g |
| Salt | 0,10 g | 0,51 g |
| L-Leucin (BCAA) | 1012 mg | 5060 mg |
| L-Valin (BCAA) | 684 mg | 3420 mg |
| L-Isoleucin (BCAA) | 542 mg | 2712 mg |
Ingredients: milk proteins (calcium caseinate (contains milk), micellar casein (contains milk)), flavour, sweetener E955.
Contains milk.


Do not exceed the recommended dose.
DIRECTIONS OF USE
Use: Mix daily 1 full scoop of 20g with 250ml of water or milk