PCT AND LIVER SUPPORT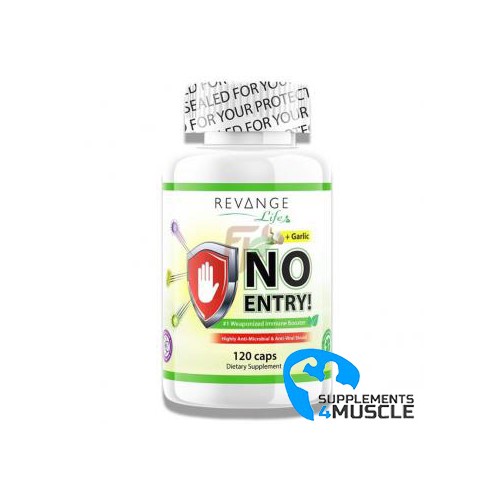 
DESCRIPTION
COMPOSITION
DIRECTIONS OF USE
REVIEWS
DESCRIPTION
No Entry by Revange Life is the health supplement in its latest evolution, which strengthens and strengthens the immune system, effectively preventing the development of bacterial and viral infections. The preparation reduces colds, flu and other infections, reducing the risk of getting sick during periods favourable for the development of diseases. The product can be used both prophylactically and during illness.
No Entry naturally creates a shield against viruses and bacteria. The combination of the most effective natural ingredients in fighting inflammation and speeding up the recovery period, have a strong antioxidant effect increasing recovery and also improving psychophysical conditions.
Bee propolis is a natural antibiotic to which viruses, bacteria and fungi do not develop tolerance. It also has anti-inflammatory effects and improves overall metabolism. 
NAC is a powerful antioxidant. Promotes accelerated recovery of liver cells. Increases the production of Glutathione, a component that fights inflammation. 
Glutathione - has a powerful antioxidant effect and allows the reuse of other antioxidants. Accelerates the elimination of toxic substances. 
Vitamin C - has a powerful immunomodulatory effect. Strengthens the walls of blood vessels, improves metabolism. Added liposomal technology, which allows the vitamin not to be destroyed by enzymes and gastric juice. Provides 100% penetration into the blood. 
Rutin - strengthens the walls of blood vessels and improves blood circulation. It also reduces the synthesis of histamine, and, as a result, reduces allergic reactions. 
Quercetin - reduces the risk of cancer, and also neutralizes free radicals that damage cell membranes. 
Bee Pollen - increases efficiency and improves the functioning of the immune system. Prevents premature aging, accelerates recovery after physical exertion. 
Rosemary Acid - Reduces the formation of plaque on the walls of blood vessels in the brain. Improves blood circulation in this organ and protects against ischemia. 
Na-R-ALA is a powerful antioxidant. Improves food digestion and also lowers blood sugar. Prevents the onset of insulin resistance. 
Resveratol - has antiviral, anti-inflammatory and antibacterial effects. Protects the heart, blood vessels and the nervous system. 
Grape Seed Extract - has an antioxidant effect. 
Ribonucleic Acid - accelerates the regeneration of liver tissue, and also enhances the immune system by increasing the level of lymphocytes. 
Vitamin E - is an antioxidant and also stimulates protein synthesis, affects cellular respiration and metabolism. 
Hyaluronic Acid - Capable of attracting water. Improves the condition of the connective tissue. Strengthens the synthesis of collagen and elastin. Accelerates the growth of new blood vessels. 
Polyglutamic Acid - Works the same way as Hyaluronic. 
Lutein - found in large quantities in the liver and brain. It is necessary for the regeneration and metabolism of these organs. 
Lycopene - reduces oxidative stress, protects DNA from damage. 
Astaxanthin, Zeaxanthin - are carotenoids and protect the retina from damage. 
COMPOSITION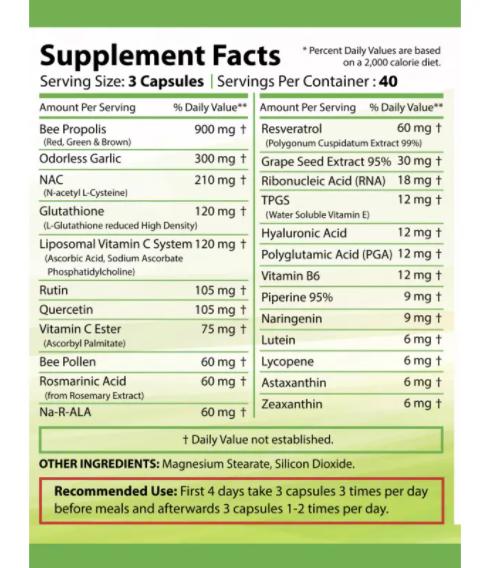 DIRECTIONS OF USE
Dosage: The first 4 days 3 capsules 3 times a day, then 3 capsules 1-2 times a day.