Formule PWO estreme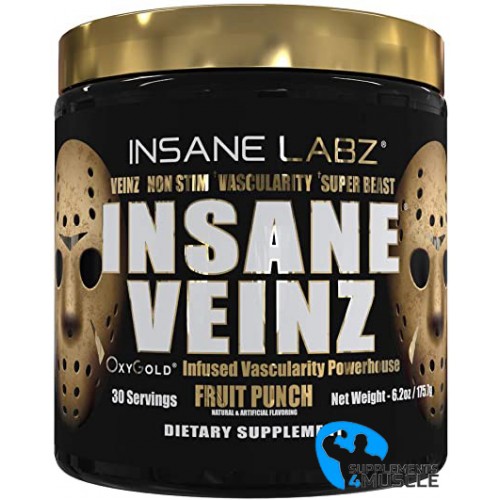 
DESCRIPTION
COMPOSITION
DIRECTIONS OF USE
REVIEWS
DESCRIPTION
Insane Veinz Gold
Insane Labz Insane Veinz GOLD è una polvere pre-allenamento non stimolante che aumenta l'ossido nitrico e che contiene HydroMax® e Nitrosigine® per aumentare la vascolarizzazione e il flusso sanguigno.
POMPE UNPARALLELED. Caricato con gli ingredienti di marca Hydromax® e Nitrosigine® per aumentare la produzione di ossido nitrico, Insane Veinz GOLD è formulato per dare pompate esplosive al sangue, sia che stiate tagliando per il palcoscenico sia che abbiate bisogno di una spinta in più in palestra.
PRE WORKOUT STABILIZZABILE. Insane Veinz GOLD è un pre-allenamento unico nel suo genere, non stimolante, che può essere abbinato ai vostri pre-allenamenti Insane Labz preferiti, come Psychotic GOLD.
L'ultima creazione dalla mente del chimico pazzo porta una formula di vascolarizzazione senza pari che cambierà il vostro modo di allenarvi. Vi presentiamo Insane Veinz GOLD. Formulato con HydroMax, Nitrosigine, Betaina e il nostro marchio OxyGold per dare alle vostre vene un pompaggio pazzesco e spingervi ai vostri limiti assoluti. Questo concentrato di potenza è destinato a cambiare il panorama dell'aumento dell'ossido nitrico.
COMPOSITION
Serving Size: 1 scoop (5.9g)
Servings Per Container: 30
Amount Per Serving
%DV*
Chloride (as Sodium Chloride)
100mg
3%
Sodium (as Sodium Chloride)
100mg
4%
INSANE VEINZ™ BLEND:
Hydromax (Glycerol Powder 65%), Inositol-stabilized Arganine Silicate (as Nitrosigine), Betaine Anhydrous, OxyGold (Fulvic Acid)
3275mg
**
DIRECTIONS OF USE
As a dietary supplement for adults, mix 1 scoop in 8-10 oz. of water and consume 30 minutes before activity/workout.
REVIEWS
There is no review
Atsiliepimas Atsiliepimas