Xtreme PWO formulas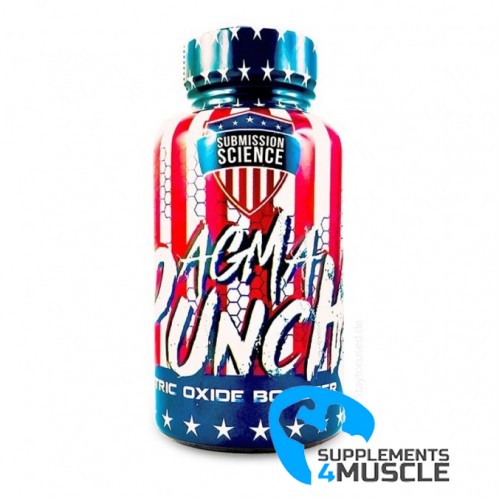 
DESCRIPTION
COMPOSITION
DIRECTIONS OF USE
REVIEWS
DESCRIPTION
Submission Science Agma Punch 100caps
Submission Science Agma Punch is a dietary pill containing 350 mg of agmatine sulphate, made with the top-notch AGmass™ from Compound Solutions Inc. in the U.S.A. This exclusive source of agmatine is produced with up-to-date fermentation technology to ensure its quality and naturalness.
Agmatine sulfate has been making a stir in the dietary supplement industry due to its many beneficial physiological properties, particularly its use as a pre-workout supplement to boost sports performance. AGmass ™ is the purest variety of agmatine sulfate on the market, having been tested using HPLC for purity and potency. The agmatine used in Submission Science's product does not come from 1,4-Diaminobutane, which has a common contaminant in similar types of agmatine.
Agmatine is generated by the decarboxylation of L-arginine, which is the reduction of the carboxylic acid group. This compound contributes diverse metabolic and physiological impacts in the body, such as NO production, regulatory effects on the heart and the brain and cognitive effects.
Agmatine has been proven to successfully increase nitric oxide output in the body, something that results in an intensified muscular pump-like effect during a workout. Furthermore, those taking agmatine may find that the enlargement of their vessels supports the circulation to their muscles, expediting the procedure for regeneration and production of new muscle fibers. Studies have also revealed that agmatine has the potential to double protein synthesis, a phenomenon which can be attributed to increased nutrient flow to the muscle tissue as well as the action of the agmatine itself.
To sum up, the Submission Science Agma Punch packs each include a hundred capsules of outstanding quality agmatine (AGmass™). This can be used in addition to your preferred pre-workout products or taken as a standalone supplement, both of which can boost blood flow and boosts the delivery of muscle fuel.
COMPOSITION
Serving Size: 3 Capsules
Servings Per Container: 33
| | |
| --- | --- |
| | Amount Per 1 Capsule |
| AGmass™(Agmatine sulphate) | 350mg |
DIRECTIONS OF USE
Dosage:
Beginners: 3 capsules 15-30 minutes before training.
Advanced: 6 capsules 15-30 minutes before training.
REVIEWS
There is no review
Atsiliepimas Atsiliepimas