Xtreme PWO formulas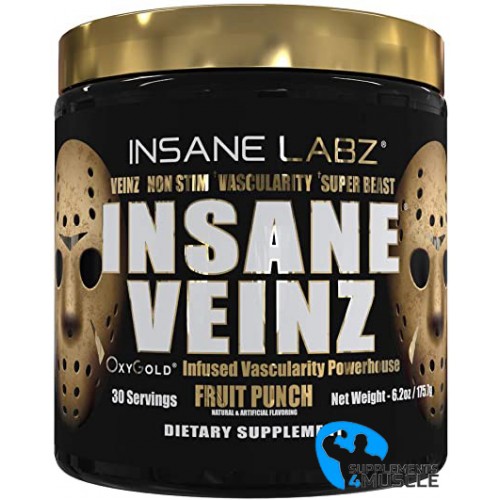 
DESCRIPTION
COMPOSITION
DIRECTIONS OF USE
REVIEWS
DESCRIPTION
Insane Veinz Gold
The incredible Insane Labz Insane Veinz GOLD powder is specifically designed to boost Nitric Oxide levels before workouts, with HydroMax® and Nitrosigine® included to enhance vascularity and augment blood flow.
Insane Veinz GOLD offers amazing pumps due to its combination of Hydromax­­® and Nitrosigine® to enhance nitrogen oxide production. It can be incorporated into any cutting routine, or taken by itself as an extra boost in the gym. Moreover, it is a unique, non-caffeine pre-workout formula, which can be stacked with other Insane Labz pre-workouts, like Psychotic GOLD, that feature higher levels of stimulants.
Introduce Insane Veinz GOLD, the unsurpassed vascularity concoction from the head of the Mad Chemist.  Boasting of HydroMax, Nitrosigine, Betaine, and our distinctive OxyGold, it unleashes an remarkable pump to bring your veins to their utmost boundary and revolutionize the world of nitric oxide enhancement.
COMPOSITION
Serving Size: 1 scoop (5.9g)
Servings Per Container: 30
Amount Per Serving
%DV*
Chloride (as Sodium Chloride)
100mg
3%
Sodium (as Sodium Chloride)
100mg
4%
INSANE VEINZ™ BLEND:
Hydromax (Glycerol Powder 65%), Inositol-stabilized Arganine Silicate (as Nitrosigine), Betaine Anhydrous, OxyGold (Fulvic Acid)
3275mg
**
DIRECTIONS OF USE
As a dietary supplement for adults, mix 1 scoop in 8-10 oz. of water and consume 30 minutes before activity/workout.
REVIEWS
There is no review
Atsiliepimas Atsiliepimas