PREWORKOUTS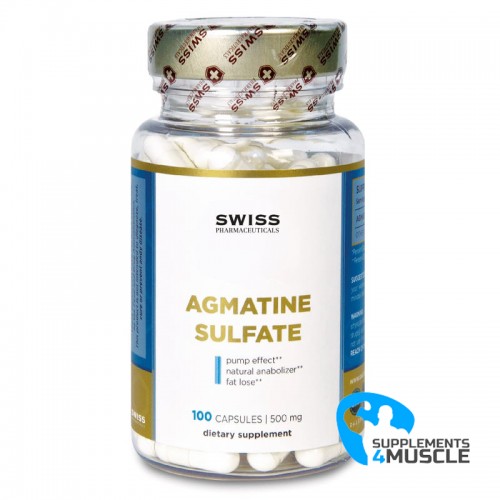 
Swiss Agmatine Sulfate 100 caps
Swiss Agmatine Sulfate - Powerful pre-workout booster that increases your nitric oxide, provides a massive pump and improves your athletic performance.
DESCRIPTION
COMPOSITION
DIRECTIONS OF USE
REVIEWS
DESCRIPTION
AGMATINE SULFATE
You've never heard of Strong Agmatine Sulfate? Then you've definitely missed something! While Arginin is a common food supplement in the fitness scene, his close cousin Agmatin belongs rather to the secret tips of bodybuilding. If you want to beat your competition and exceed your limits with this pre-workout booster, we can warmly recommend this supplement!
Agmatine is a compound derived from arginine - a strong amino acid and an important nutrient essential to all human life. Agmatine and Agmatine sulphate are one and the same! Both Agmatine and Arginine have potent Nitrogen monoxide strengthening properties. Agmatine is however generally called "super-arginine". This is because it tends to increase your nitric oxide over a much longer period of time than arginine. Agmatine actively stimulates the body to produce more nitric oxide. Nitric oxide is a vasodilator, which means it relaxes and dilates the blood vessels. This means that more blood can flow freely through the vessels to supply the muscles with more important nutrients and oxygen during exercise.
Agmatin has been closely studied for many years because of its general use as a very successful treatment for neuropathic pain. During this time, Agmatin has proven to be extremely safe in various clinical studies.
The advantages of Swiss Pharmaceuticals AGMATINE SULFATE at a glance:
improved blood circulation and improved transport of nutrients to the muscles
massive Muscle Pump
increased sporting performance
gain in lean, fat-free muscle mass
better focusing
COMPOSITION
Serving size: 2 capsules
Servings per container: 50 capsules
Other ingredients: Gelatin, Maltodextrin.
DIRECTIONS OF USE
Dosage: 
Recommended use for beginners: take 3 capsules with 250 ml cold water 15 minutes before training.
Recommended use for professionals: take 6 capsules with 250 ml of cold water 15 minutes before training.
Always start with 1 capsule to check tolerance before gradually increasing the dose.
REVIEWS
There is no review
Atsiliepimas Atsiliepimas