PCT AND LIVER SUPPORT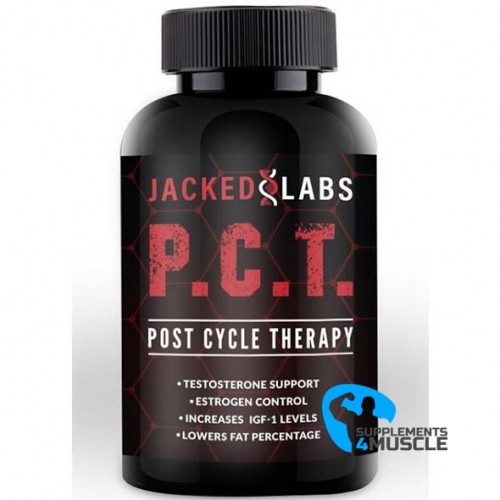 
Jacked Labs P.C.T.
Testosterone support
Estrogen control
Increase IGF-1 levels
Lowers fat percentage
DESCRIPTION
COMPOSITION
DIRECTIONS OF USE
REVIEWS
DESCRIPTION
Jacked Labs P.C.T.
Jacked Labs P.C.T. is one of the top-notch, multi-component supplements meant to be used post-cycles of PH / SAA / SARM. Apart from helping the body return to its normal functioning after such treatments, it also functions as a testosterone enhancer to improve strength and muscle growth. P.C.T. will improve recovery, some of its active components are MK-677 and TRIBULUS.
The Jacked Nutrition P.C.T is made up of elements including:
This herb, Tribulous 90% Saponins, is often utilized to enhance male functioning. It is especially recognized for its advantages on libido and the promotion of male hormones. It works by concentrating the number of androgen receptors in the brain, thus permitting hormones to be more effective. Additionally, it has an adaptogenic effect which regulates the body's stress response, increasing mood and controlling cortisol levels. Tribulus can influence cardiovascular activity, such as blood pressure and cholesterol levels. The Trojan PCT consists of an extract standardized for saponins of 90%, and protodioscin of 80%. Horny Goat Weed is known to enhance the neurotransmitters which result in a heightened sense of sexual arousal, additionally increasing testosterone and nitric oxide production.
Maca is a dietary supplement made up of a concentrated Peruvian pepper cress (Lepidium meyenii) and is filled with beneficial ingredients such as amino acids, fatty acids, vitamins (A, B1, B2, B12,, B3, C, E) and minerals (copper, manganese, zinc, iron, boron, selenium, phosphorus, calcium, magnesium, sulfur, selenium) and sterols. It is specifically designed for people who lead an active lifestyle, both physically and mentally.
6-Bromo (Androstane-3,17 Dione) is a game-changer in aiding physical abilities such as strength and strength endurance and enhancing body composition. The continual usage of this preparation allows the body to be put into a more anabolic state, which, until now, could only be achieved by illegal users of SAA or PH drugs.
MK-677, known as Ibutamoren, is an orally-administered compound known for significantly boosting growth hormone secretion. Studies have verified that it increases the amount of certain hormones while sustaining higher levels in the bloodstream, thereby aiding the growth of muscle and reduction of fat simultaneously. Compared to other substances, MK-677 has been verified to be powerful at providing muscle mass and bone density in humans. Most important of all, it does not cause any change in cortisol levels, meaning it will not trigger the destruction of muscle tissue.
Long Jack, sometimes referred to as Tongkat Ali Extract or Eurycoma Longfolia, is a prevalent herb used in traditional medicine to stimulate sexual functioning. Containing 9-hydroxykanotyp-6-one, a compound which supports both ejaculation and erection, it has a strong capacity to cure impotence. Its anti-estrogen activity not only aids in the reconstruction of hormones after the halting of SAA, but also implies its anti-cancer effects.
In conclusion, Jacked Nutrition P.C.T can do a lot for individuals. It is a helpful post cycle therapy product that can help to build strength and promote muscle growth, but it does not mess with the endocrine system.
COMPOSITION
Serving size: 2 capsules
Servings Per Container: 30
| | |
| --- | --- |
| Amount per serving | % Daily Value |
| Tribulous 90% Saponinis | 1000mg |
| Horny Goat Weed | 450mg |
| Maca | 250mg |
| Longjack | 250mg |
| 6-bromo | 50mg |
| Zinc | 10mg |
| Mk-677 | 5mg |
| Oyster Extract | 5mg |
| Vitamin D | 0.5mcg |
DIRECTIONS OF USE
Suggested Use: As a dietary supplement take 2 capsules per day.
REVIEWS
There is no review
Atsiliepimas Atsiliepimas