PCT AND LIVER SUPPORT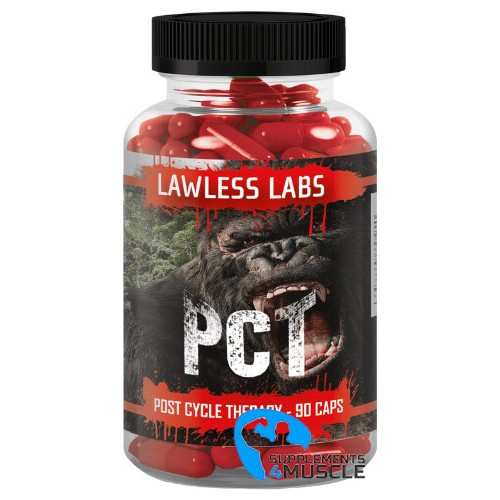 
DESCRIPTION
COMPOSITION
DIRECTIONS OF USE
REVIEWS
DESCRIPTION
Lawless Labs PCT
Athletes who have been taking prohormones or steroids should utilize a Post Cycle Therapy (PCT) supplement to maintain their hormone balance. A new option to consider is Lawless Labs PCT that boosts testosterone, manages the testosterone output in a 3-pronged method, supresses estrogen production, decreases levels of cortisol and elevates the rate of recovery. This addition to your routine is a great way to safeguard your body and keep the results you worked for.
This supplement assists in raising natural testosterone levels, reducing estrogen production, decreasing cortisol amounts, aiding liver restoration, elevating the levels of glutathione (a powerful antioxidant) in the body, bettering overall wellness, preserving acquired muscle tissue, heightening libido, and having an optimistic influence on one's mood.
Lawless Labs PCT offers an efficient testosterone booster thanks to an amalgamation of carefully selected and blended components, safeguarding your organs and advancing your total health and wellness.
The herb Mulra Puama has long been used by Indians as a male enhancer. The active compounds in the herb are known to boost androgens in the body, thus increasing libido, sexual performance, and erectionability. Additionally, it acts as a tonic to the nervous system and even has been known to improve cognitive abilities due to the way it activates serotonogenic processes.
NAC can buffer against harmful toxins, encourages clearing out of mucus (great for smokers!), purifies the liver and airways, works against the bad effects of paracetamol, and speeds up the destruction of alcohol - meaning shorter hangovers!
Dodder Seed Extract, which comes from cannabis, contains natural ingredients that are thought to boost testosterone in the body. It has diuretic properties, meaning that it can help remove extra water. Additionally, the components of dodder seeds have been found to regenerate the cells of the liver and spleen. Studies further show that it may also enhance bone strength and help restore cartilage.
Forskolin is an enzyme precursor that triggers other enzymes to control the expansion of muscle mass and begin the process of weight loss. It changes adenosine triphosphate (ATP) into cAMP, which is the most critical body regulator that heightens the disintegration of fats located in fat cells. This element is responsible for quickening the transport of fat to muscle cells to consume it as energy.
COMPOSITION
Serving Size: 1 Capsule
Servings per container: 90
Ingredients (per serving)
Vitamin D
5000IU

Up-Regulation

Punture Vine (45% Saponins), Muira Puama (Ptychopetalum olaciodes) Extract,

Dodder (Cuscuta japonica) Seed Extract

350mg

Anti-E

Forskolin (17beta-acetoxy-8,13-epoxy-1aplha,6beta,9alpha-trihydroxy-labd-

14-en-11one), Tongkat All Root extract (Eurycoma), Androst 3,5-dien-7,

17-dione 3-deoxy-7-oxo-DHEA

200mg

Repair

N-Acetyl Cysteine (NAC), Grape Seed Extract

200mg
DIRECTIONS OF USE
Directions: As a dietary supplement, take 1 capsule 3 times a day with food.
REVIEWS
There is no review
Atsiliepimas Atsiliepimas