PCT AND LIVER SUPPORT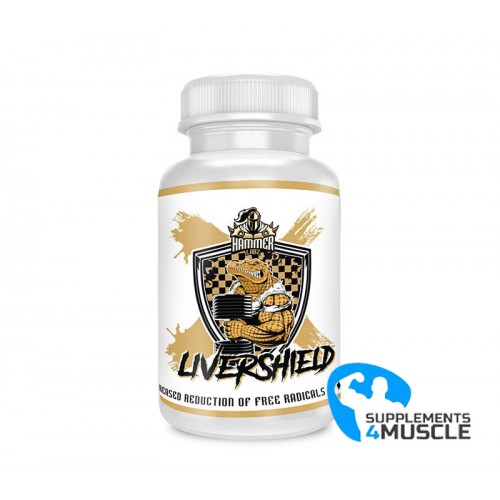 
DESCRIPTION
COMPOSITION
DIRECTIONS OF USE
REVIEWS
DESCRIPTION
Hammer Labz LiverShield 90caps
Hammer Labz is an American dietary supplement producer that specializes in providing strong, active components meant for experienced sportspeople. These products are rigorously analyzed and investigated by 3rd-party laboratories to make sure they conform to the highest criteria of quality. Their results-driven formulations are dosed at therapeutic levels, which guarantee the greatest sporting performance. Furthermore, the company is constantly producing modern recipes that could potentially be the leading prohormones, muscle-building supplements, pre-workout enhancers, and fat burners.
Hammer Labz's Liver Shield is a fresh supplement utilizing effective components that enhance the liver's capacities. The liver is responsible for several jobs in the body, such as detoxification, protein digestion, hormone manufacture, and aiding of digestive processes. Liver Shield works to improve the detoxification and purification mechanism, as well as boosting the amount of glutathione in the organism.
This supplement consists of various components that are scientifically backed and abundant in antioxidants to boost the body's purification activities. The combination of milk thistle extract rich in silymarin, peony extract, hawthorn extract, grape seed extract, NAC and celery extract is further enhanced with Vitamin B6 to ensure the correct functioning of the nervous system.
Milk thistle extract is a powerful liver protector and detoxifier. NAC is a precursor to glutathione, which is the body's most powerful antioxidant. Peony extract has beneficial effects on the liver, while hawthorn extract helps to improve the blood circulation and enhance the liver's functioning. Grape seed extract is packed with powerful antioxidants that help to protect the body from stress, while celery extract is packed with minerals and vitamins that support the liver's health. NAC and celery extrac together further support the body's antioxidant system. Vitamin B6 helps the body to properly absorb and process the components. 
Hammer Labz Liver Shield offers a strong and balanced formula for liver health and protection. It has been tested and proven to be effective in boosting liver functioning, and it is a great choice for athletes and fitness enthusiasts who want to keep their liver in peak condition.
COMPOSITION
Serving Size: 3 Capsule
Servings Per Container: 30
| | |
| --- | --- |
| Amount Per Serving | |
| N-Acetyl-L-Cysteine | 1000mg |
| Milk Thistle (80% Extract) | 300mg |
| Hawthrone Berry  | 200mcg |
| Grape Seed (95% Extract) | 75mg |
| Celery Seed (10:1 Extract) | 75mg |
| White Peony | 25mg |
| Vitamin B6 | 25mg |
DIRECTIONS OF USE
Dosage:
1 capsule 3 times a day with meals.