PCT AND LIVER SUPPORT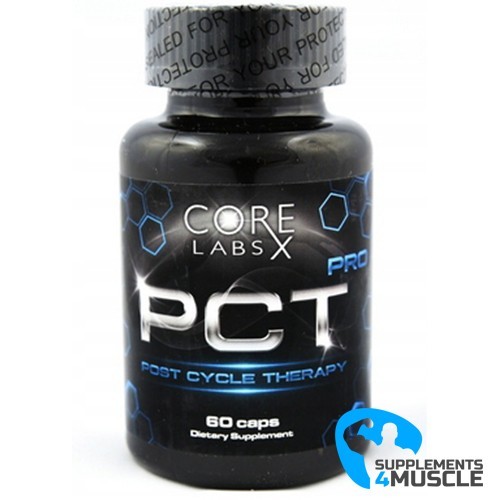 
Core Labs X PCT Pro 60 caps
Powerful Anti-estrogen
Cortisol Blocker
Natural Testosterone Booster
Increased Libido
Mood Enchancer
DESCRIPTION
COMPOSITION
DIRECTIONS OF USE
REVIEWS
DESCRIPTION
Core Labs X PCT Pro
Core Labs X PCT Pro is among the premier Post Cycle Therapy products available. It helps rebalance the body's hormones due to its carefully-chosen ingredients, including Arimistane which works to reduce estrogen and elevate the amount of endogenous testosterone.
The PCT Pro formula has been amped up with natural, safe components which can boost up the amount of testosterone that is produced, as well as increase one's libido. It is also widely used by people who are looking to keep their muscle mass fit, raising their capabilities and staying strong.
By using PCT pro, you can achieve a more toned physique and have an athletic figure. Additionally, there will be no concerns about the unfavorable reactions from taking anabolic steroids or hormones.
Tribulus Terrestris is the most powerful plant anabolic formula you can find, and it is entirely safe. Not only does it give strength to the body, it also helps with muscle growth and strength, sex drive, lean muscles, and regulates hormone levels. Additionally, it may stop the enlargement of the prostate and boost the production of testosterone.
The Saw Palmetto extract, derived from the fruits of Serenoa repens, is composed chiefly of fatty acids that are capable of hindering the transformation of testosterone into dihydrotestosterone. Due to its stronger level of stimulation by the adrenal glands, DHT produces various side effects commonly associated with unusually high levels of androgens. As well as prevention of the undesirable reactions of DHT, the Saw Palmetto supplement also augments the concentrations of the male sex hormone in the bloodstream.
L-dopa has been shown to successfully increase dopamine synthesis, an important chemical messenger in the human nervous system. When not enough dopamine is present, particularly in the areas of the brain that control movement, Parkinson's disease can be diagnosed. Low levels of this neurotransmitter could lead to issues such as memory loss, difficulty with focus or concentration, particularly in older individuals.
NMDA is a type of channel which relies on glutamate for its activation and has high permeability. These channels are critical in the creation and preservation of the central nervous system, the regulation of breathing and mobility and the memorization and learning that is integral to cognitive development. Alterations in the expression and operation of these channels can result in a variety of neurological illnesses and can result in impaired intellectual performance and excitotoxic consequences leading to neuronal deterioration.
Arimistane has been shown to be an effective aromatase inhibitor (AI), as it alters the body's physiological state to be more anabolic. It does this by reducing cortisol and estrogen, while simultaneously increasing testosterone levels. Many user testimonies have reported enhanced libido and improved overall strength during workouts. When combined with a restricted diet, this AI has been documented to boost the fat-burning process.
Grape Seed Extract contains resveratrol which works as an antioxidant to combat cells that have been broken down by free radicals. It decreases LDL cholesterol uptake and forms of artery-clogging atherosclerosis. Furthermore, it also reduces clotting and possibly decreases the risk of obesity and diabetes. It is also thought to lower blood pressure levels, providing another layer of defence against lifestyle diseases.
Naringenin, more commonly known as naringin, is a type of flavonoid found in grapefruits that promotes higher metabolism, promotes the breakdown of fat, strengthens the walls of blood vessels, displays anti-inflammatory properties, and reduces cholesterol.
Black pepper's active element, piperin, has a thermogenic property which can improve blood flow to digestive organs and make it simpler for the body to digest various flavors from nourishments. Moreover, it significantly enhances how much of the advantageous elements contained in supplements can be used by the body.
COMPOSITION
Serving Size: 1 Capsule
Servings per Container: 60
| | |
| --- | --- |
| | Amount Per Serving |
| Tribulus Terrestris 90% | 300 mg |
| Saw Palmetto Extract | 150 mg |
| Mucuna Pruriens (99% L-dopa) | 100 mg |
| N-Methyl-D-Aspartic Acid (NMDA) | 90 mg |
| Arimistane (Androsta-3,5-Diene-7,17-Dione) | 90 mg |
| Grape Seed Extract 95% | 20 mg |
| Naringenin | 5 mg |
| Piperine 95% | 5 mg |
Other Ingredients: Magnesium Stearate, Silicon Dioxide, Magnesium Carbonate, Calcium Gluconate, Potassium Gluconate, Zinc Gluconate.
DIRECTIONS OF USE
Take 2 capsules daily at 8 hour intervals for optimal results. Do not exceed 4 capsules in a 24 hour period.
REVIEWS
There is no review
Atsiliepimas Atsiliepimas