PCT AND LIVER SUPPORT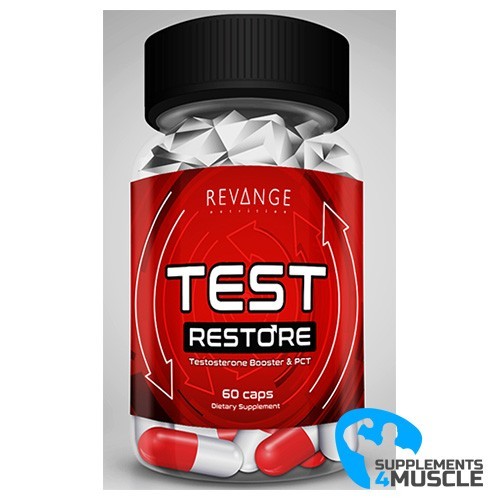 
DESCRIPTION
COMPOSITION
DIRECTIONS OF USE
REVIEWS
DESCRIPTION
Revange Nutrition Test Restore
Revange Nutrition, the manufacturer known for products such as the sleep and regeneration supplement Knock Out and the potency and sexuality enhancing Ero Force, has created an all-in-one formula with the testosterone booster and PCT supplement Revange Nutrition Test Restore that is unrivaled on the market!

WHAT IS THE REVANGE NUTRITION TEST RESTORE AND HOW DOES IT WORK?
Revange Nutrition offers an all-around ability to the table with the Test Restore, since the product is excellent both as a testosterone booster and as PCT support!

Of course, a testosterone booster should include a component that boosts libido and overall well-being. In the Restore test, Horny Goat Weed and Maca Root guarantee this.

Revange Nutrition integrates scientifically established components such as Fenugreek, Tongkat Ali, and Saw Palmetto Extract into Test Restore to provide an ideal environment for the body's natural testosterone synthesis. Everything is patented and standardized, and the dose is perfect! The well-known subterranean maker goes one step further and adds a comprehensive vitamin and mineral complex as the icing on the cake, ensuring that you are also properly taken care of in terms of basic care!
COMPOSITION
Amount Per Serving
1 Capsule
3 Capsules
Stinging Nettle Extract
(3,4-Divanillytetrahydrofuran 95%)
200mg
600mg
Horny Goat Weed
(Epimedium Extract 70% icariins)
150mg
450mg
Tongkat Ali Extract 200:1
(Eurycoma Longifolia)
150mg
450mg
Arimistane
(Androsta-3,5-Diene-7,17-Dione)
50mg
150mg
Fenugreek Seed Extract
(50% Saponins)
50mg
150mg
Diindolylmethane
(DIM)
50mg
150mg
Saw Palmetto Extract
50mg
150mg
N-Methyl-D-Aspartic Acid
30mg
90mg
Catuaba Bark Extract
30mg
90mg
Maca Root
20mg
60mg
Coleus Forskohlii Root Extract
(40% Forskolin)
20mg
60mg
Piperine 95%
10mg
30mg
Grape Seed Extract 95%
10mg
30mg
Naringenin
10mg
30mg
Boron
(As Boron AAC)
10mg
30mg
Vitamin E TPGS
(Drug Delivery System)
10mg
30mg
Vitamin D3
(As Cholecalciferol)
10 000IU
30 000IU
Zinc
(As Zinc AAC)
10mg
30mg
DIRECTIONS OF USE
Suggested Use: As a dietary supplement take 1-3 capsules daily.