All products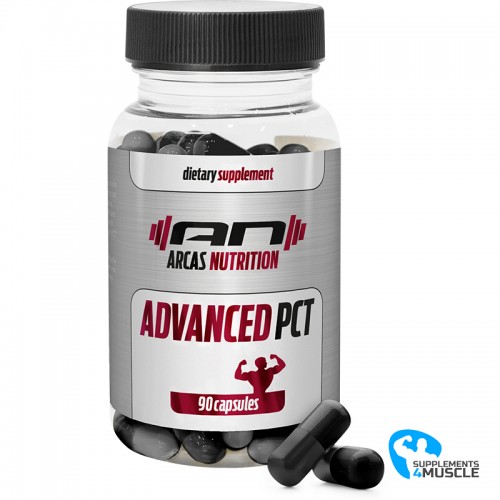 
Arcas Nutrition Advanced PCT 90 caps
Post Cycle Therapy 


The benefits of cycling with other substances include:
fewer reactions,
better liver health,
less water retention,
improved stamina and health,
protection for the prostate,
increased quality of muscle mass,
higher libido,
and increased training stamina and testosterone secretion
DESCRIPTION
COMPOSITION
DIRECTIONS OF USE
REVIEWS
DESCRIPTION
This supplement has Tribulus Terrestris, Saw Palmetto, and 7-Methoxyflavone. It can be taken with few side-effects, and it reduces the influence of other substances that can disrupt the body's hormone levels.
Saw palmetto is utilized to treat prostate enlargement. Its primary effect is to impede the transformation of testosterone to dihydrotestosterone (DHT). This leads to a reduction in the severity of symptoms, including straining and stretching of urinary tract muscles, as well as bladder inflammation. Furthermore, saw palmetto has diuretic properties and may enhance libido.
Using saw palmetto products can help increase blood flow and reduce discomfort. It can also help restore epithelia and muscle, as well as the cell membrane and endothelium.
Tribulus terrestris has 90% saponins and is used for improving muscle quality and overall health. It is also referred to as a sexual stimulant. When consumed, protodioscine found in Tribulus is changed into dehydroepiandrosterone (DHEA), which is a precursor to testosterone. The increase in DHEA in the bloodstream helps to increase stamina and sexual performance. This ingredient is recommended for both experienced and novice weightlifters.
7-Methoxyflavone is considered a great anabolic enhancer that has many benefits, including the growth of lean muscle without the side effects of anabolic steroids. Also called 5-methyl-7-methoxy-isoflavone, this chemical compound has the formula C16H12O3. It increases the levels of potassium, nitrogen, calcium, and phosphorous in the body, making it a powerful anabolic agent.
The positive benefits of taking this supplement include a decrease in body fat, heightened awareness and cognitive abilities, lowered cholesterol, and stronger, denser bones. It is also a great choice for powerlifters as it decreases estrogen and fortifies bones, as well as improving the flexibility of ligaments to reduce injury. Additionally, it has a beneficial effect on the digestive system.
COMPOSITION
Serving Size: 1 Capsule
Servings Per Container: 90 Servings
Amount Per Serving

TESTOSTERONE BOOSTER

Tribulus Terrestris


200 mg

PROSTATE SUPPORT

Saw Palmetto


150 mg

IMPROVED STRENGTH & RECOVERY

7-Methoxyflavone


50 mg
Other ingredients: Gelatin (capsule), Magnesium Stearate
DIRECTIONS OF USE
Dosage: The official advice for Advanced PCT is to take 4-6 capsules daily, with 6 capsules being taken during the first week and 3 capsules for the rest of the cycle. It is best to take the capsules after a meal.
Only chemicals used for research purposes
REVIEWS
There is no review
Atsiliepimas Atsiliepimas