Xtreme PWO formulas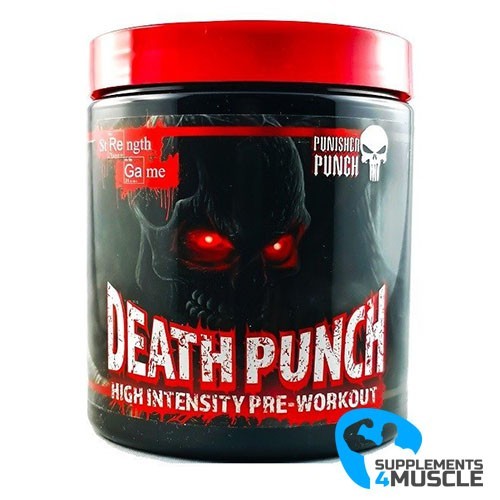 
DESCRIPTION
COMPOSITION
DIRECTIONS OF USE
REVIEWS
DESCRIPTION
Strength Game Death Punch DMAA is a unique pre-training preparation that maximizes training performance. The combination of the most effective ingredients allows you to perform high intensity training in full focus and a feeling of lightness of mind. The most modern formula containing all the necessary ingredients for success in the gym, among others: sarm GW-501516, geranium, ephedra extract, yohimbine, citrulline malate.

If you want to experience an increase in energy, strengthen the feeling of a muscle pump, strength and at the same time reduce fatigue, this product will certainly meet your requirements. Incredible concentration ensures high-level training, without side effects in the form of diminished well-being.

GW501516 - owes its effectiveness to extremely wide and multidirectional mechanisms of action. It is, among others, a PPAR-Beta modulator, activates protein kinase and improves glucose absorption by skeletal muscles, which directly contributes to the use of fats as an energy source. SARM GW increases the sensitivity of muscle cells to insulin, thanks to which we achieve full body, beaten, hard muscles with a great definition, while at the same time reducing the level of fat in the body. This leads to an effective composition of the body composition and instant visual effects. An important aspect is also the fact that thanks to the increased body fat consumption, the proteins from which the muscles are built remain intact, which is why catabolism is practically non-existent.

L-Citrulline Malate- is a combination of an amino acid - citrulline with malic acid. Citrulina, although it does not build muscle, plays an important biological role by participating in the urea cycle. During metabolism, it neutralizes toxic ammonia. Citrulline malate is a compound that increases the production of nitric oxide and thus increases the blood flow to the muscles during training, causing the muscle pump. Research shows that citrulline malate administered before training improves the body's ability to exercise and reduces fatigue. Another advantage of the preparation is its ability to reabsorb bicarbonate through the kidneys, which has a positive effect on the equilibrium-alkaline balance. In addition, the use of the supplement effectively reduces muscle acidification after a hard workout.

Agmatine Sulfate- effectively intensifies the secretion of nitric oxide in the human body, which translates into a strong muscle pump feeling during training. Enlargement of blood vessels supports the supply of blood and nutrients to working muscles, which greatly speeds up the process of regeneration and construction of new muscle fibers. In studies using agmatine, it has been shown that its action can support protein synthesis up to two times, which in addition to the action of agmatine itself, is also related to the action increasing the supply of nutrients to muscle tissues.

Taurine - affects the digestive processes, helps in maintaining a healthy cardiovascular system, evens out blood pressure, removes toxins, promotes mental functions, prevents the aging of cells. It is particularly effective for bodybuilders, improving muscle performance, increasing vascularity, and stimulating muscle growth. Due to the anti-catabolic effect, it prevents the use of muscles during training. The human body naturally produces the amino acids necessary for many vital functions of the body. Taurine is naturally produced by the organism, it also comes from meat and seafood. It is a key precursor to the proper growth of muscle mass and improves muscle endurance during exercise.

Caffeine Anhydrous - has a thermogenic effect and suppresses appetite due to the increase in the production of adrenaline and norepinephrine. It has been proven that it causes the formation of such neurotransmitters as dopamine, acetylcholine or even serotonin in the central nervous system, which exerts a stimulating effect and increases cognitive functions. The overall activity of caffeine on the body allows you to maintain the effectiveness of training and positive mood, despite the calorie deficit.

1,3 DMAA - works great both as a stimulant and as a fat burner, especially in combination with caffeine and other substances stimulating the nervous system and intensifying the phenomenon of thermogenesis. This strong active substance effectively provides strong stimulation. Indirectly stimulates the increase of the adrenaline level in the body and directly activates adrenergic receptors. It provides a strong increase in energy, arousal and concentration. In combination with caffeine, its effectiveness increases. Geranium stimulates the release of dopamine after penetration into the nervous system, thanks to which it provides focus and a good mood that is crucial during training.

Synephrine - has a similar structure to ephedrine. It is obtained in a natural way, from immature citrus fruits, e.g. Citrus uranium L., Citrus aurantium L. This substance is a natural substitute for ephedra. Increasingly, it is added to drugs and dietary supplements intended for athletes as well as overweight people. This compound boosts metabolism, reduces appetite and at the same time increases mental and motor activity. Synephrine increases blood pressure and affects the minute volume of the heart. It widens the bronchi to facilitate breathing, effectively clears the sinuses and improves well-being.
Ephedra Extract - contains alkaloid with a thermogenic effect, which increases the basic energy expenditure of the body causing a caloric deficit. It is thus an effective way to increase the rate of metabolism and fat burning. In addition, supplementation with green grass extracts reduces the appetite, makes it easier to maintain the diet, especially during periods of low caloric intake. In addition, studies show that the plant is a source of flavonoids able to scavenge free radicals in the body.

Hordenine HCL - works primarily through the release and protection of norepinephrine, which translates into increased metabolism, energy supply as well as a decrease in appetite. Athletes use Hordenine for three major gains: reducing fat, controlling appetite and increasing energy. The compound used by bodybuilders before training, for synergistic effects is combined with PEA (phenylethylamine). Higenamine is used as a substitute for DMAA, a stimulant that effectively burns fat.

Alpha Yohimbe - works by blocking α2-type receptors that interfere with fat burning, which can significantly facilitate slimming and help in carving resistant parts of the body. It is worth remembering that the action of yohimbine effectively eliminates insulin, so taking this compound in the vicinity of meals containing carbohydrates is pointless. Yohimbine can be particularly effective on fasting, before physical exercise
COMPOSITION
Serving Size: 1 Scoop (7.5g)
Servings Per container: 30
| | |
| --- | --- |
| | Amount Per Serving |
| Death Punch SARMSTIM­™ Formula | 6.520mg |
| L-Citruline Malate, Agmatine Sulfate, Taurine, Caffeine Anhydrous (300mg), 1`3 DMAA (75mg), Synephrine, Ephedra Extract, Hordenine HCL, GW501516, Alpha Yohimbine. | |
DIRECTIONS OF USE
Consume 1 serving 15-30 minutes prior to training. Do not exceed 1 serving within a 24 hour period.