Xtreme fat burners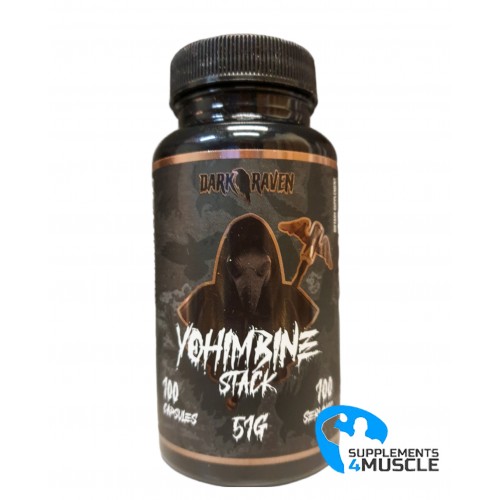 
Dark Raven Yohimbine Stack 100caps
Supports Fat Loss
Promotes Appetite Control
Maximizes Sex Drive
Increases Endurance
DESCRIPTION
COMPOSITION
DIRECTIONS OF USE
REVIEWS
DESCRIPTION
Dark Raven Yohimbine Stack 100caps
Rauwolscine (90% Alpha Yohimbine) - compound which, acting antagonistically to the α2-adrenergic receptors, improves the release of numerous neurotransmitters. It increases neuronal excitability by stimulating the body, improves the aptitude for physical activity and supports energy metabolism in a period of very restrictive diet. Increasing cAMP activity promotes growth, enhances the cyclical breakdown of fat deposits and the burning rate of fatty acids released in the mitochondria. It is one of the few compounds that focus on α2 adrenergic receptors, effectively initiating the loss of stored fat in the abdomen and hips. By modulating the release of Norepinephrine in the brain, it reduces appetite, especially in obese people. By preventing the activation of a2 adrenergic receptors, the Alpha-Yohimbine modulates the levels of neurotransmitters, and the size of the cAMP, by means of which it increases the system's ability to release and subsequently burn the reserves accumulated in the form of fat in the substrates energetic. The inactivation of the a2-adrenergic receptors, in high concentration in the areas of the abdomen and hips, accelerates the loss of fat accumulated in access, also known as "resistant".
Yohimbine HCL from Dark Raven is pure Yohimbine hydrochloride. The effect is a decrease in appetite, increased fat burning and improved libido.
Yohimbine HCL contains 5mg of Yohimbine HCL per capsule. Ideal for men and women, the effect of Yohimbine is a rapid loss of unwanted fat located mainly around the abdomen, hips and thighs, i.e. the so-called stubborn fat.
Yohimbine HCL is excellent for improving athletes' performance. Studies show that it can potentially increase energy expenditure by promoting the body's exercise capacity. Using Yohimbine before exercise or on an empty stomach increases the distribution of body fat. The daily supplement of Yohimbine intensifies the lipolysis process.
COMPOSITION
Serving Size: 1 Capsule
Servings per Container: 100
| | |
| --- | --- |
| Amount Per Serving | 1capsule |
| Alpha Yohimbine | 2.5mg |
| Yohimbine HCL | 2.5mg |
DIRECTIONS OF USE
As a dietary supplement, take 1 capsule per day. Depending on your body composition and weight you may increase serving size to 2 capsules. DO NOT EXCEED 2 capsules in a 24 hour period.