TESTOSTERONE BOOSTERS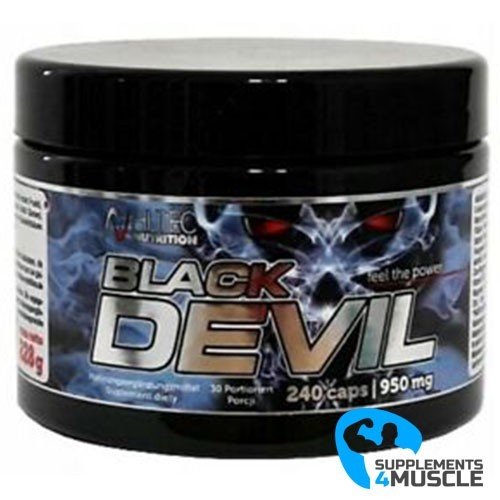 
DESCRIPTION
COMPOSITION
DIRECTIONS OF USE
REVIEWS
DESCRIPTION
HI TEC Black Devil
HI TEC Black Devil contains all of the most powerful anabolic hormone stimulators in very high  concentration to allow natural athletes, the maximum increase in strength and  muscle mass.
Black Devil, thanks to a combination of natural ingredients, it calls increase  testosterone levels. The unique amino acid - D-aspartic acid increases the  concentration of LH DAA by 33% and testosterone by as much as 42% (young men).  DAA, unlike prohormones and anabolic steroids, do not I call the blockade of the  hypothalamic-pituitary-testes, so supports the libido, au athletes "on and after  the" natural production of testosterone is maintained, the sensitivity of nuclei  to the pituitary hormones and maintains the functions and testicular size. DAA  at the same time stimulates the secretion of growth hormone, thanks to which the  defined builds lean muscle mass.

In order to increase the effectiveness of DAA, Black Devil contains a set of  steroid saponins of Tribulus and Fenugreek, which maximize the synthesis and use  of testosterone by the body. Vitamin-mineral complexes ZMA provides a reduction  in the synthesis of DHT from testosterone harmful and improves night manufacture  and operation of all known anabolic hormones: testosterone, GH, IGF-1. Excellent  after-workout recovery and faster adaptation to increasing training loads were  obtained by the addition of an extract of poppies ie. "Peruvian ginseng".
COMPOSITION
Serving size: 8 capsule
Amount per serving: 240
Amount per serving

% RWS *

DAA (D-aspartic acid)

3000mg

Root extract Maca

1200mg

Tribulus Terrestris Ekstrakt

1000mg

Extract Fenugreek (fenugreek) standardized to 50% saponin content

800mg

Zinc-Magnesium-complex

500mg

- Vitamins and minerals per serving

Vitamin B6

1,1mg

78%

Magnesium

75mg

20%

Zinc

2,6mg

26%
Ingredients: D-aspartic acid, root flour lepidium meyenii, Tribulus terrestris extract (fruit), capsule shell (bovine gelatin, color: titanium dioxide, fenugreek extract (seed), magnesium salts of citric acid, anticaking agent: magnesium salts of fatty acids, zinc mono l-methionine sulfate, pyridoxine hydrochloride. May contains: milk, soy, egg, gluten.
DIRECTIONS OF USE
Directions for use: 8 capsules per day with plentu of water. Store in a dry and cool place. Keep out of reach of children.