TESTOSTERONE BOOSTERS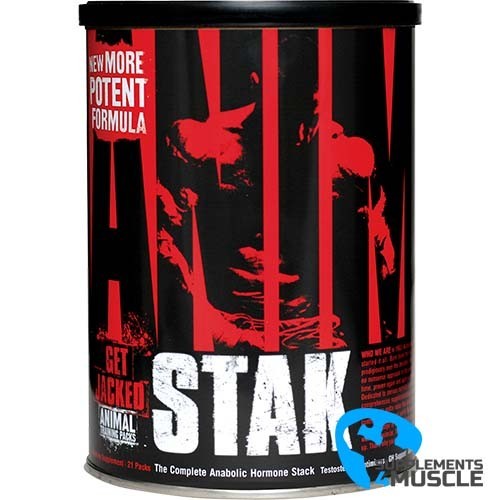 
Animal Stak
The Complete Anabolic Hormone Stack
Testosterone Optimizers
GH Support
Aromatase Inhibitors
Restorative Support
DESCRIPTION
COMPOSITION
DIRECTIONS OF USE
REVIEWS
DESCRIPTION
Animal Stak
Animal Stak designed to work naturally with your body to enhance the function of "Test" and growth hormone. As a serious lifter, you want to get bigger and stronger. Who doesn't? So you look for every advantage. You train balls out and you eat big. But you want more.

Optimizing your body's levels of naturally-occurring muscle building hormones - hormones like "Test" and growth hormone (GH) - can make a huge difference when it comes to making the gains you want.
Optimizing hormone levels
When it comes to optimizing hormone levels, there's a couple of things to take into consideration:
first, you'd want to make sure your "Test" levels aren't low - nutritional deficiencies can cause low serum "Test" levels
you'd want to minimize the conversion of muscle building hormones like "Test" to hormones such as estrogen and dihydro"Test" (DHT)
finally, you'd want to make sure that your ratios of "free" "Test" to "total" "Test" are advantageous.
By addressing all three issues, you could tap into your body's true potential. We engineered Animal Stak 2 to address all three aspects of hormone management mentioned above, making it a complete natural "test" pack.
Prevent estrogen DHT conversion
Universal Animal Stak 2 contains ingredients to help prevent estrogen and DHT conversion, a natural process. It also includes nutrients that can help increase serum "Test" levels. Of the three though, the most important element is probably the ratios of "free" to "total" "Test".

The average male has anywhere between 300-1000 ng/dl of "total" "Test" in his body. Problem is, total "Test" doesn't indicate how much "Test" is actually usable by the body.

In other words, even if you have high total "Test" levels, you can't take advantage of it. This is because the vast majority of "Test" is "bound" up in your body. That's why you have to look at "free" "Test". Free "Test" is the form of "Test" that exerts the muscle building effects strength athletes are after; it's the stuff that gives you results.
Increase free "Test"
While valuable, the problem with free "Test" is that it comes in very small quantities. In fact, only a tiny fraction of total "Test" comes in the free, or active form (less than 2%).

Think about it this way: even though you might have 700 ng/dl of total "Test", only 14 ng/dl or less as free "Test" might be able to enter cells in order to produce results by binding to androgen receptors. So while you want to increase total "Test", you especially want to increase free "Test".

So if you're looking for an alternate route to get the most out of muscle building hormones, and you got everything else in order, then it's time to give Animal Stak a shot.

Whether you have low, moderate, or high "Test" levels, Animal Stak can help you tap into that 98% of "Test" in your body that is unusable so that you can reach your potential.
COMPOSITION
Container size: 21 sachets
Serving size: 1 sachet
Servings per container: 21
Amount Per Pack
%DV
Vitamin B6 (pyridoxine HCl)
10.5 mg
525%
Magnesium (as oxide)
450 mg
113%
Zinc (as oxide)
30 mg
200%
Vitamin D3 (as cholecalciferol)
1000 IU
250%
Pro Testosterone Complex with LJ-100™:
Tribulus Terrestris Extract (fruit)(standardized for protodioscin & steroidal saponins)
Eurycoma Longifolia powder (root)
Eurycoma Longifolia Extract (root)(Eurypeptides, glycosapoininis & polysaccharides)
Fenugreek (seed)
Stinging Nettle Root
Maca Extract (lepidium meyenii)
1500 mg
-

Growth Hormone Support (with ArginoCarn®, SuperSerum™, Sustamine™):
Arginine Complex (Arginine HCl, ArginoCarn® [acetyl-L-carnitine arginate dichloride])
L-alanym-L-Glutamine
Beef Serum Albumin Concentrate
Alpha Glycerylphosphorylcholine (alpha-GPC)

1500 mg
-
Anti-Aromatase Complex:
Polygonum Cuspidatum Root (reveratrol)
Calcium-D-Glucarate
Diindolylmethane (DIM)
300 mg
-
Hormone Aplifying Blend:
L-Carnitine Fumarate
Agmatine Sulfate
Glycine propionyl L-carnitine HCl
Quercetin
Astaxanthin
500 mg
-
Restorative Support Complex:
Milk Thistle Extract (silymarin)
Astragulus (root)
Ashwagandha Extract (root)
Na-R-Alpha Lipoic Acid (Na-R-ALA)
Coenzyme Q10
500 mg
-
Other ingrednients: Gelatin (capsule), Dicalcium Phosphate, Magnesium Stearate, silicon dioxide, stearic acid, Titanium Dioxide, Fd&C Blue #1, FD&C yellow #5&6.
DIRECTIONS OF USE
DOSAGE: Take a single pack daily for 21 straight days. On training days, take it 30-45 minutes before lifting. On non-training days, take it prior to bed. For best results ''cycle'' this product fallowing a schedule of three weeks on and one week off.