SARMS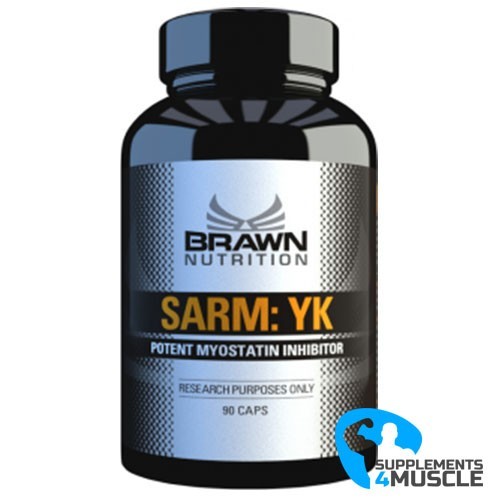 
DESCRIPTION
COMPOSITION
DIRECTIONS OF USE
REVIEWS
DESCRIPTION
Brawn YK-11
Brawn YK-11 chemical structure is very similar to the structure of steroids, but does not mean that this compound is a steroid. The compound is classified into the group of so-called SARM or selective, androgen receptor modulators. Due to its structural structure - the steroid skeleton is one of the strongest and most effective SARMs. YK11 attaches to the androgen receptor, and this causes the muscle cells to start producing more anabolic factors, the ultimate process of which is muscle growth.
Unlike other SARMs, which have limited androgenic activity, YK 11 works more effectively. Scientific research clearly shows that muscle cells produce much more anabolic compounds after using 500 nmol YK 11 than after the same testosterone dose. YK 11, like other SARMs, causes increased muscle cell growth.
The compound is very effective for people who want to gain large gains of muscle mass, as well as for those who care about keeping their muscles without excessive fat accumulation in the body. The effects of using YK11 are impressive not only because of the ability to build muscle mass but also by its ability to reduce the overall amount of fat in the body. It turns out to be particularly helpful for people whose genetics significantly prevents the achievement of significant muscle mass. This is because the compound is a myostatin inhibitor.
Myostatin is a protein that inhibits muscle growth in the body by inhibiting the formation of new muscle fibers. Some naturally have a large amount of this protein in their body, and then it is difficult to obtain the desired weight. Thanks to YK 11 you will naturally develop your muscles to the desired level.
To sum up, YK 11 is undoubtedly one of the best SARMs currently available on the market. The compound promotes the growth and development of lean muscle mass. Unlike steroids, YK11 acts selectively only in specific cells. To ensure cosmic results in the gym, anyone who accepts this relationship should stay active and exercise regularly. As long as you follow these recommendations, you have brick effects in the form of a great figure without unnecessary fat.
COMPOSITION
Serving Size: 1 Cap
Servings Per Container: 90
| | |
| --- | --- |
| Ingredients | Per serving |
| (17-alpha,20E)17,20-[(1-methoxyethylidene)bis(oxy)]3-oxo-19-norpregna-4,20-diene 21-carboxylic acid methyl ester | 4 mg |
Other Ingredients: Rice flour, Gelatine (capsule).
DIRECTIONS OF USE
Take 2-3 caps per day. Do not exceed the recommended dose or run YK-11 for longer than 6-8 weeks.