PROHORMONES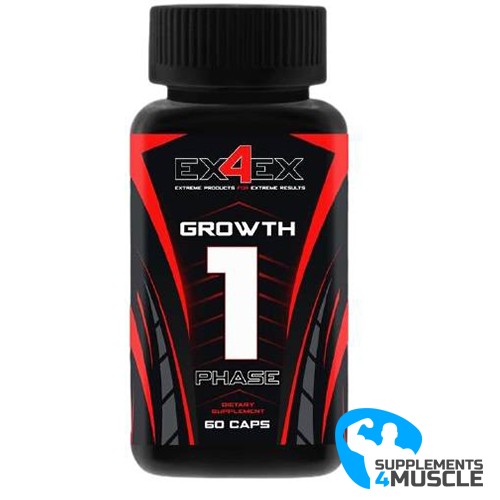 
DESCRIPTION
COMPOSITION
DIRECTIONS OF USE
REVIEWS
DESCRIPTION
Ex4Ex Growth 1 Phase 60 caps
Ex4Ex Growth 1 Phase 60 caps is a powerful workout prohormone and sarms mix that can help you achieve amazing body strength and muscle mass gains in as little as just four weeks. Enriched with safe and strong ingredients, Ex4Ex Growth 1 Phase 60 caps help you lose body fat and gain solid muscles at the same time. Considered to be one of the most advanced bodybuilding supplements, Ex4Ex Growth 1 Phase 60 caps has a complex support system formula that can quickly improve the intensity of your gym workouts.
Why Buy Ex4Ex Growth 1 Phase 60 caps?
Improves muscle mass and size
Promotes nitrogen retention and protein synthesis
Helps you get rid of excess body fat
Safe on prostate and doesn't lead to hair loss
Improves the levels of IGF-1 and growth hormone
Improves body composition
Enhances libido and the quality of intimate sessions
Reduces cortisol levels
Supports the synthesis of muscle tissue proteins
Powerful anti-inflammatory properties
Improves the level of natural testosterone in the body
Keeps a close check on estrogen level
Reduces the risk of gynecomastia, bloating, and water retention
Order Ex4Ex Growth 1 Phase 60 caps now!
COMPOSITION
Serving Size: 1 Capsule
Servings Per Container: 60 Servings
Amount Per Serving
% Daily Value
Laxosterone
50 mg
Arimistane
25 mg
Epistane
20 mg
RAD-140
5 mg
LGD-4033
5 mg
MK-677
3.5 mg
YK-11
1 mg
Complex Support System:
Icariin 60%, N-Acetyl L-cysteine, Alpha Lipoic Acid, TUDCA (Tauroursodeoxycholic Acid), Milk Thistle 80%, Grape Seed Extract 95%, Vitamin B6 (as Pyridoxine HCL), Vitamin B12 (as Cyanocbalamin), Niacin (Vitamin B3), Liposomal Vitamin C (as Ascorby I Palmitate), Vitamin D3 (as Cholecalciferol), Vitamin E TPGS, Piperine 95%, Naringenin
600 mg
DIRECTIONS OF USE
Take one capsule 1 -2 times per day. Do not exceed 2 capsules during 24 hour period!