PROHORMONES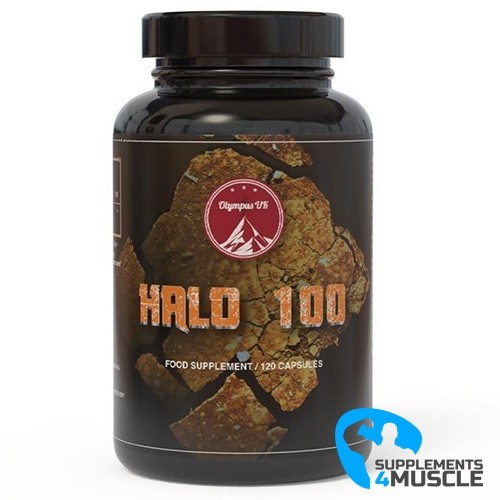 
Olympus Labs Halo 100
Lean Mass Gains
No Water Weight or Bloating
Increases Strenght
Enchances Endurance + Recovery
DESCRIPTION
COMPOSITION
DIRECTIONS OF USE
REVIEWS
DESCRIPTION
Olympus Labs Halo 100 based on 4-chloro-17a-methyl-androst-1,4-diene-3b, 17b-diol also known as Halodrol or Halo. The compound is a testosterone derivative that acts on androgen receptors and increases the synthesis of bone and muscle tissue. The product is one of the longest existing prohormones on the market and enjoys considerable interest among athletes. Accelerates fat burning, and at the same time supports the creation of specific gains in muscle mass.

Provides regeneration, strengthens endurance and strength. High bioavailability and a small amount of side effects make it one of the most popular prohormones. The compound is not subject to aromatization, it also does not cause excessive water retention or development of gynecomastia. It allows to obtain a really solid, dense, defatted musculature with clearly visible vascularity.

Halodrol is a versatile compound used both during reduction and recompense cycles, as well as those focused on mass construction. We recommend starting with 2 capsules for beginners and up to 4 capsules for advanced users.

We recommend using a supplement that protects the liver. Halo has a relatively small amount of side effects, which is why it is recommended both to experienced people and just beginning an adventure with stronger anabolic agents.

COMPOSITION
Serving Size: 1 Capsule
Servings Per Container: 120
| | |
| --- | --- |
| | Per Serving |
| 4-chloro-17a-methyl-androst-1,4-diene-3b,17b-diol | 25 mg |
Other Ingredients: Rice Flour, Magnesium Stearate, Gelatin.
DIRECTIONS OF USE
As an adult dietary supplement, take 1 capsule 3 to 5 times daily (spread evenly throughout the day), with meals. Do not consume more than 5 capsules in a 24-hour time period. Take HALO 100 for up to 6 weeks maximum.
PCT Guidelines: Given the extreme potency of HALO 100, a comprehensive Post Cycle Therapy should be undertaken following a cycle to restore natural hormone levels. Do not use HALO 100 at any dosage during this period.