PROHORMONES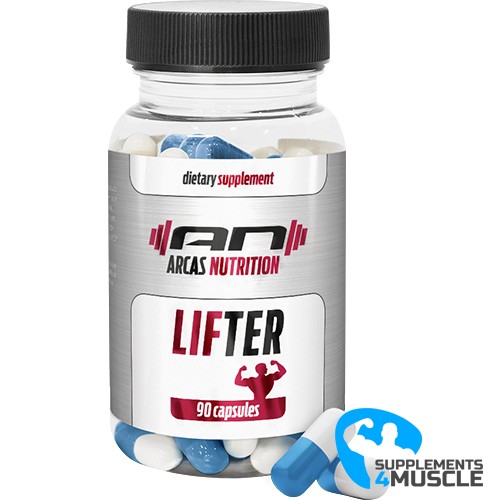 
DESCRIPTION
COMPOSITION
DIRECTIONS OF USE
REVIEWS
DESCRIPTION
Arcas Nutrition Lifter
Arcas Nutrition Lifter is a powerful fighter, whose main task is to win the fight with a body that grew again. Do you know the secrets of American bodybuilders? No? Keep reading.
American athletes and bodybuilders are with no doubts the best and sometimes we look up to their perfectly shaped figures. Their miraculous "doping" are prohormones. Not an anabolic steroid. They were and are considered a safe alternative, unless you want to dip into steroids. Their effects are comparable to those of anabolic steroids and this is the main advantage of their use – FORCE AND SAFETY LIFTER is one of the strongest prohormone products on the market. It is carefully and cleverly constructed from four powerful ingredients to maximize the growth of extreme muscle mass. If your goal is to progress and change yourself, LIFTER can help you meet your goals.
LIFTER components:
Max LMG: Also called Methoxygonadiene was cloned many times over the past years. Max LMG became really popular because this is non a methylated prohormone that delivers middle range results. The active compound of Max LMG prohormones is 13-ethyl-3-methoxygona-2,5(10)-diene-17-one. Max LMG prohormones are progestin based compound and they give some sort of water retention.
Halodrol: This prohormone has the ability to promote key changes in the body that are extremely beneficial for body building. Halodrol is a precursor of turinabol, banned East German steroid. In addition to pure muscle gain, it can help in a big way to increase muscle strength.
Carbopol: For better absorption and even better use of the individual components is added to 25 mg.
Milk Thistle: Milk Thistle is standardized for Silymarin, which is well known to help support normal liver function. It exerts both a protective and detoxification benefits. What is the importance of it being standardized? The amount of Silymarin delivered by any Milk Thistle product directly relates to the amount of benefit that the product offers. Cycle Assist is standardized to 80% Silymarin. If a product does not state how much Silymarin it is standardized for, you simply don't know how much benefit you will receive from the product.
COMPOSITION
Serving Size: 1 capsule
Serving Per Container: 90
| | |
| --- | --- |
| Amount Per Serving | |
| 13-ethyl-3-methoxy-gona-2,5(10)diene-17-one (MAX LMG) | 30mg |
| 4-chloro-17a-methyl-androst-1,4-diene-3b,17b-diol (Halodrol) | 15mg |
| Carbopol | 25mg |
| Milk Thistle | 100mg |
Other ingredients: Gelatine (capsules), Magnesium Sterate.
DIRECTIONS OF USE
Suggested use: As an Adult dietary supplement, take 2-3 capsules per day, for a 4-6 weeks.