PCT AND LIVER SUPPORT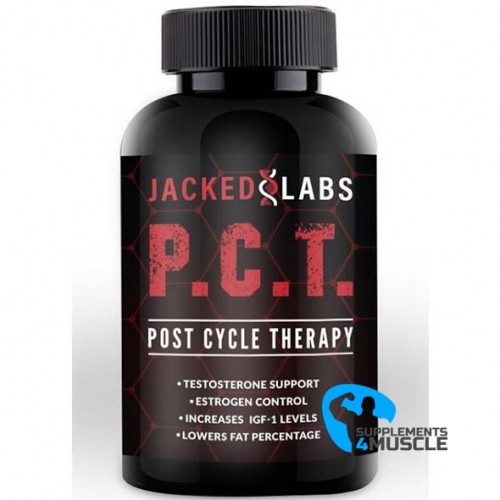 
Jacked Labs P.C.T.
Testosterone support
Estrogen control
Increase IGF-1 levels
Lowers fat percentage
DESCRIPTION
COMPOSITION
DIRECTIONS OF USE
REVIEWS
DESCRIPTION
Jacked Labs P.C.T.
Jacked Labs P.C.T. is - the highest quality, multi-ingredient and definitely one of the most efficiently unblocking dietary supplements intended for use after cycles on PH / SAA / SARM. The product is also perfect as a testosterone booster whose task, apart from supporting the body in reaching homeostasis after the treatments, is also acceleration of development of strength and muscle mass. P.C.T will also be useful in the field of maximizing the regeneration of the body due to the addition of active substances such as MK-677 and TRIBULUS.
The Jacked Nutrition P.C.T consists of substances such as:
Tribulous 90% Saponins herb commonly used to improve the functioning of male organisms. It is known mainly for beneficial effects on sex drive and the optimization of the activity of male hormones. The effect of this herb on androgens is to concentrate the amount of androgen receptors in the brain, so that hormones can have a stronger effect. It also has an adaptogenic effect, and thus can modulate the stress response, thanks to which it is possible to maintain a better mood and control the concentration of the stress hormone - cortisol. Tribulus can also affect the work of the cardiovascular system, by regulating blood pressure and cholesterol levels, which is often a problem for users of steroids and prohormones. The Trojan PCT contains a high quality extract standardized for 90% of saponins and 80% of protodioscin.
Horny Goat Weed - increases the level of neurotransmitters responsible for sexual arousal, positively affects the level of testosterone, increases the production of nitric oxide (NO) in the body.
Maca is a dietary supplement that contains concentrated (5: 1) Peruvian pepper cress (Lepidium meyenii), rich in a natural composition of amino acids, fatty acids, vitamins (including B1, B2, B3, B12, A, E, C) and minerals (copper, zinc, manganese, iron, selenium, boron, phosphorus, magnesium, calcium, sulfur, selenium) and sterols. The product is dedicated to people who are physically and intellectually active, with a high temperament.
6-Bromo (Androstane-3,17 Dione) is a breakthrough in the field of assisting exercise capacity such as strength and strength endurance and in improving body composition. The systematic use of the preparation introduces the body to a higher anabolic state, which has been available so far only to enthusiasts of unlawful doping substances being in the cycle on SAA or PH.
MK-677 is the so-called Ibutamoren, an extremely effective substance administered orally, increasing the secretion of growth hormone. Studies have confirmed that it not only increases the secretion of several hormones, but also causes a sustained increase in plasma levels, which creates an ideal environment for building muscle and reducing fat, even at the same time. As one of the few substances it has proven effectiveness in humans, increasing muscle mass and bone tissue. What is most important has no effect on the level of cortisol, so it does not promote the growth of muscle catabolism in any way.
Tongkat Ali extract - also known as Long Jack or Eurycoma Longfolia. This herb was widely used in traditional medicine as a substance promoting sexual functions. Thanks to the content of 9-hydroxykantyn-6-one, involved in the human body both in the process of ejaculation and erection, it is extremely effective in the treatment of impotence. In addition, Long Jack also has anti-estrogen activity. This not only affects the optimization of hormonal management after discontinuation of SAA, but also gives Tongkat Ali anti-cancer efficiency.
Summing up, Jacked Nutrition P.C.T is a product with a broad spectrum of activity, works well as a post cycle theraphy product and anti-catabolic allowing to increase strength results and promote the acquisition of dry muscle mass without interfering with our endocrine system.
COMPOSITION
Serving size: 2 capsules
Servings Per Container: 30
| | |
| --- | --- |
| Amount per serving | % Daily Value |
| Tribulous 90% Saponinis | 1000mg |
| Horny Goat Weed | 450mg |
| Maca | 250mg |
| Longjack | 250mg |
| 6-bromo | 50mg |
| Zinc | 10mg |
| Mk-677 | 5mg |
| Oyster Extract | 5mg |
| Vitamin D | 0.5mcg |
DIRECTIONS OF USE
Suggested Use: As a dietary supplement take 2 capsules per day.