PCT AND LIVER SUPPORT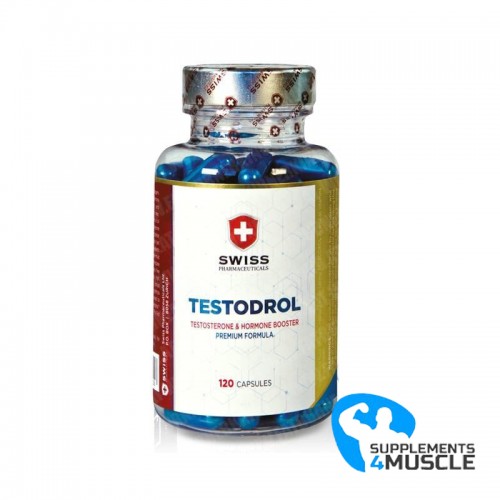 
DESCRIPTION
COMPOSITION
DIRECTIONS OF USE
REVIEWS
DESCRIPTION
Swiss Pharmaceuticals Testodrol 120caps
Estrogen Modulating Pro Testosterone Matrix
Testosterone is the king of androgens and regarded as the ultimate hormone for muscle building, libido, and overall vitality and wellness in men; but with age, poor diet, increased levels of stress, and exogenous androgen use, your natural production of testosterone may not be at optimal levels.
TESTODROL THE KING OF TESTOSTERONE
Testodrol was engineered to offer a full spectrum, multi-faceted testosterone and antiestrogen solution to bolster your overall Free Test and Total Test levels with tried-and-true ingredients and innovative compounds.
MULTI-PATH ESTROGEN MODULATION
When testosterone levels increase, the body attempts to bring the hormone sequence into balance by increasing estrogen levels, thereby negating the increase in overall testosterone. Testodrol combats this counterbalancing mechanism in several specific ways. Prunella Vulgaris blocks estrogen receptor signalling indirectly via CYP1A1, CYP1B1, and AHR repressor expression.
Androsta-3,5-Diene-7,17-Dione, also known as Arimistane, is a suicide inhibitor that keeps free circulating testosterone levels high, while reducing estrogen and cortisol levels.
THE FINAL ONE-TWO PUNCH IN TESTOSTERONE
The final knockout combination comes from Urtica Dioica extract (Stinging Nettle Root extract) containing (-)-3,4- ivanillyltetrahydrofuran, which blocks Sex Hormone-Binding Globulin (SHBG). By deactivating SHBG, your levels of Free Test and Total Test remain at peak levels.
Lastly, Vitamin D3 has been added to round out the formula for natural test production. Recent studies have discovered that many men who suffer from low testosterone also had Vitamin D deficiencies.
Testodrol was specifically researched and formulated to provide a full range of testosterone supplementing and estrogen modulating properties. Whether you're looking to optimize your natural T-levels, or you're needing the "Perfect PCT" to jumpstart your hormones, Testodrol provides the most complete and potent blend of legal Pro-Test ingredients.
COMPOSITION
Serving Size: 3 Capsule
Servings Per Container: 40
Amount Per Serving

TESTODROL Active Blend

Tribulus PE 95% saponins, Mucuna Pruriens PE 4J, Androsta-3,5-Dien-7,17-Dion (Arimistane), Prunella Vulgaris

810mg

HORMONE Activator Blend

5,7-dihydroxyflavone, resveratrol, diosgenin, beta-ecdysterone, nettle extract

390mg

ANTIESTROGEN Blend

Vitamin D-3, zinc, magnesium gluconate, B6

330mg
Other ingredients: gelatine, magnesium stereate
DIRECTIONS OF USE
RECOMMENDED DOSAGE: Take 3 capsules daily at regular intervals. Experienced users can take up to 4 capsules after consulting a specialist.