PCT AND LIVER SUPPORT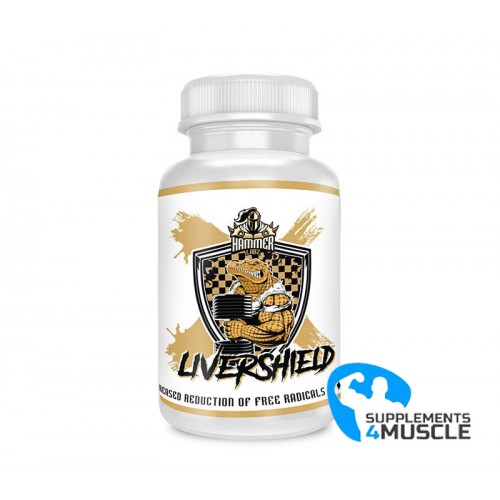 
DESCRIPTION
COMPOSITION
DIRECTIONS OF USE
REVIEWS
DESCRIPTION
Hammer Labz LiverShield 90caps
Hammer Labz is a new manufacturer of dietary supplements from the USA. The wide product range includes supplements with strong, active ingredients intended for advanced athletes. Effective operation and strong formulas, as well as testing and analysis of each batch of products by independent laboratories ensure the highest care for the consumer. High-quality products in clinical doses ensure the best sports results. Innovative recipes created by Hammer Labz have a chance to become the leading pre-workout supplements, muscle building preparations, prohormones and fat burners.
Liver Shield by Hammer Labz is the new supplement based on effective ingredients that improves the functioning of the liver. The liver performs many functions in the body, including blood purification, protein synthesis, hormone production, and support of digestive functions. Liver Shield has a positive effect on the detoxification and filtration system and naturally increases the level of glutathione in the body.
Liver Shield is rich in antioxidants and scientifically proven plant ingredients to support the body's cleansing processes. The preparation contains, among others, milk thistle extract rich in silymarin, peony extract, hawthorn extract, grape seed extract, NAC and celery extract. All integrated with Vitamin B6 for the correct functioning of the nervous system.
Liver Shield restores normal liver functions and protects against liver damage. The preparation improves mood during the day and supports the functioning of the circulatory system by regulating the level of LDL cholesterol.
COMPOSITION
Serving Size: 3 Capsule
Servings Per Container: 30
| | |
| --- | --- |
| Amount Per Serving | |
| N-Acetyl-L-Cysteine | 1000mg |
| Milk Thistle (80% Extract) | 300mg |
| Hawthrone Berry  | 200mcg |
| Grape Seed (95% Extract) | 75mg |
| Celery Seed (10:1 Extract) | 75mg |
| White Peony | 25mg |
| Vitamin B6 | 25mg |
DIRECTIONS OF USE
Dosage:
1 capsule 3 times a day with meals.