FAT BURNERS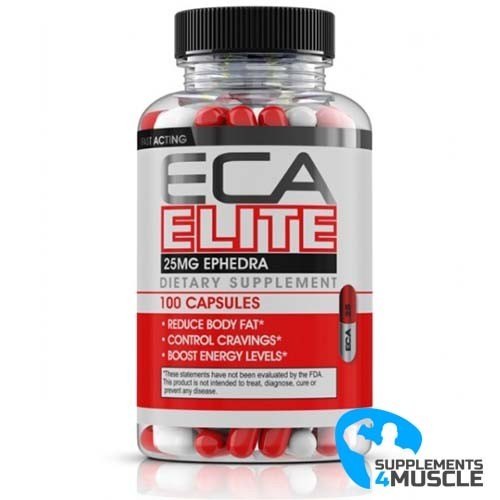 
DESCRIPTION
COMPOSITION
DIRECTIONS OF USE
REVIEWS
DESCRIPTION
HardRock ECA Elite
HardRock ECA Elite
Reduce Body Fat: Many of the ingredients, including ephedra, are designed to help your body burn fat more quickly. With a proper diet and exercise plan, ECA Elite should deliver the results you are looking for by boosting your metabolism and helping you burn more calories.
Control Cravings: ECA Elite also helps you curb those late night cravings. ECA Elite works to suppress your appetite and make you feel fuller longer. With ECA Elite, trips to the fridge at 11pm are non-existent.
Boost Energy Levels: The energy enhancement from ECA Elite not only comes from the ephedra extract, but also from the caffeine-like substances included. ECA Elite should give you sustained energy throughout your day. You should see an improvement in your performance in the gym instead of being tired after your long day at work.
ECA Elite from Hard Rock Supplements has a great combination of ingredients to help you get the body you desire. ECA Elite contains B vitamins to boost your metabolism. The proprietary blend in ECA Elite increases your energy levels, and helps you burn off unwanted fat.
ECA Elite is designed to benefit the dieter in more ways than one. With the added boost of 25mg of ephedra, ECA Elite can help you get results faster than ever before. ECA Elite works to increase energy, burn body fat, and control cravings.
COMPOSITION
Serving Size: 1 capsule
Servings Per Container: 100
DAILY VALUE

AMOUNT PER SERVING

Vitamin B3 Niaciniamide

30mgs

150%

Vitamin B9 Folic Acid

900 mcg

225%

Vitamin B6 (Pyridoxine HCL)

13mgs

630%

Vitamin B5 (Panthothenic Acid)

15mgs

150%

Chromium (Polynicotinate)

90mcg

75%

Proprietary ECA Elite Blend    

Caffeine Anhydrous, Glucuronolactone, Desert Tea (Extract), Phenylethylamine HCL, Yohimbe Bark (Extract) (Yohimbine 8%), Ephedra (Leaf)(Extract)(25mg of Ephedra Nevadensis)

870mgs

**
Other Ingredients: Silicon Dioxide, Rice Flour, Gelatin (from capsule).
DIRECTIONS OF USE
Directions:Take one capsule daily.