FAT BURNERS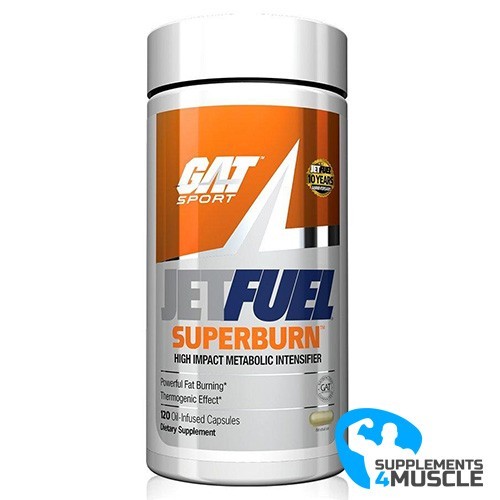 
DESCRIPTION
COMPOSITION
DIRECTIONS OF USE
REVIEWS
DESCRIPTION
GAT JetFuel Superburn
GAT JetFuel Superburn is based on modern Micron RD technology that delivers active ingredients faster than any other burner. The active substances contained are less than 20 microns! The process of micronization causes that JetFuel not only quickly starts to work, but also gets into deep layers of fat allowing you to release energy from it.
It also affects those areas of the body that other burners can not cope with. Jet Fuel Superburn is an incinerator that you can use whenever you need extra energy, regardless of the nature of the effort. Jet Fuel will help you every time you want to do an intense workout, drive a long car route, and even when you want to be full of energy at a night party!
If that were not enough, Jetfuel Super Burn will give you an extra boost of energy to keep your mind sober, when you sacrifice your night to do an important job, study for an exam, college or school. If you are in a period of weight reduction, Jetfuel Superburn will help you to burn unnecessary body fat, it contains a complex of ingredients that speed up the restful metabolism, increasing the consumption and burning of free fatty acids for energy, which will then be expelled from the body in the form of heat. Jetfuel PYRO intensifies the release of free fatty acids from stores located in adipose tissue, thanks to which they will be easier and more efficiently used for energy production.
Bitter orange extract - bitter orange is not an edible fruit but it is an excellent source of vitamin C, the amount of which in the extract can reach even 42%. Bitter oranges are much richer than just vitamin C, but also antioxidants, such as bioflavonoids, such as hesperidin. In addition to the high content of perfectly digestible vitamin C, the bitter orange is primarily known for its consistency in the synephrine plant, which is a natural substitute for ephedrine. Synephrine has a similar structure to ephedrine. It is obtained in a natural way, from immature citrus fruit, e.g. Citrus uranium L., Citrus aurantium L. This substance is a natural substitute for ephedra. Increasingly, it is added to drugs and dietary supplements intended for athletes as well as overweight people. This compound boosts metabolism, reduces appetite and at the same time increases mental and motor activity. Synephrine increases blood pressure and affects the minute volume of the heart. It widens the bronchi to facilitate breathing, effectively clears the sinuses and improves well-being.
Yohimbe bark extract - yohimbine is a substance that is helpful in the fight against so-called resistant fat tissue, located mainly in the thorax and lower waist areas of men and hips, buttocks and thighs in women. Yohimbine works by blocking the α2-type receptors, which clearly facilitates slimming and is helpful in sculpting body parts resistant to slimming. It is worth remembering that yohimbine effectively eliminates insulin. So taking this compound around carbohydrate meals is pointless. Yohimbine is particularly effective when used on an empty stomach, before physical exertion.
Ashwanganda extract- a medicinal plant used in traditional eastern medicine; is called Indian ginseng due to adaptogenic properties, i.e. increasing the body's resistance to stress factors, stabilizing the mood and regulating the functioning of the immune system. In ayurveda it is treated as a drug for rheumatism, exhaustion, sexual dysfunction and memory impairment. It contains many biologically active substances, including nicotinic alkaloids, beta-sitosterol, witanolides (including vitanolid D), coumarins, sitoindosides, chlorogenic acid and vitaferin A
Olive leat extract - olive leaf, is a good solution for the weakened people who often struggle with infections. The extract promotes the strengthening of the immune system and improving the health condition. It is especially recommended for people whose metabolic parameters deviate significantly from the norm and increase the risk of developing civilization diseases such as atherosclerosis, diabetes, hypertension or obesity. It can also be used for recurrent bacterial infections, viral infections and gastrointestinal parasites.
Green tea extract - green tea contains rich sources of powerful antioxidants called polyphenols. Green tea contains a greater amount of epigallocatechin gallate (EGCG), which antioxidant effects are even 100 x stronger than vitamin C. In combination with other ingredients of the supplement, these extracts promote fat loss
Caffeine Anhydrous- is an anhydrous form of caffeine from the group of organic compounds. It blocks the adenosine receptors in the brain, which results in eliminating the feeling of tiredness during training. Due to its thermogenic action, it effectively burns fat and improves metabolism.
Cayenne pepper- is one of the best natural remedies used to lose weight. It has been proven that the use reduces the appetite speeds up the metabolism up to 25%, contributing to faster burning of calories. Capsaicin - the main active ingredient of pepper - is responsible for such action. An additional advantage of the application is a positive effect on the overall health, and the advantages include: increased blood flow, increased sex drive, ulcer reduction, improved digestion and impact on maintaining adequate blood pressure.
COMPOSITION
Serving Size: 3 Capsules
Servings Per Container: 40
Amount Per Serving
%DV
Superburn Stimulant Blend
485 mg
**
Caffeine Anhydrous 275 mg
**
AdvantraZ® Bitter Orange Extract (Citrus Aurantium) 150 mg
(standardized to 6% synpehrine and naturally containing hordenine and octopamine)
**
Cayenne pepper (standardized to 40,000 SHU) 35 mg
**
Yohimbine bark extract (Pausinstalia yohimbine) 25 mg
(standardized to 8% yohimbine alkaloids)
**
Triple-Tea Plus Antioxidant Blend*
295 mg
**
Black tea leaf extract (Camelia sinensis nigra) 100 mg
**
Green tea leaf extract (Camelia sinensis veridis) 80 mg
**
White tea leaf extract (Camelia sinensis albus) 25 mg
**
Blend typically yielding 82mg polyphenols, 100mg catechins (36mg EGCG) and 13mg caffeine]
**
Olive leaf extract (15% oleuropein) 90 mg
**
Superburn Cognitive Enchancement Blend
285 mg
**
Ashwanganda root standardized extract 125 mg
(Withania somnifera) 2.5% withanolides
**
Lemon Balm leaf 4:1 extract (Melissa officinalis) 100 mg
**
L-Theanine 50 mg
**
Evodia rutaecarpa fruit 4:1 extract 10 mg
**
Medium Chain Triglyceride Powder
25 mg
**
Bioperine® Black pepper extract
5 mg
**
Other Ingredients: gelatin (capsule), dicalcium phosphate, vegetable stearate, silicon dioxide, titanium dioxide.
DIRECTIONS OF USE
Take 1 serving (3 capsules) 1-2 times per day. Take 1 serving first thing in the morning. SUPERBURN can be taken with or without food depending on your stomach sensitivity. If you are sensitive to caffeine, do not take within 6 hours of bedtime.