Xtreme PWO formulas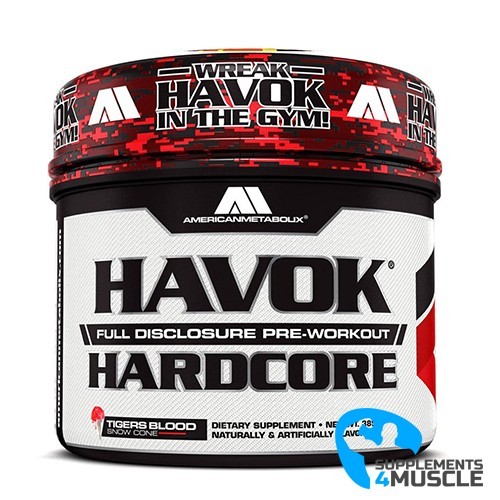 
American Metabolix Havok
Havok Hardcore is the most powerful pre-workout we have ever created. It's not for beginners. This formula was designed for athletes that push the boundaries of human performance.

DESCRIPTION
COMPOSITION
DIRECTIONS OF USE
REVIEWS
DESCRIPTION
American Metabolix Havok
Specially designed pre-training formula provides high mental concentration, improves athletic performance increasing endurance and promoting the building of lean muscle mass. Havok Hardcore is an extremely effective preparation before training. It is intended for advanced users to achieve the best life results.

The Havok Hardcores extreme pump mix consists of L-citrulline, beta alanine, betaine anhydrous, agmetin sulfate and taurine. It is the most complete group of ingredients that can be found on the market. The Hardcore Energy and Focus formula contains caffeine, caffeine malate, DMHA, Hordenice HCI and Alpha Yohimbine to ensure maximum concentration and a high dose of energy.
Dynamine (Methyliberine) Its molecular structure is similar to axson (also known as TeaCrine®) and is believed to behave in a similar but more intense way in the body. Like acrylic, methylliberine clearly increases energy, mood and concentration by activating dopamine receptors and other key neurotransmitters, inhibiting adenosine receptors, all without increasing the pressure.
Choline Bitartrate - is a substance necessary for the proper functioning and construction of every cell of our body. It occurs in the body in compounds called phospholipids, the most-known of them and the most abundant is lecithin. Phospholipids perform a lot of functions in our body, build cell membranes and act as relays in the nervous system (most likely they participate in the "creation" of memory). An important function of choline is its participation in the transport and metabolism of cholesterol and other fats - it reduces their deposition in the vascular wall and gallbladder, and also affects the liver (also reducing fat deposition) and kidneys (regulates the amount of urine excreted).

Beta Alanine - is necessary for the production of carnosine and blocks building proteins that help prevent the aging of the body. The compound supports the proper functioning and development of muscles. Amino acid is known for reducing muscle fatigue, which can help your muscles work better during training. This in turn promotes muscle growth. Beta-Alanine is particularly helpful in intensive short-term training such as weight lifting. Some people taking beta-alanine may notice a slight tingling sensation known as paraesthesia. The tingling arises because beta-alanine dilates the blood vessels, allowing more oxygen and blood to be delivered to the muscles.

Betaine - is an amino acid that naturally occurs in such vegetables as broccoli, beets and spinach. The main action of the compound is to reduce the level of homocysteine, which is a substance with highly toxic properties. It is most often produced in people who consume large amounts of meat, bodybuilders and other athletes, because meat is usually their dietary base. Additionally, it can have an adverse effect on the skeletal system and circulatory system.

Agmatine - effectively enhances the secretion of nitric oxide in the human body, which translates into a strong muscle pump feeling during training. Enlargement of blood vessels supports the supply of blood and nutrients to working muscles, which greatly speeds up the process of regeneration and construction of new muscle fibers. In studies using agmatine, it has been shown that its action may support protein synthesis even twice, which in addition to the action of agmatine itself, is also associated with the action increasing the supply of nutrients to muscle tissues.

Taurine - this is 2-aminoethanesulfonic acid, belongs to the group of biogenic amino acids. It is an organic chemical that occurs in human tissues. The largest amounts of taurine are located in the heart, skeletal muscle, brain and the retina of the eye. The process of taurine synthesis takes place with the participation of two other amino acids - cysteine ​​and methionine. The properties of the human body for independent synthesis are limited, and therefore its supplementation is sometimes indispensable. Taurine is a non-protein amino acid, which means that it does not build human muscle proteins. It occurs in the free state in tissues and bloodstream, and its concentration in the body is 1/1000 of body mass. As for the non-protein amino acid is very much - hence the huge role of taurine in regulating the numerous functions of the body

N-acetyl and tyrosine- is the acetylated derivative of the L-tyrosine amino acid. Ordinary L-tyrosine is less stable and also less soluble in water, which can lead to reduced bioavailability. Acetylation increases the solubility and stability of some amino acids. N-acetyl-L-tyrosine supports brain function by supporting the synthesis of catecholamine norepinephrine and dopamine (neurotransmitters). Vitamin B6 supports the metabolism of amino acids. Vitamin B6 helps in the proper functioning of the nervous system, helps in maintaining normal psychological functions and contributes to the reduction of tiredness and fatigue.

Caffeine - acting on the central nervous system, increases energy levels, improves cognitive functions, mood and concentration. Acting as a sympathomimetic, increasing the activity of the sympathetic nervous system, increases the level of adrenaline in the blood, expands blood vessels supplying the muscles with a greater amount of nutrients, increases the level of glucose in the blood with fatty acids.
DMHA- is a stimulant that has other names such as 2-aminoisoheptane or octodrine. DMHA has a relaxant effect on the bronchi, thanks to which our aerobic capacity increases, moreover it has decongestant activity (narrowing blood vessels, causing an increase in the oxygen flow rate), does not cause "stupor" and sharpens the senses that could not always be experienced with dmaa.

Hordenine - this supplement works primarily through the release and protection of norepinephrine, which translates into increased metabolism, energy supply as well as a decrease in appetite. Users use Hordenine for three main effects: fat loss, appetite control and energy boost. It is used by bodybuilders before training, for synergistic effects combined with PEA (phenylethylamine).

Rauwolfia vormitoria - shows antioxidant, anti-inflammatory, analgesic, carbohydrate-insulin-promoting properties, counteracting cancer and improving mental condition. High standardization of the rauwolscine extract, in other words, yohimbine or isohimine, focuses the action of the product on the nervous system and the loss of unnecessary body weight. Inhibiting the operation of the cholinergic system, it increases the adrenaline concentration, stimulating the body to function and intensifying the lipolysis process. Strengthening the oxidation of fatty acids in the mitochondria. It promotes the burning of previously stored adipose tissue in areas of the body rich in α2-adrenergic receptors, mainly the lower abdomen and on the hips.
COMPOSITION
Serving Size: 1 Scoop (15.9 g)
Servings Per Container: 25 servings
| | |
| --- | --- |
| | Amount Per Serving |
| HAVOK® HARDCORE PUMP TECHNOLOGY | |
| L-Citrulline | 6g |
| Beta Alanine | 3.2g |
| Betaine Anhydrous | 1.2g |
| Agmatine Sulfate | 1g |
| Taurine | 1g |
| HAVOK® HARDCORE ENERGY & FOCUS FORMULA | |
| N-Acetyl-L-Tyrosine | 500mg |
| Caffeine | 250mg |
| Choline Bitartrate | 200mg |
| 2-Amino-5-Methylhexane HCI | 150mg |
| Methyliberine (as Dynamine® 40% tasteless) | 125mg |
| Dicaffeine Malate (as Infinergy®) | 75mg |
| Hordenine HCI | 50mg |
| Rauwolfia vomitoria (Root Bark) (Std. 90% Alpha Yohimbine) | 1.5mg |
Other Ingredients: Citric Acid, Malic Acid, Silica, Natural and Artificial Flavors, Sucralose, Acesulfame K, FDC Blue #1.
DIRECTIONS OF USE
1 Scoop 30 minutes before workout with 6-8 oz water.
As a dietary supplement, take up to 8 weeks before discontinuing for a minimum of 4 weeks. Take only on workout days.
REVIEWS
There is no review
Atsiliepimas Atsiliepimas