PREWORKOUTS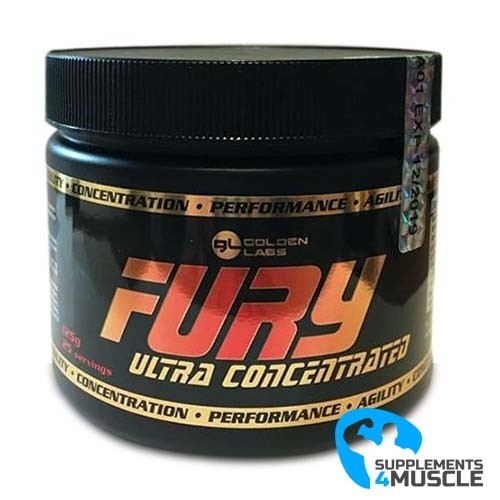 
DESCRIPTION
COMPOSITION
DIRECTIONS OF USE
REVIEWS
DESCRIPTION
Golden Labs Fury Ultra Concentrated
The popular Golden Labs Fury Ultra Concentrated has been upgraded with a higher concentration of elements. Through specially chosen ingredients and the right amount, each dose can be halved while still generating an enhanced level of stimulation and providing a "pumped up" feeling. Specifically targeted towards experienced athletes, this version of Fury has no fillers.
The product includes, among others:
Arginine is commonly known for its ability to create nitric oxide, which is a compound that causes the widening of blood vessels. This allows for the quicker delivery of oxygen and nutrients to cells that need them, as well as the elimination of harmful metabolic byproducts and the slowing down of metabolic processes.
Beta-Alanine works to boost carnosine levels found in muscles, which in turn slows down the process of muscle acidification. This helps you to have more intense, heavier, and more productive gym sessions, resulting in increased endurance and muscle strength.
Geranamine, which has a chemical structure similar to adrenaline, is thought to be one of the most powerful stimulants of the nervous system to aid in fat burning. It can trigger the body to activate responses much like those that come from adrenaline.
Hordenine, a compound derived from L-Tyrosine, produces an ephedra-like effect with the assistance of thermogenic processes as well as an increase in dopamine production. Coupled with caffeine or synephrine, its simultaneous action further maximizes vitalizing force without an uncomfortable decline in energy or an abrupt ending. Moreover, Hordenine extends the period of raised metabolic activity.
Synephrine is an additional stimulant that works well with caffeine, geranamine and synephrine. It is advantageous in that it can lengthen the duration of adrenaline and norepinephrine that have been released by the components of Fury UC.
Yohimbine HCL increases alertness by producing more adrenaline. It can also excite neurons in the body and encourages the breakdown of fat, particularly in harder-to-target areas like the hips and stomach. Furthermore, the synthesis of nitric oxide is increased and the levels of norepinephrine in the corpus cavernosum are decreased, intensifying or helping create erections in men.
COMPOSITION
Serving Size: 5g (one scoop)
Serving Per Container: 25
| | |
| --- | --- |
| Amount per serving | 5g |
| Arginine Alpha Ketoglutarate (AAKG) | 2000mg |
| Beta Alanina | 2000mg |
| Caffeine | 250mg |
| Synephrine | 70mg |
| 1,3 dimethylamylamine HCL (DMAA) | 60mg |
| Hordenine | 60mg |
| Yohimbine | 3mg |
| Vitamin C | 200mg |
| Vitamin B6 | 2,8mg |
| Folic Acid | 200mcg |
| Vitamin B12 | 1mcg |
*Daily Value not established
Other Ingredients: Malic acid, Natural & Artificial Flavours, Acesulfame- K, Sucralose, Silicon Dioxide.
DIRECTIONS OF USE
Suggested use: To check tolerance start from the mixing 1/2 scoop of FURY UC. with 8-10 oz. of water and drink it 30 minutes before exercise. If you need even higher doses of energy, consume 1 scoop with 8-10 oz. of water. Use of more than one scoop is not recommended due to the extremely high potential of FURY ULTRA CONCENTRATE. To maintain maximum benefits from the using of FURY ULTRA CONCENTRATE, is recommended to use Fury no more than 8-10 weeks. Then you should do a minimum 8 weeks off from further use of FURY ULTRA CONCENTRATE.
REVIEWS
There is no review
Atsiliepimas Atsiliepimas